Orioles players get beer can, racial slurs hurled toward them during wild card game vs Blue Jays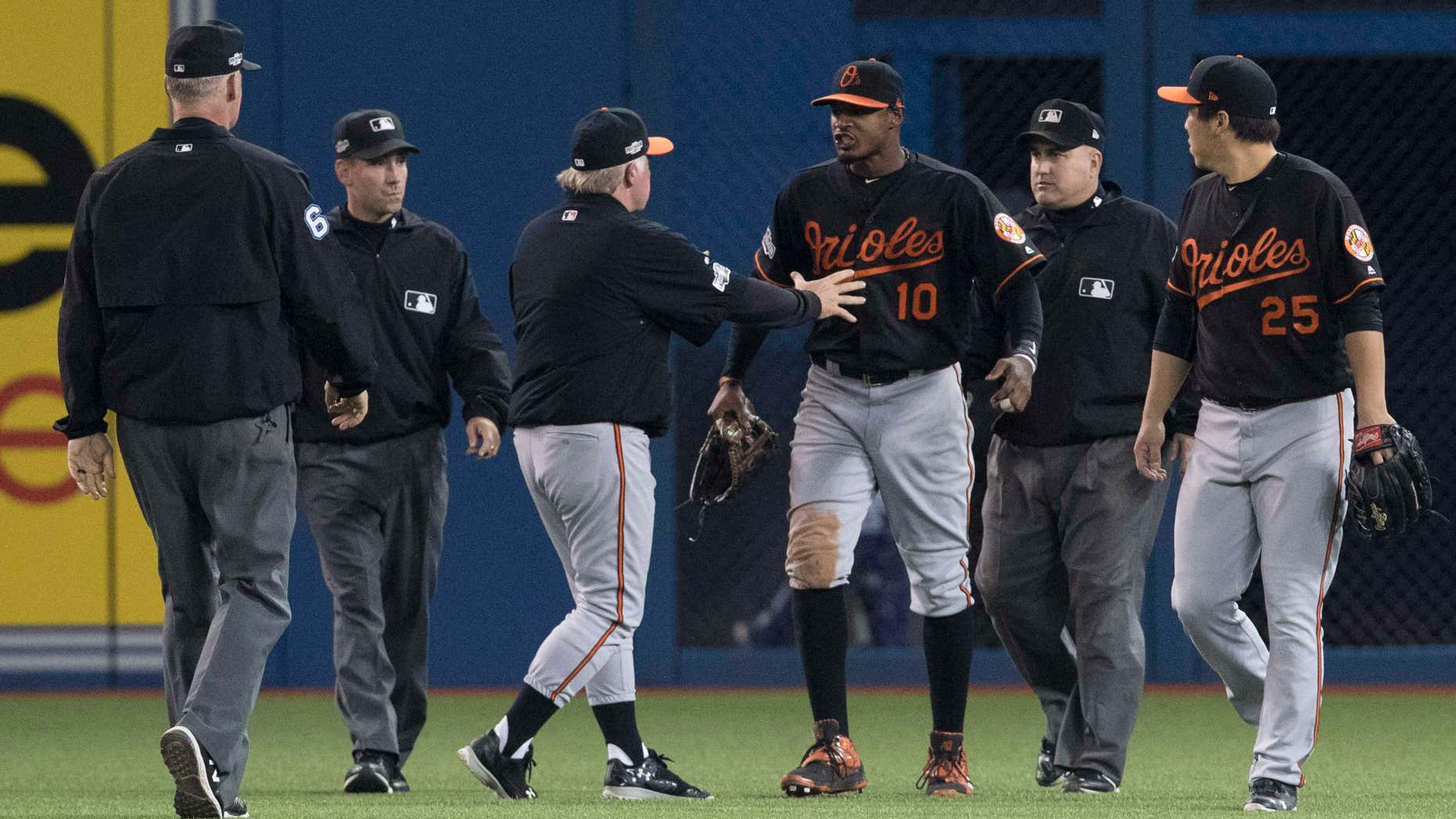 The Toronto Blue Jays defeated the Baltimore Orioles on Tuesday night in the sudden death AL wild card playoff game, 5-2, on an Edwin Encarnacion game-winning home run in the 11th inning.
However, the game didn't come without unruly fans in the stands of the Rogers Centre, who caused havoc for the players on the field and a disturbance to others sitting around them.
In the seventh inning, Orioles outfielder Hyun Soo Kim had a beer can tossed at him while he was fielding a fly ball. Luckily, he would make the catch.
Kim and teammate Adam Jones appeared to be extremely angry about the incident and were able to seemingly point out the fan to security, according to the Sporting News.
"That is about as pathetic as it gets. You don't do that. Yell, cuss or scream," Jones said. "I hope they find the guy and press charges. ... That's not a part of baseball. Throw an octopus, throw hats."
It was not clear whether the fan was ejected.
"Something like that should never happen. It's the first time for me and hopefully the last," Kim said through an interpreter.
Showalter said he just wanted the person identified and thrown out.
"It's tough when you have many people in the ballpark and one person does something that reflects poorly on all of them," he said. "We're fortunate and lucky that somebody didn't get hit."
That wasn't even the brunt of actions that were seen from seats.
One fan revealed on Twitter that people were yelling racial slurs at Kim and Jones. The fan shouted "go back to your country Kim."
Clearly, the rowdiness of a few bad apples isn't an indictment on an entire fan base, but these incidents don't make Blue Jays fans look good.
With the Blue Jays now going to play the Texas Rangers in a rematch of last year's ALDS, the outrageous antics could continue as the last year has proved that the two teams don't like each other very much.
Blue Jays fans tossed bottles and debris on the field during Game 5 of last year's AL Division Series against Texas, upset by the call that let Rougned Odor score from third after catcher Russell Martin's throw back to the mound deflected off Shin Soo Choo's bat. A baby was narrowly missed.
The Associated Press contributed to this report.