Opinion: Sign Chicharito, Manchester United -- or Risk Losing Him!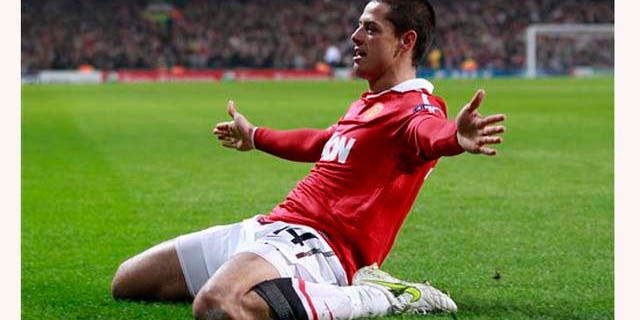 For Manchester United and Sir Alex Ferguson, I have two important words:
Sign Chicharito! Or face some potential dire consequences.
By now, I think everyone in the soccer universe and beyond realizes that Javier Hernández is the real deal. He has done everything asked of him and has exceeded expectations in his first season with ManU. The Mexican international has emerged as a legitimate scoring threat and a standout on an already star-studded team.
After his latest virtuoso performance – two more goals in United's 2-1 win over Marseille to reach the UEFA Champions League quarterfinal on Tuesday – I believe Chicharito has proved his worth and then some.
Hernández, who has accrued 15 goals in a less than full-time role, has found the back of the net in the English Premier League, the F.A. Cup, League Cup and the Champions League. He has proven himself in a league that demands pace, strength and skill. He started out saving ManU's collective hides scoring equalizing or winning goals off the bench – and now it appears he has secured a spot in the lineup alongside Wayne Rooney.
There has been a lot of fuss about how United's $10 million transfer fee for Hernández last year was a bargain. Hernández, who reportedly earns in the neighborhood of $65,000 per week, deserves a raise to secure his future with the club.
Chicharito's amazing strike rate certainly has not gone unnoticed.
If United doesn't seal a deal soon, another team, such as Real Madrid, will be lurking in the shadows and ready to pounce, according to reports.
Goal.com recently reported that Hernández was in advanced talks with ManU for a five-year deal that would keep him with the club through 2016. Hernández, whose contract was to be reviewed by the club at the end of the season, reportedly now is on a fast track. He is expected to sign with United by the end of the season, the website reported.
Whether the signing will be soon enough remains to be seen. Real coach José Mourinho, a big-time admirer of Hernández, would love to add the prolific Mexican to help the team make a run against Lionel Messi and company at Barcelona and boost its chances in the Champions League.
The scary thing about Chicharito is that he is just breaking into his prime at the age of 22, so his upside is ridiculous. Downside? We can't find any downside, at least at the moment.
His attitude also has been nothing short of exemplary. When Hernández was strictly a second-half sub, he did not complain. Now that he is getting much more starting time and scoring, he is humble.
"I was very happy to score twice but, as I always say, it is always more important that we win," he told reporters after Tuesday night's match. "That makes me just as happy.
"Scoring goals is giving me a lot of confidence but I don't care if I score or not because my first goal this season was always to win a trophy and we are still in three [competitions]," he added.
One more thing about Chicharito: it's not that he scores goals, it's the way he does it. Sometimes it is in spectacular fashion, in close quarters or from a difficult angle. Other times he does it with ease, making it as though it is an everyday occurrence and that anybody can duplicate what he accomplishes on the pitch.
Only a handful of great strikers can do that consistently while playing in one of the top European leagues.
So, the EPL leaders face a choice: they can pay now or pay dearly later.
Finding players who can score at ridiculous strike rates are rare indeed, especially ones at Hernandez's age.
Letting him get away would be a crime and a devastating loss for the club. Unless, of course, you're a club like Real Madrid, which would pull off a major coup by signing him to a nice, long, lucrative contract.
Regardless of what transpires, Chicharito is in a win-win situation.
Michael Lewis, who has covered international soccer for three decades, is a frequent contributor to Fox News Latino. He can be reached at SoccerWriter516@aol.com.
Follow us on twitter.com/foxnewslatino
Like us at facebook.com/foxnewslatino