Only four teams had worse preseason Super Bowl odds than the Falcons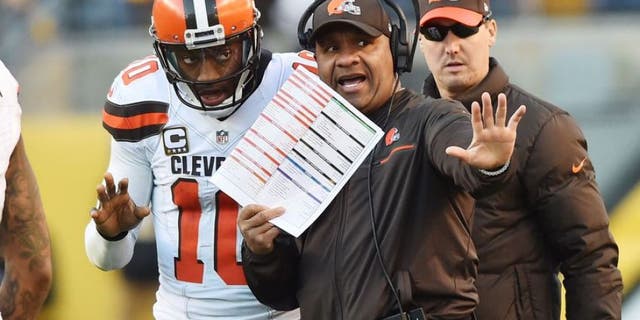 The Atlanta Falcons are currently three-point underdogs in Super Bowl LI against the New England Patriots despite having the best offense in the NFL this season. Being overlooked and underestimated is nothing new for Atlanta, though. It's actually familiar territory when you look at all the teams that had better Super Bowl odds than the Falcons did before the season.
On Sept. 8, 2016, the Falcons' Super Bowl odds sat at 80/1. They were coming off of a disappointing 8-8 season in which Matt Ryan had arguably the worst campaign of his career, and expectations weren't exactly sky high. However, the number of teams that had better odds than Atlanta is staggering.
According to the Westgate Super Book, only the Eagles (100/1), Rams (100/1), Browns (200/1) and 49ers (200/1) had worse odds than the Falcons when the season began.
At 50/1, the Jaguars, Jets and Chargers were all favored over the Falcons to win the Super Bowl. They combined to win a whopping 13 games, just two more than Atlanta won alone. At 60/1, the Lions and Bills also had better odds. Sharing 80/1 odds with the Falcons were the Dolphins, Saints, Buccaneers, Titans and Bears, only one of which made the playoffs.
It's also worth mentioning the Cardinals (8/1) and Panthers (12/1) also had better odds than the Falcons. The Bengals, Vikings and Colts were also in the same boat at 20/1.
Many people were high on the Jaguars with Blake Bortles figuring to take the next step and carry them to the postseason. The Jets won 10 games in 2015 and had much of the same personnel returning, so it was fair to think they'd improve. And the Chargers had Philip Rivers, who avoided the injury bug that plagued the rest of his team.
The Lions and Bills had decent seasons, but neither team was nearly as dominant as the Falcons were, and that was evident for most of the season. As for the Bears, it's just laughable that they were considered to have had the same odds to win it all as the Falcons, seeing as they won three games this season.
Hindsight is always 20/20, but the number of bad teams that were favored over the Falcons this season was shocking.