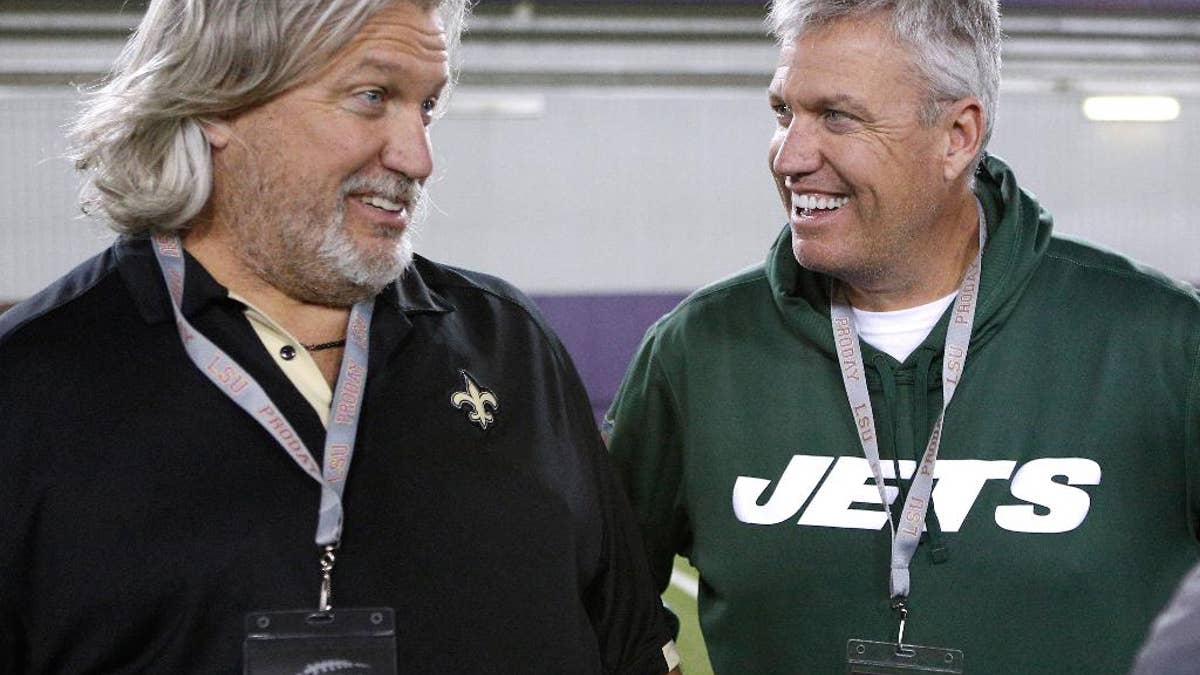 NEW YORK – The Ryan twins are best known for their defensive acumen. After four weeks, they are looking defenseless.
Rex's Jets are 1-3, have lost three in a row and can't cover anyone in the passing game. That's not a formula for success in the NFL 2014, when even the worst offenses pretty much are built around the air game.
Rob's Saints — he's the defensive coordinator under coach Sean Payton — have been even worse than Rex's bunch. At least the Jets can manufacture a pass rush, as inconsistent as it has been.
New York has allowed 96 points, 14 fewer than New Orleans. That's hardly the stinginess expected from Rex Ryan's units.
Get this: Detroit went 90 yards on 14 plays, 78 through the air, on a clinching drive Sunday.
"To be a great defense, you can't give that up, especially multiple times," linebacker Demario Davis said. "We have to find a way to stop that from happening.
"Why is this happening? Why are you able to go three-and-out here and three-and-out there, and then one drive they put all the plays together right? It's just adversity. I can't tell you why it's happening."
Unfortunately for Jets fans, this team might not have the answers. Sure, the front line is stout — Muhammad Wilkerson and Sheldon Richardson are Pro Bowl-quality players — and Davis, David Harris and Calvin Pace are solid linebackers.
That is more than offset by an overmatched secondary where one cornerback is playing out of position (former safety Antonio Allen), one safety is a rookie who can hit but struggles in coverage, and nobody is a standout. Or even close.
New York hasn't recovered from trading Darrelle Revis after the 2012 season, or from letting Antonio Cromartie leave in free agency last winter.
Or from drafting Dee Milliner in the first round in 2013 and seeing him either flop in coverage or be injured and unable to suit up.
General manager John Idzik has been criticized for recent moves in the secondary, and the one free agent signing, Dimitri Patterson, was hurt throughout training camp, went AWOL and skipped a preseason game, the was suspended and cut.
The Jets ranked highly in yards allowed heading into Week 4, but that's misleading. They usually can shut down the run, and the sacks they get also decrease the number of yards they yield.
But when they don't threaten the quarterback, there are receivers running so free it's difficult to figure out who is supposed to be on them. And we're not just talking wideouts, but tight ends and running backs.
"The way it's going to change, it's going to take everyone in that room," Ryan said. "We know it's a united group. We're going to fight to stick together and fight our way out. We know it's not easy, but that's the only way we know how to do it and that's what we're going to do."
His brother is saying the same kind of things in New Orleans. At least Rob Ryan can expect the Saints' normally potent offense to wake up at some point — that's far less likely in New York.
Regardless, the Saints find things incredibly difficult on defense when they are away from the Big Easy. Their one victory was 20-9 at home against Adrian Peterson-less Minnesota. In three road losses, the Saints have allowed 101 points.
Yes, things might improve as New Orleans plays five of its next seven in the Superdome, including a three-game homestand.
But if Rob Ryan's defense remains such a sieve with Green Bay, San Francisco, Cincinnati and Baltimore on the upcoming home schedule, the defeats might keep coming no matter how soon Drew Brees and company get it together.
"It's challenging. It's disappointing. It's frustrating," Payton said. "But it's on all of us now. It's on me. It's on our staff. It's on the team. Obviously, it's not where you want to be one-quarter through the season. We've got to look closely at the reasons why we're not winning."
Focus in on the defense, Sean. The Saints hired Rob Ryan after he was fired as coordinator with the Cowboys. On Sunday night, Dallas did everything it wanted to Ryan's D.
New Orleans signed three-time Pro Bowl safety Jairus Byrd to anchor the secondary. But that group has struggled, in part because some effective pass rushers from last season (Junior Galette and Cameron Jordan) have been stymied. The Saints don't blitz well, so the cornerbacks in particular are stressed every week to maintain coverages.
One thing is certain: the way the Ryans' defenses are playing is, well, defenseless.
___
AP NFL website: www.pro32.ap.org and www.twitter.com/AP_NFL