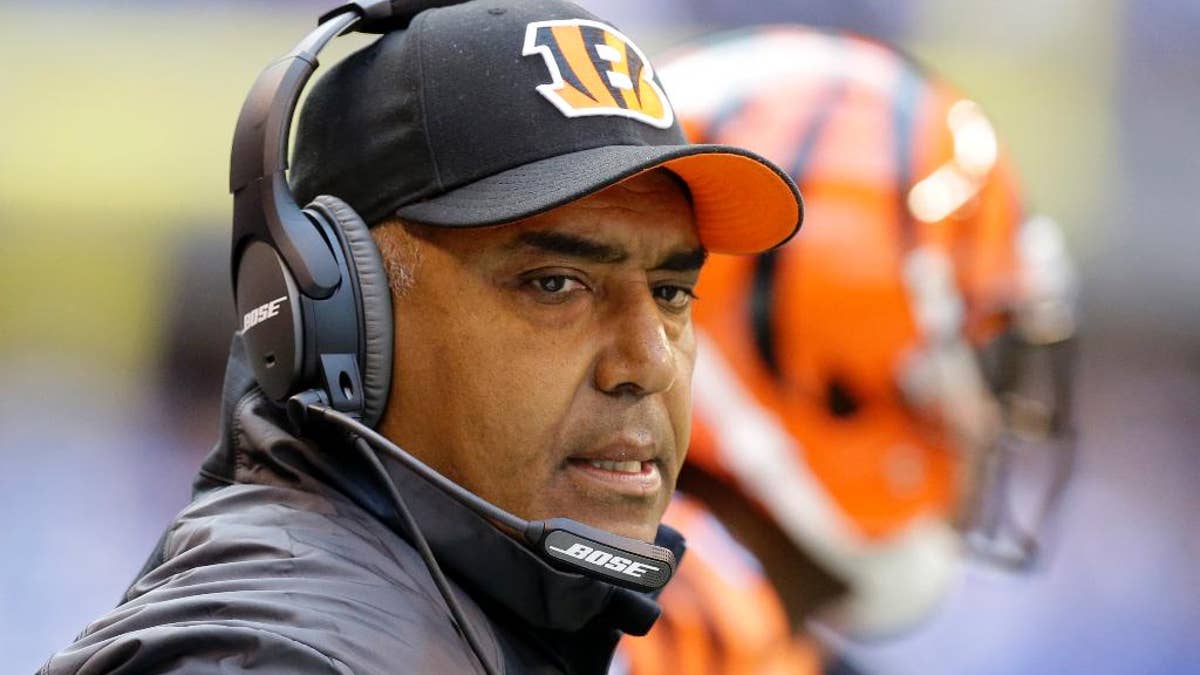 The tabloids have the trap door set for Rex Ryan in New York. Talk radio can't chat enough about who the next coach of the Falcons will be.
Even coaches in their first seasons with their teams are under fire.
And it's not even halfway through the NFL schedule.
Coaching security pretty much is a non-sequitur in pro football unless your last name is Belichick or McCarthy. Such successes as John Fox, Andy Reid and Tom Coughlin at their first head coaching stops are now at their second — and having success there, too.
None of those gentlemen need worry about future paychecks right now; sorry, sour-pussed Giants fans, but Coughlin, the NFL's oldest coach at 68, has earned the right to decide when he is through.
For every coach who is "safe," there's one who is on a slippery slope. Such as:
REX RYAN, JETS (1-6)
Ryan ducks questions about his future in New Jersey, but he has to know that anything close to another 1-6 segment this season could doom him. It's unfair because the Jets are vastly under-talented in several areas, which reflects more on the personnel decisions than on the coaching.
They also play hard, if not particularly well, for the man. And he's one of the few interesting things about the franchise these days.
"First off, I'm not focused on what's down the road. I'm focused on the right now, as well," he says. "I can't expect my team to be focused that way if I'm looking down the road.
"You're right, this is a win business. I understand that, there's no doubt. But this is about the team and it's always been a team and that's the priority. The priority has never been my future."
MIKE SMITH, FALCONS (2-5)
Smith built his reputation as a defensive whiz, and then he helped build the Falcons back into a contender. They went 11-5, 9-7, 13-3, 10-6 and 13-3 in his first five seasons, by far the longest run of success in franchise history.
That should have earned him some leeway, but it sure doesn't sound or look that way judging by reaction to the Falcons' performances last season (4-12) and this. Atlanta can't run the ball — the offensive line is missing four starters; the Falcons can't do much of anything on defense; and they have dropped four straight, only one to a true contender.
The NFC South is weak this year, but the Falcons don't appear capable of making any headway in it. That could mean, fairly or not, Smith heads out the door in January.
TONY SPARANO, RAIDERS (0-6)
His stint as boss man in Miami (29-33 from 2008-2011) didn't exactly qualify Sparano for the interim spot in Oakland when Dennis Allen was fired. Nor did his failed year as offensive coordinator under Ryan in the Meadowlands.
For Sparano to have any chance at remaining in charge of the Raiders beyond December, a major turnaround would be needed. The roster is filled with former stars beyond their peak and youngsters not close to their prime. Not the formula for winning.
Besides, owner Mark Davis is more likely to seek a big-name coach to run things after a 12th straight non-winning record.
MARVIN LEWIS (3-2-1)
Yes, like Smith in Atlanta, Lewis is the most accomplished coach in Cincinnati. Except for the playoffs, in which his Bengals revert to being the Bungles. The team hasn't won a playoff game since the 1990 season, and is 0-5 under Lewis.
Considering where this franchise was under such coaches as Dave Shula, Bruce Coslet and Dick LeBeau before Lewis took over in 2003, he probably deserves a lifetime contract. Obviously, that's not how things work in the NFL unless the coach owns the team, and this year's Bengals have looked awful following a 3-0 start.
Injuries have been damaging and threaten Cincinnati's three-year run to the postseason. More damaging to Lewis is the perception that the Bengals should be taking a huge step forward, building on recent success, something they might not be capable of doing.
THE NEW GUYS
Here's where the hot seat talk gets crazy. Not that sports fans or the gonzo portion of the media are known for their patience, but there already are demands for the heads of Lovie Smith in Tampa (1-5), Ken Whisenhunt in Tennessee (2-5), Jay Gruden in Washington (2-5), and Mike Zimmer in Minnesota (2-5). All of them, if you hadn't noticed, are in their very first season running their teams.
The criticisms include severe underperformance despite an improved roster (Buccaneers); inability to develop young quarterbacks (Redskins); generally poor personnel use (Titans); and insufficient clock and overall game management (Vikings).
Come on! The argument that it takes time to retool or rebuild is valid, particularly looking at where those teams were in 2013. So let the seats these new guys are sitting on cool for a while.
___
AP NFL website: www.pro32.ap.org and www.twitter.com/AP_NFL