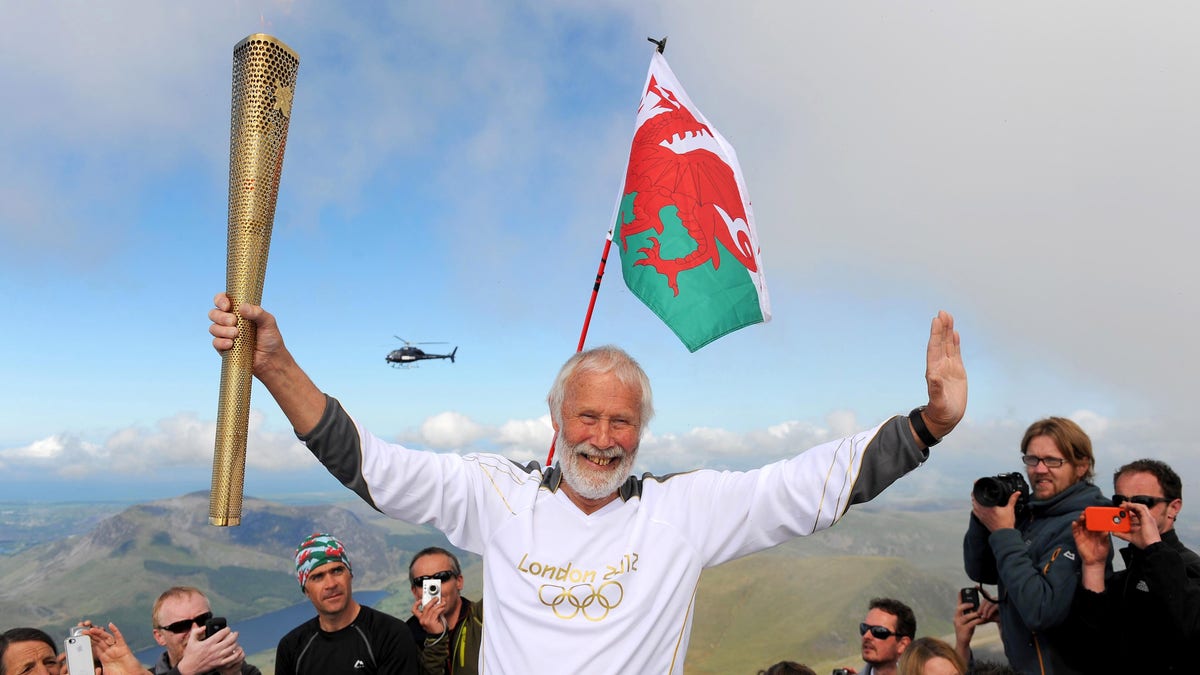 LONDON – Spectators have stood in the rain and wind, in doorways and on sidewalks, along country lanes and beside superhighways, just hoping for a glimpse of a lone runner, torch in hand, flame held high.
Britain's torch relay has drawn huge crowds as it winds its way to every corner of the country ahead of its showcase moment at the July 27 Opening Ceremony. On Friday, it was halfway through its 70-day journey, traveling within 10 miles (16 kilometers) of 95 percent of the British population.
"It's one of the few areas (where) people can reach out and touch the games almost literally," said Ian Henry, the director for Olympic Studies & Research at Loughborough University. "It's the way to give their enthusiasm some concrete expression."
It's been on horseback. It's traveled on a balloon. It's been on boats, planes, trains. It's been carried by Olympians and Paralympians, singers and dancers, police officers and firefighters. The queen's granddaughter, Zara Phillips, shared honors with James Winter, a 40-year-old milkman from Chard who was nominated for delivering, no matter the weather.
If the Beijing relay set up the 2008 Summer Games as China's coming-out party on an international stage, London's relay is setting up Britain as the community Olympics -- maybe not the biggest and most spectacular, but one that will be welcoming -- and certainly well attended.
The English are normally too inhibited and squeamish to make a big fuss about anything -- except sport, Kate Fox, the author of "Watching the English," wrote in a British Airways survey on the games.
"Big sporting events such as the London 2012 games provide an antidote to what I call social dis-ease -- a temporary remission from what I call our usual cynical Eeyeorishness, an excuse to shed some of our inhibitions and be a bit more emotive or demonstrative," she said.
Organizers of the London Olympics assumed that the world would be excited about the London Games. But they were worried about what people in Britain would think -- particularly given that Brits are often a cynical lot and proud of it, thank you. This was particularly important given that the bill for 9.3 billion pounds ($14.7 billion) to host the event comes at a time of economic austerity. People wondered whether the money was well spent.
There's also the fact that so much activity is focused on Olympic Park in London. There had to be some sense that other parts of the country were involved -- that the Olympics also belonged to Scotland, Wales and Northern Ireland.
So instead of being international, the London Games focused on local heroes. Take Sgt. Richard Clement, 32, a veteran of Afghanistan who lost both legs and part of an arm in combat. He came back home and became a fundraiser for service charities, campaigning for soldiers to have the right to have their sperm frozen before tours of duty.
Clement wants spectators to think about his mates in Afghanistan when he carries the Olympic torch in Blackpool wearing number 131 and traveling down the promenade beside the sea.
"I just want everyone to be a bit proud of the forces and the job they do really," he said. "I'm carrying it for all the troops that are out there."
All over the country, people have been touched by stories like his. In one community, Worcester, 70,000 people -- out of a population of 93,300 -- turned up for the celebratory lighting of the cauldron after the run. The projections are making city planners further along the route think twice.
Garrett Emmerson, who supervises surface transport for Transport for London, told the Associated Press that plans for the torch's arrival in London had to be reconsidered and bolstered after seeing the torch's reception elsewhere. Britain has had to pour more money into crowd-control plans for London during the Olympics -- after it acknowledged that it vastly underestimated the crowds that would turn out to see the flame.
Some of the torchbearers who have participated so far have put their torches up for sale on eBay. Organizers got into the act this week, setting up a torch auction featuring one used by soccer star David Beckham when the flame arrived in Britain last month after being lit in Greece.