Ole Miss guard Rasheed Brooks stable after suffering seizure during timeout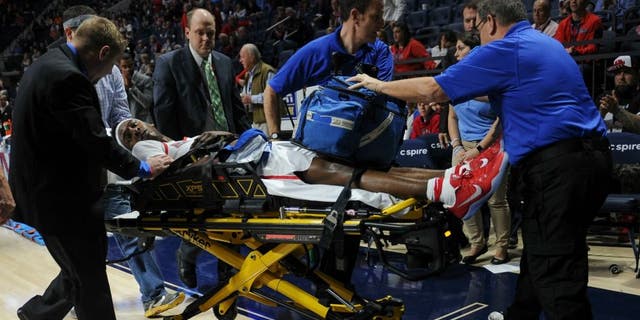 NEWYou can now listen to Fox News articles!
Mississippi guard Rasheed Brooks collapsed on the team's sideline and had a seizure during the team's 80-69 win over Tennessee on Tuesday night.
The scary incident happened during a timeout early in the second half and ended with Brooks being taken off in a stretcher and transported to Baptist Memorial Hospital-North Mississippi in Oxford, where he is now listed as stable.
Ole Miss coach Andy Kennedy updated reporters after the game.
''It's my understanding he is stable, conscious, but he does not remember anything and he is still going through tests. It was a frightening moment for all of us and our prayers are with him. I turned my back and felt him fall against me, but I thought it was cramps. We were emotionally devastated to see Rasheed suffering and it was hard for our players to go back out there.''
The Rebels were rattled, no doubt, but their defense picked up and they closed the game on a 12-2 run in the final three minutes to seal the victory.
Brooks, a junior-college transfer, averaged 8.3 ppg last season and was just a hair under that at 7.9 this season.
A spokesman for the school said he could not comment about whether Brooks had any history of seizures.