Oakland A's at Tampa Bay Rays game preview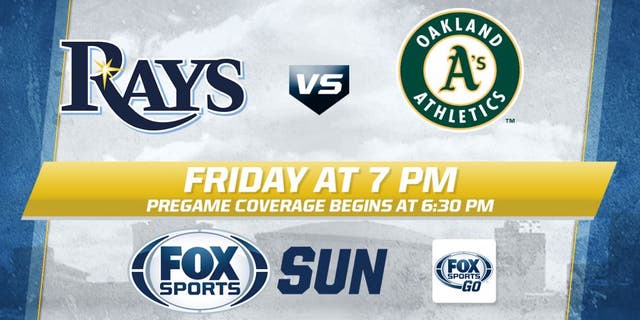 NEWYou can now listen to Fox News articles!
TV: FOX Sports Sun
TIME: Coverage begins at 6:30 p.m.
The Oakland Athletics sorely need a reprieve on a road trip in which they've been knocked around by two of the AL's best offensive teams.
One may come Friday night against the lighter-hitting Tampa Bay Rays, who'll face Oakland's most consistent pitcher in the opener of this three-game series.
The A's enter Tropicana Field staggering from five straight losses to Baltimore and Boston. They've been outscored by a whopping 51-18 margin over the last four, permitting 11 or more runs in each for the first time in franchise history.
"It's certainly embarrassing," outfielder Josh Reddick told MLB's official website following Wednesday's 13-3 trouncing by the Red Sox. "You look at early in the year, our pitching was doing well and we weren't swinging the bats, and now it seems the tables have turned on us."
Oakland's beleaguered rotation produced a 2.88 ERA over its 10-7 start, but the starters have gone 3-13 with a ghastly 8.40 ERA and .327 batting average against as the A's have lost 14 of 18 since. In the Boston series, Oakland (14-21) became the first team to allow 13 or more runs in three straight games since the White Sox in May 1999.
Rich Hill (4-3, 2.39 ERA) has been the one outlier during the brutal stretch, going 3-1 with a 1.46 ERA while holding opponents to a .133 average over his last four starts. The left-hander limited the Orioles to a run and two hits over 5 2/3 innings in Saturday's 8-4 victory, the A's lone win in their last 10 games.
Hill, who is 4-0 with a 1.09 ERA on the road, faces a Tampa Bay team that's hitting .224 and ranks near the bottom of the AL in runs. The Rays were 2 for 18 with runners in scoring position in losing three straight in Seattle on a West Coast trip they began with a three-game sweep of the Angels.
Tampa Bay (15-17) has hit 18 home runs in its last eight games - second only to Boston over that span - and owns a .454 slugging percentage against left-handed pitchers. Steve Pearce, who's homered four times in his last six games, is hitting .400 off southpaws and Logan Forsythe .367.
Forsythe hopes to return from a two-game absence after being hit in the shoulder by a pitch Monday.
The Rays homered twice more in Wednesday's finale, receiving a grand slam from Corey Dickerson and Kevin Kiermaier's game-tying solo shot in the ninth, but were dealt a 6-5 loss on a homer in the 11th.
"Home runs are encouraging when we're hitting them. They're not encouraging when we're giving them up," manager Kevin Cash said.
Hill could present a tough matchup for Tampa's feast-or-famine lineup, as he's allowed four homers in 66 2/3 innings since returning to the majors with Boston in September.
Low-scoring games are nothing new for Jake Odorizzi (0-1, 3.10), who's received 16 runs of support in his seven starts and three in four at Tropicana Field. He recorded a fifth consecutive no-decision despite holding the Angels to two runs in six innings Saturday.
The right-hander has allowed one earned run or less in each of his home starts.
Oakland could have Danny Valencia back Friday. The third baseman has missed two games after aggravating a hamstring injury that previously sent him to the disabled list.