Notre Dame legend Ara Parseghian is still mad about the Michigan State tie 50 years ago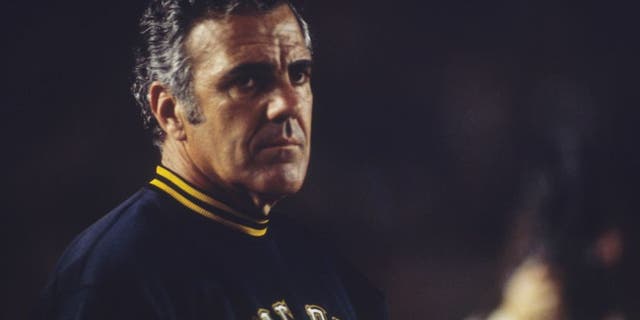 The stakes aren't quite as high Saturday for Notre Dame and Michigan State as they were 50 years ago. Sure, it's a rivalry game. However, the entire nation won't be fixated on its result.
In 1966, when the Spartans and Fighting Irish met they were both undefeated. Notre Dame was 8-0 and No. 1; Michigan State was 9-0 and No. 2.
The Spartans took a 10-0 lead -- pretty astonishing when you consider the Irish defense gave up 38 points all season -- but Notre Dame rallied at Spartan Stadium.
The game was tied at 10 when Notre Dame missed a 41-yard field goal. The Irish got the ball back and coach Ara Parseghian had the team run out the clock. Remember, in 1966, there was no overtime.
"We'd fought hard to come back and tie it up," Parseghian said at the time. "After all that, I didn't want to risk giving it to them cheap. They get reckless and it could cost them the game. I wasn't going to do a jackass thing like that at this point."
This week, the Chicago Tribune caught up with the now 93-year-old Parseghian and he bristled at the notion he settled for a tie.
"We didn't go for a tie; the game ended in a tie. Christ, somebody ought to wake up to that," the legendary coach said.
"... It would have been easy to blow the game. We knew they were laid back in pass defense. We were using draw plays, screens. On the second-to-last play, Bubba Smith came over our No. 2 center and got a sack. So the last play of the game was a quarterback sneak."
How big was the game? Per history.com: The Notre Dame-MSU tie was the first college football game to be broadcast to U.S. troops in Vietnam. At first, ABC wasn't going to show the game at all, but 50,000 fans wrote letters and signed petitions in protest and the network changed its mind. And the reversal paid off: The game got higher ratings than the next year's first-ever Super Bowl did.
Neither Notre Dame, which went on to finish the season 9-0-1, nor Michigan State went to a bowl game after the season.
The Irish did not go to bowl games back then. Meanwhile, the Spartans were not able to receive an invite to the Rose Bowl. Big Ten rules forbid schools from going to the Rose Bowl in back-to-back seasons.