North Korea might host 2018 Winter Olympics with South Korea, Seoul says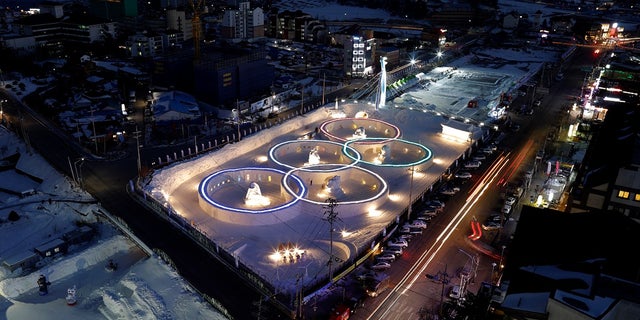 NEWYou can now listen to Fox News articles!
International pariah North Korea may host the 2018 Winter Olympics jointly with South Korea in an effort to relieve tensions between the two border countries, Seoul officials said.
Do Jong-hwan, South Korea's sports minister, suggested the measure, which reflects statements the new South Korean president Moon Jae-in has previously stated about mending ties between the two Koreas, according to The Guardian. The games are scheduled to be held in February, 2018 in PyeongChang.
Do said North Korea's "top class" Masikryong ski resort would be an appropriate venue for the games and that he would talk to Jang Woong, North's Korea's delegate to the International Olympic Committee, about co-hosting together. He also said he will talk to Thomas Bach, the International Olympic Committee president, about relocating some of the skiing games to North Korea.
DEFECTORS FROM NORTH KOREA DESCRIBE CONCENTRATION CAMP, DAILY LIFE
Do also proposed that the two countries form a women's ice hockey team to participate in the games.
Earlier this month, Moon proposed that the two countries put in a bid to FIFA to host the 2030 World Cup.
"If the neighboring countries in north-east Asia, including North and South Korea, can host the World Cup together, it would help to create peace," Moon said.
The game would demand a large investment for infrastructure.
North Korea has won medals in previous Olympic games including last year's Summer Olympic Games in Rio de Janeiro, where the country took home seven medals, including two golds. However, the country is not known for competing well in Winter Games and was notably absent for the 2014 Olympic Winter Games held in Sochi, Russia.
NORTH KOREA THREAT: EU SEEKING ROLE IN ENDING REGIME'S NUCLEAR PROGRAM
No North Korean athletes have qualified for the 2018 games.
This year, the two countries joined together for a women's soccer's game in Pyongyang and a women's hockey tournament in South Korea.
The proposal could receive criticism from the United States, which is reeling from the death of Otto Warmbier, a University of Virginia student who was arrested by North Korea in 2015 for allegedly stealing a propaganda sign during his trip to the country. The country sentenced him to 15 years of hard labor. U.S. officials arranged for his release last week, but Warmbier arrived home in Ohio in a coma-like state with severe brain damage. His parents, Fred and Cindy Warmbier, said their son received "awful torturous mistreatment" while in North Korea.
The family declined to have an autopsy done and doctors speculated that the young man may have died from a blood clot or kidney failure. President Donald Trump said North Korea's treatment of Warmbier "a total disgrace," and called the North Korean government "a brutal regime."
North Korea's numerous missile launches that have been aimed to hit Japan or South Korea are also a concern for many international sports communities, according to The New York Times.