No. 1 overall pick Myles Garrett put his Cleveland Browns signing to music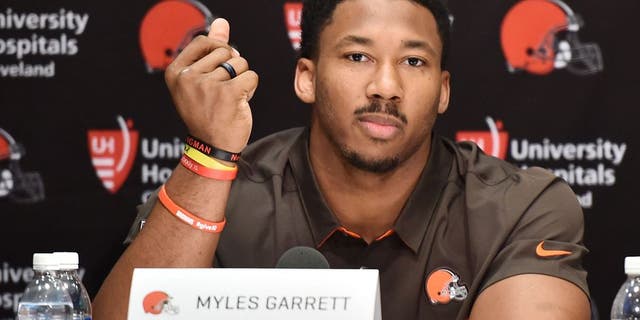 Signing first-round draft picks has become a formality in the NFL Joey Bosa and the 2016 Chargers notwithstanding.
But its still a thing when the first overall pick in the draft puts pen to paper, and rookie Browns defensive end Myles Garrett did just that Friday oddly enough, with Seals Kiss from a Rose playing in the background.
Seems a little mellow for a player expected to terrorize NFL quarterbacks, but Garrett is known to be a bit of a free thinker. He can buy as many Seal downloads as he wants with the $30,427,000 Cleveland.com reports his new four-year contract is worth. The deal, which includes a $20 million signing bonus, has the fifth-year option that comes standard with all first-round picks.
Garrett has made headlines so far by saying he cant wait to sack Steelers quarterback Ben Roethlisberger, but now that hes being paid itll be time to back up his boasts on the field.
AP | Copyright The Associated Press. All rights reserved.