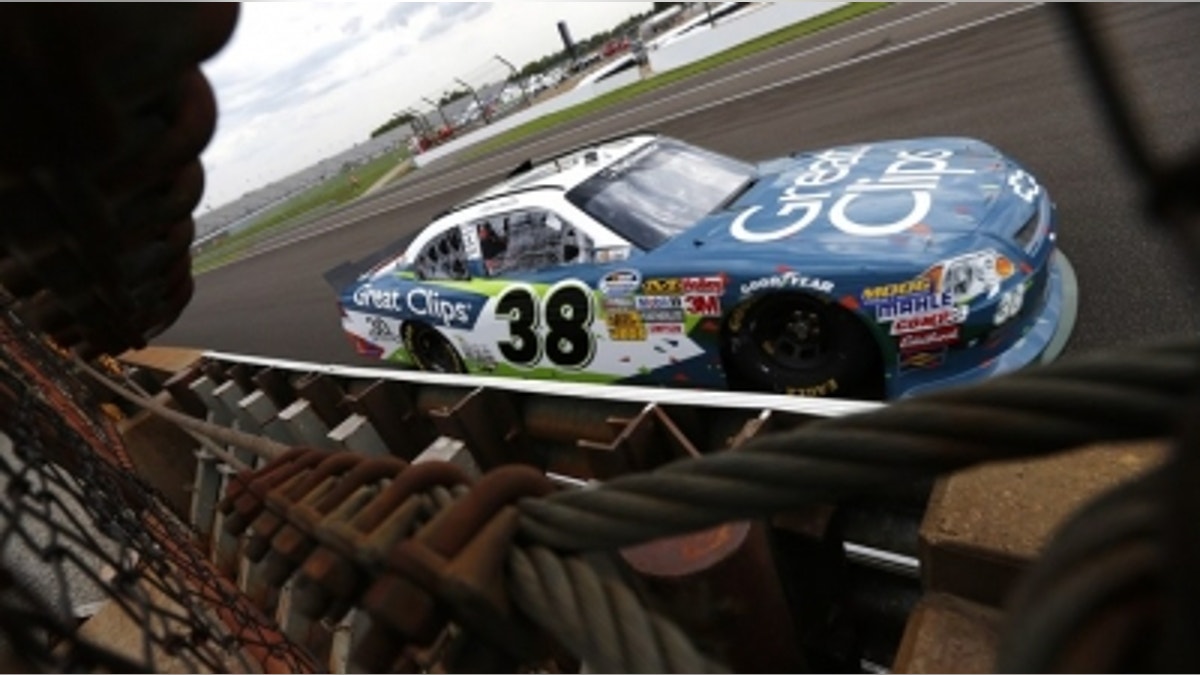 Track workers, start your engines.
The goal: Swap out concrete walls and tire barriers and move fencing quickly enough to use the oval and road courses on the same weekend for the first time in track history.
The Grand-Am Series will run its debut race on Indianapolis' road course Friday, while the Nationwide Series holds its inaugural race on the traditional 2.5-mile oval Saturday afternoon. In between, the busiest guys in town will be the track workers.
"In this case, our conversion consists of what we need to do, so you may see a remnant or two in the infield," speedway CEO Jeff Belskus said. "Our original goal was to get it done in 12 hours or less and the operating team says it can do it in 10 hours or less."
If Indianapolis Motor Speedway pulls off this remarkable weekend double without a hitch, it could open a whole new world of possibilities to one of the world's most famous racing venues.
The first team owner to win the Daytona 500 and Indianapolis 500 in the same season, Chip Ganassi, already started lobbying Thursday for a for a 6-hour endurance race. Drivers will compete in a three-hour race and a 2 -hour race Friday.
"I think it's a great idea," Ganassi said.
He's not alone.
NASCAR driver Juan Pablo Montoya, the 2000 Indianapolis 500 winner, has another idea for race organizers.
"I think finishing the race here at night would be awesome," said Montoya, who will become the first driver to compete in four of the five sanctioned events that have been held at Indianapolis – IndyCars, Formula One, NASCAR and Grand Am.
But plenty of challenges lie ahead for speedway officials.
Nationwide drivers got a chance to practice on the oval Thursday afternoon. When practice ended, track workers scrambled to start converting the track into road-course mode for Friday's two races. Then the track must be switched back to oval mode for Saturday's practice and qualifications and the Nationwide race. The Brickyard 400 will be held Sunday on the oval.
With that much activity there are bound to be some traffic jams in Indy.
"We have 250 transporters and race teams at this facility right now," Belskus said. "Yesterday (Wednesday), we had haulers and transponders lined up two abreast all the way around the track to get into their positions, so it will affect the traffic flow."
Parking on the infield was limited Thursday and will be restricted again Friday and Saturday.
Belskus is advising fans to find another parking spot before Sunday, when most of the infield equipment should be removed and traffic race day traffic patterns become more typical.
A decline in attendance prompted race organizers to rethink how race weekend should be conducted in Indy. The solution was moving the Nationwide race from a nearby track to Indianapolis Motor Speedway and putting the Grand-Am Series on the schedule for the first time. Track officials are anticipating an increase in the three-day attendance.
It's a stark contrast to the pre-NASCAR days when the only race held on this track was the Indianapolis 500.
NASCAR officials are waiting to see how race weekend goes before agreeing to a new 1-year contract for 2013, but they believe next year's race weekend can be bigger and better. Series officials typically negotiate contracts annually.
"It's not something we came up with overnight. There's going to be a lot of action in a short period of time," NASCAR president Mike Helton said. "It's going to be a challenge going back and forth, but they've figured out a way to do this."
Belskus said Thursday that he has already begun discussing plans for next year's race, but he has more pressing concerns this weekend.
"We have started talking, but frankly, I want to get through this weekend see how this goes," Belskus said. "The biggest challenge is logistically, converting the oval to a road course and back to an oval. We have a plan and I think it will work."