Nielsen: Ronda Rousey equal to LeBron James in endorsement potential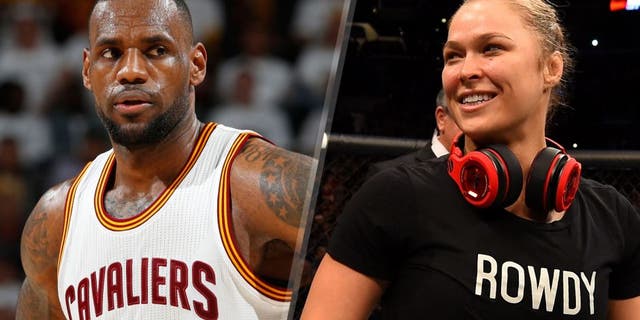 CLEVELAND, OH - APRIL 21: LeBron James #23 of the Cleveland Cavaliers stands on the court during a game against the Boston Celtics during Game Two of the Eastern Conference Quarterfinals of the NBA Playoffs at The Quicken Loans Arena on April 19, 2015 in Cleveland, Ohio. NOTE TO USER: User expressly acknowledges and agrees that, by downloading and/or using this Photograph, user is consenting to the terms and conditions of the Getty Images License Agreement. Mandatory Copyright Notice: Copyright 2015 NBAE (Photo by Gregory Shamus/NBAE via Getty Images) LOS ANGELES, CA - FEBRUARY 28: Ronda Rousey celebrates her victory over Cat Zingano in their UFC women's bantamweight championship bout during the UFC 184 event at Staples Center on February 28, 2015 in Los Angeles, California. (Photo by Josh Hedges/Zuffa LLC/Zuffa LLC via Getty Images)
It's been well documented in the lead up to UFC 193 that bantamweight champion Ronda Rousey is the most popular star in the sport, but how does she stack up when paired against other major sports figures across the United States?
Nielsen, a leading global information and measurement company best known for providing television ratings as well as gauging what consumers buy and what consumers watch, recently conducted a survey to determine Rousey's viability and marketability in America.
The polling tested 1,000 people with a range of questions that helped Nielsen ultimately obtain an 'N-Score', which evaluates the endorsement potential for personalities across sports, television, movies, book publishing and radio.
According to the findings provided to FOX Sports by Nielsen, Rousey is known amongst 44-percent of Americans with 70-percent of those polled saying they found the UFC women's champion 'likeable'.
In terms of awareness, Rousey still ranks lower than several notable sports stars such as Denver Broncos quarterback Peyton Manning and Cleveland Cavaliers forward LeBron James, but the research goes much further when discussing the UFC champion's viability to potential sponsors.
The N-Score totals up awareness, likeability, influence, success, and status as both a trendsetter and role model to give the total number for endorsement potential.
Rousey finished with a total score of 77, which puts her directly in line with James as well as racecar driver Danica Patrick, who both scored a 77 with the American consumer.
Rousey landed underneath Manning (85) and tennis star Serena Williams (88) but ahead of golfer Jordan Spieth (71).
Now while Rousey's overall recognition is lower than many of the sports stars she was rated up against, where it's clear that she's mixed martial arts biggest star is when comparing her awareness with Americans when put up against her fellow fighters.
According to the survey, Rousey is known by 44-percent of Americans whereas the average mixed martial artist is only recognized by 12-percent of the U.S. viewing public.
In terms of marketability, Rousey finished with an N-Score of 77 while the average mixed martial artist finished with a score of 58.
A couple of other facts gained by the Nielsen survey including Rousey's recent endorsement deal with Carl's Jr, where she became the national spokesperson for a series of commercials just recently.
According to the survey, Rousey's fans are 30-percent more likely than the average adult in the U.S. to have visited a fast food restaurant at least 10 times in the past 30 days. Additionally, Rousey's fan base is actually interested in pro boxing 32-percent more than the average American, while only 29-percent higher for mixed martial arts.
It all totals up to show that Rousey is not only becoming a superstar in her own sport, but she's crossing pop cultural boundaries and beginning to compete with athletes in extremely visible sports like football and basketball as well.
Considering she shows the same viability to sponsors along with names like LeBron James and Danica Patrick, Rousey will likely only continue to add major endorsements over the next year as she begins appearing in several movies as well as her career in the UFC.