NFL players seek meeting with Goodell, McNair, Kaepernick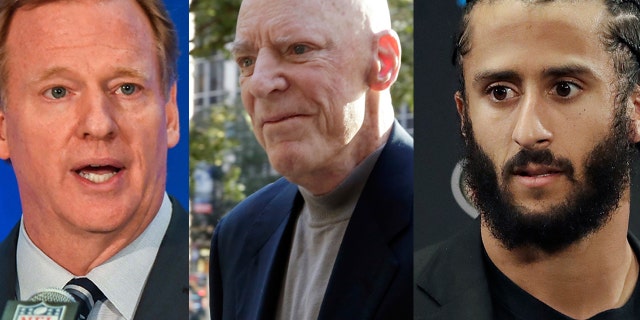 An NFL team owner's recent "inmates running the prison" remark has prompted a group of the league's players to call for a meeting Monday to clear the air.
The Washington Post reported Saturday that a panel called the Players Coalition has requested a meeting Monday in Philadelphia with league Commissioner Roger Goodell, Houston Texans owner Bob McNair, and free agent quarterback Colin Kaepernick.
It wasn't immediately clear if all parties had agreed to attend.
Meanwhile, ESPN reported Saturday that the Houston Texans players were planning to stage an unspecified protest against McNair's remarks prior to Sunday's game against the Seahawks in Seattle.
"Many players have been deeply troubled by the disturbing comments made by Texans' owner Bob McNair," the Players Coalition said in a statement. "It is ironic that such a quote would emerge in the midst of an ongoing struggle to highlight injustices suffered by people of color, including our nation's deeply flawed approach to criminal justice and inhumane treatment of imprisoned people."
McNair has apologized twice since making what he described as a "very regretful comment" during a recent league meeting about players' national anthem protests. The comment was published in ESPN The Magazine.
But McNair insisted afterward that he wasn't referring to the players as "inmates" when he said, "We can't have the inmates running the prison." Instead, he said, he was describing the relationship between team owners and the league office in New York.
Nevertheless, in a league on edge over race-related matters -- sparked in large part by Kaepernick's 2016 protests against American society's treatment of people of color – the "inmates" remark wasn't accepted well.
Last season Kaepernick, who was with the San Francisco 49ers, began kneeling during the national anthem before games, saying he was protesting police killings of African-Americans. But many critics argued that protesting during the anthem was disrespectful to the nation and especially the members of the U.S. military.
After President Donald Trump made a veiled reference to Kaepernick as a "son of a b--ch" during a September speech in Alabama, more players joined the protest – even though Kaepernick was out of the league by then.
In their statement, the players asserted that McNair's remark suggested that some league officials were not taking their concerns seriously.
"As long as the prevailing reality of our league includes a culture where owners feel such behavior and language is permissible, our cause will continue to be stifled and progress will remain elusive," the statement said. "This isn't about being a player or a club owner - but basic human decency."
According to ESPN, the Players Coalition is led by Philadelphia Eagles safety Malcolm Jenkins, retired wide receiver Anquan Boldin and other players who are engaged in community activism.