NFL HALFWAY: Picking Brian Hoyer over Johnny Football tops coaching decisions in first half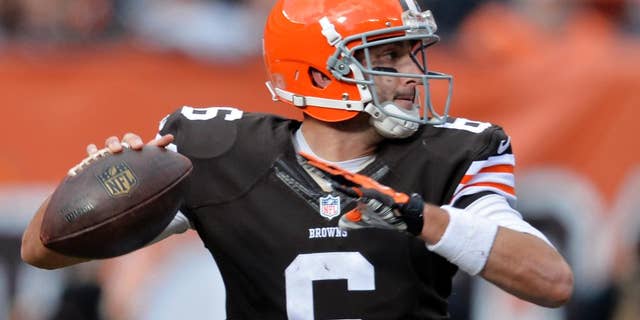 Handing Johnny Football a clipboard and baseball cap has worked out nicely for the Cleveland Browns.
Rookie coach Mike Pettine's decision to start Brian Hoyer instead of first-round pick Johnny Manziel wasn't popular among fans, but the Browns are 5-3 and in the mix in the AFC North.
Hoyer has rebounded from knee surgery to put his hometown team in position to make a run at its first playoff appearance since 2002 and post only its second winning season in the last 12 years.
"We're doing a good job of finding ways to win," Browns four-time All-Pro tackle Joe Thomas said. "Part of that is having a quarterback who's making the clutch throws."
For picking Hoyer over Manziel, Pettine gets our vote for best coaching decision in the first half.
Here are more unofficial, offbeat awards at midseason.
WORST COACHING DECISION
Rex Ryan sticking with Geno Smith after benching him at halftime of the New York Jets' 31-0 loss to San Diego in Week 5. The Jets were 1-4 and Ryan could've given Michael Vick a chance to rescue the season at that point. Instead, he gave Smith three more starts before pulling him against Buffalo on Oct. 26.
BEST FREE-AGENT SIGNING
Denver signing four-time All-Pro DeMarcus Ware after he was cut by Dallas. Ware already has eight sacks, and has improved the run defense along with the pass rush.
HONORABLE MENTIONS: Wide receiver Steve Smith Sr. (Baltimore); cornerback Brandon Flowers (San Diego); wide receiver Brandon LaFell (New England); safety Malcolm Jenkins (Philadelphia).
WORST FREE-AGENT SIGNING
Detroit signing kicker Alex Henery to replace rookie Nate Freese, who missed four of seven attempts in three games. Henery lasted two games, missing all three of his field-goal attempts in a 17-14 loss to Buffalo on Oct. 5. Freese, Henery and new Lions kicker Matt Prater are 3 for 13 from beyond 40 yards. David Akers was 7 for 10 from that distance for Detroit in 2013 but didn't get a contract offer.
HONORABLE MENTIONS: Offensive tackle Michael Oher (Tennessee); running back Maurice Jones-Drew and defensive end LaMarr Woodley (Oakland); running back Toby Gerhart (Jacksonville).
BEST TRADE
Philadelphia acquiring running back Darren Sproles from New Orleans for a fifth-round pick. Sproles has 472 yards rushing and receiving and three TDs. He also has a punt return for a TD.
WORST TRADE
Seattle received only a conditional pick from the Jets for wide receiver Percy Harvin after trading a 2013 first-round and seventh-round draft choices and a 2014 third-rounder to get him two years ago.
BEST PLAYCALL
St. Louis coach Jeff Fisher called a fake punt on a 4th-and-3 from the Rams 18 with a 28-26 lead and 2:55 left in the game. Punter Johnny Hekker tossed an 18-yard pass to Benny Cunningham and the Rams upset Seattle.
WORST PLAYCALL
Philadelphia coach Chip Kelly calling a run out of the shotgun formation on 3rd-and-inches from the Cardinals 2 in a tie game late in the fourth quarter. LeSean McCoy was stopped for no gain and the Eagles kicked a go-ahead field goal. Arizona answered with a 75-yard TD pass to win it.
BEST PLAY
St. Louis returner Stedman Bailey had a 90-yard touchdown on a trick punt return that had the Seahawks thinking another player was going to field the punt. Tavon Austin drew most defenders to the opposite side of the field by staggering under the imaginary ball. That allowed Bailey a clear path down the sideline after fielding the punt across the field.
WORST PLAY
San Francisco's Colin Kaepernick fumbling on a quarterback sneak at the goal line on the final play in a 13-10 loss to the Rams.
BEST GAME
In a Super Bowl rematch, the Seahawks again beat the Broncos but needed overtime to do it. Marshawn Lynch's 6-yard run gave Seattle a 26-20 win and prevented Peyton Manning from touching the ball in OT.
WORST GAME
Tampa Bay trailed Atlanta 56-0 going into the fourth quarter of a 56-14 loss. The Buccaneers have five losses by less than a touchdown but two losses by a 104-31 margin.
BEST PERFORMANCE
Pittsburgh quarterback Ben Roethlisberger had 522 yards passing, 40 completions, and six touchdowns to help the Steelers beat Indianapolis 51-34.
WORST PERFORMANCE
Smith tossing three interceptions on three straight series before getting yanked against the Bills.
BEST COMEBACK PERFORMANCE
Jeremy Maclin returning from ACL surgery to lead the Eagles with 45 catches, 790 yards receiving and eight TDs.
WORST COMEBACK PERFORMANCE
Matt Schaub hasn't rejuvenated his career in Oakland. He couldn't beat out rookie Derek Carr in training camp and has thrown one pass for the winless Raiders.
___
AP Sports Writer Tom Withers in Cleveland contributed to this report.
___
AP NFL websites: www.pro32.ap.org and www.twitter.com/AP_NFL
___
Follow Rob Maaddi on Twitter: https://twitter.com/AP_RobMaaddi