NFL draft: Houston pick Deshaun Watson moved to tears reading letter from mom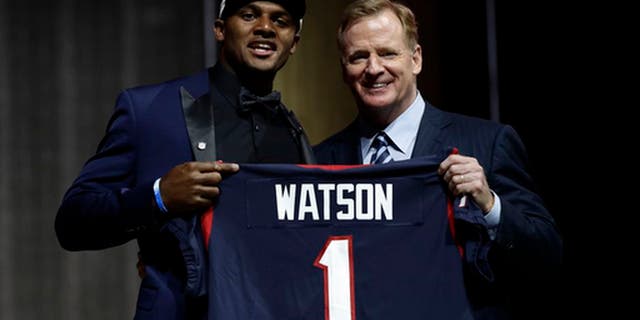 NEWYou can now listen to Fox News articles!
Deshaun Watson saw his dream come true on Thursday night, when he was the first-round pick of the Houston Texans. Bill O'Brien's squad traded up 13 spots to land the Clemson quarterback, hopefully shoring up that position for years to come.
It was a long, difficult road to this point for Watson. His mom had her tongue surgically removed as she battled cancer when Watson was a teenager, beating all odds to be there for her son on draft night.
JIM HARBAUGH SINGS OPERA WHILE MEETING WITH THE MEDIA
The Watson family was assisted by former NFL player Warrick Dunn, who helped provide them with a home through Habitat for Humanity.
Shortly after Watson was drafted, he was handed a letter from his mom. He read it and almost instantly broke down, overwhelmed with emotion.
An excerpt from the letter: "I watched you play your first flag football game all the way to the last college game. To be here at the NFL draft and see you walk across the stage is a dream come true. I'm so proud of the man and the person you became."
Click for more from Fox Sports.