Next game pivotal as Hawks try to make it a series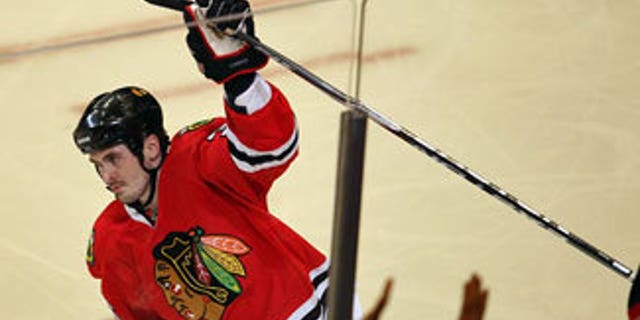 NEWYou can now listen to Fox News articles!
CHICAGO -- If it looks like a playoff series again and feels like it, too, then it has to be a competitive playoff series again.
Right?
Not according to the Chicago Blackhawks, who boarded a charter flight back to Vancouver on Wednesday afternoon, a day after staving off what would've been a humiliating sweep by the top-seeded Vancouver Canucks in a Western Conference quarterfinal series.
After dropping the first two games in Vancouver and splitting the last two at the United Center, the defending Stanley Cup champions aren't ready to declare this a series again merely because they thrashed the Canucks 7-2 at home in Game 4 on Tuesday.
Defenseman Brian Campbell was asked if all the fun in that game -- including six goals against Roberto Luongo and several skirmishes in the third period -- made it feel like a new series.
"Nah, not really," Campbell said. "I think if you win the next one, then you feel a lot stronger about yourselves. Then you can bring it back home (for Game 6), but we've got a lot of work left to do to try to get back into the series by winning, hopefully, (Thursday) night. That's what it comes down to. It's do-or-die again for us and we'll see what happens."
If it's another effort like the one Chicago brought to the rink on Tuesday, the Hawks have a decent chance to extend the series again and bring it back to the Windy City. If they come out flat or get frustrated by not scoring as often against Luongo, the season could easily end out in British Columbia.
Chicago coach Joel Quenneville was asked to assess how much strategy and the return of gritty two-way center Dave Bolland played in Tuesday's blowout versus his team's top-to-bottom feisty, in-your-face attitude almost the entire game.
It was an easy answer for Quenneville, who was happy to see how the Hawks responded when faced with elimination and the official end of their Stanley Cup reign.
"It was all attitude," he said. "That's the game. You're down in a spot where you can measure your team, like, 'Are they going to go away quietly or are they going to come play and compete for one another?' They showed they battled for each other and it was a good first step."
The Hawks came to the United Center on Tuesday focused and intense, but they were also angry.
They were mad about dropping three closes games in a row to a team they don't like and they were incensed about the perceived liberties Canucks power forward Raffi Torres has taken with big hits in this series -- including one in Game 3 that flattened defenseman Brent Seabrook while he wasn't looking.
In Game 4, the Hawks played like they'd simply had enough of Torres, Luongo and the rest of the Canucks, a team they've dropped from the each of the previous two playoffs. It was time to play with pride and anger while playing without Seabrook and Tomas Kopecky (upper body), who was hurt in Vancouver.
"Throughout the course of a playoff series, that anger starts to creep into a series on both sides," said the normally good-natured Patrick Sharp, who scored a pair in Game 4 and also got into several Canucks' faces before, during and after plays. "There was physical play in every game and last game we took a step forward in that department -- and I'm sure next game will be much the same. It's going to get exciting as we get further along."
If they get further along.
Tuesday's rout and all the third-period antics were fun, not to mention a great way for the Hawks to cap the season on home ice should they lose on Thursday. It's just that now they have a taste of winning postseason games back and would love to give their "Toddlin' Town" one more show at the Madhouse on Madison.
If that happens, then maybe you can start calling this a real series again. For now, the Canucks are still in control despite the Hawks trying to make them feel pressured to end it next game in Vancouver.
"There's still really no pressure on us," Hawks forward Patrick Kane said. "They're the ones in the position where it seems like a lot of pressure is on them going back home (for Game 5)."
You almost get the feeling the Hawks relish the very idea of tormenting the Canucks, win or lose in this series. But the reality of the situation -- down two games and perched on the edge of the cliff -- prevents that from coming out in their comments.
"You can say we were doing that (on Tuesday) … I wish I could," Kane said of pestering the Canucks. "I think they're probably the ones laughing right now, because they're still up 3-1. They're first in the West and first in the League for a reason. We've still got a lot to do here, a lot of work to get it back to Game 6."