New Orleans Saints Roll Past New York Giants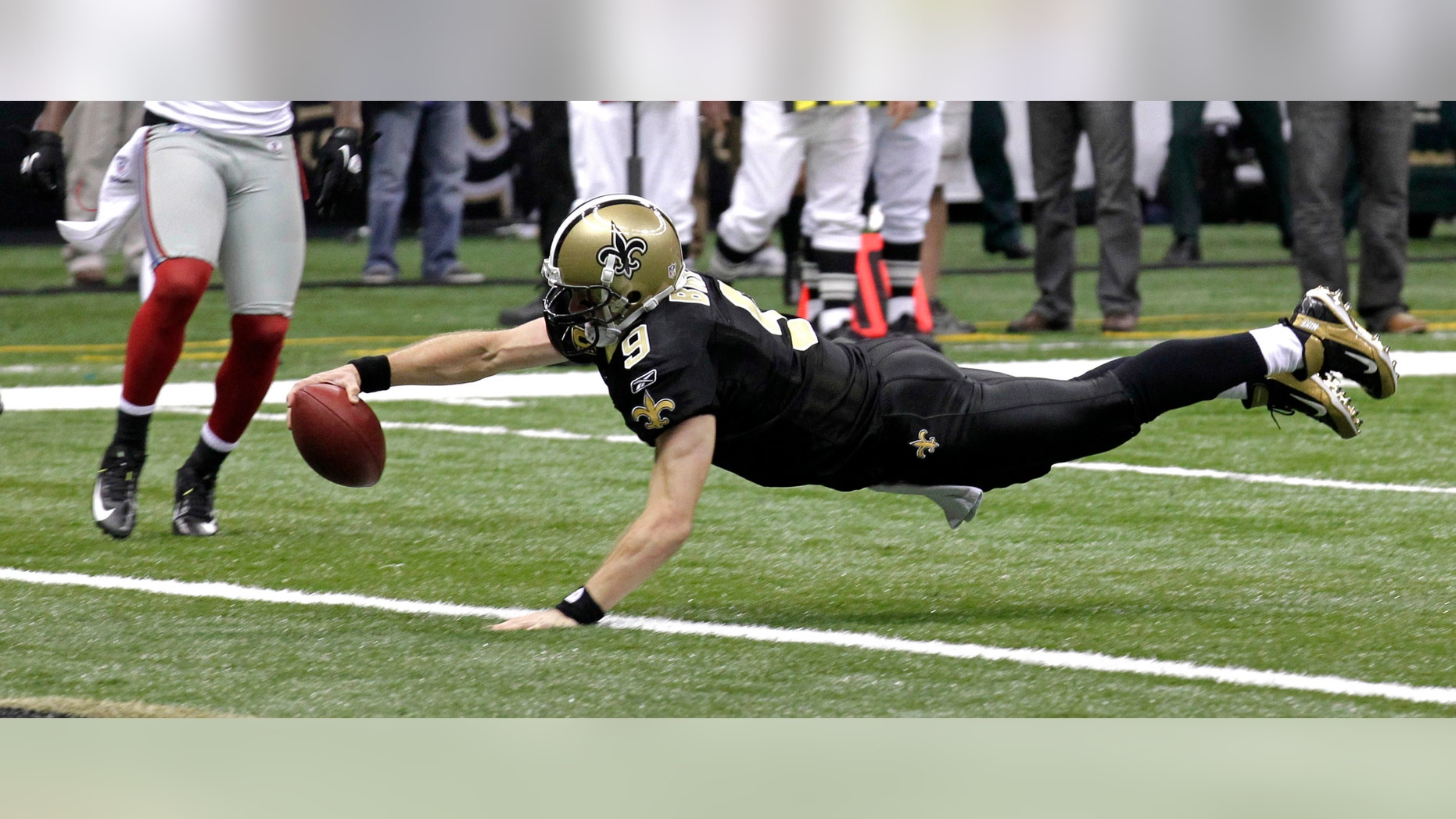 Drew Brees and the New Orleans Saints operated with surgical precision through most of Monday night's matchup with the New York Giants, finishing with 363 yards and four touchdowns passing to go with one TD rushing.
On their own 12-yard line with 1:09 left in the first half, there was no way Drew Brees and the Saints were simply going to run out the clock.
That's not how their offense works, and the New York Giants weren't putting up much resistance anyway.
Only 34 seconds elapsed before a third touchdown drive of 80-plus yards gave the Saints a 21-3 halftime lead, and they were well on their way to a third-straight win, 49-24 over the slumping Giants.
"Things were just clicking tonight and seemed like anything we tried, it seemed to work. Tonight was definitely a fun night."
"What it comes down to is we have a lot of confidence and we play very aggressive," Brees said. "Is there risk involved? Yes. When you do it as much as we do with the mentality we do, you make it part of the way you operate.
"There's that confidence that players around him have, and obviously we have in him," Saints coach Sean Payton said of Brees. "He made some fantastic throws tonight."
Tight end Jimmy Graham had five catches for 84 yards, including touchdowns of 5 and 29 yards. Brees' two other scoring strikes went to Lance Moore, who had five catches for 54 yards.
"Things were just clicking tonight and seemed like anything we tried, it seemed to work," Graham said. "Tonight was definitely a fun night."
New York was desperate to win after losing its previous two, to San Francisco and Philadelphia.
Instead, the Giants (6-5) dropped a game behind first-place Dallas in the NFC East and face the possibility of a four-game losing streak when they host the unbeaten Green Bay Packers next weekend.
The Saints (8-3), meanwhile, maintained a one-game lead over Atlanta in the NFC South.
They also padded their rushing stats with 205 yards on the ground, including touchdown runs of 12 yards by Pierre Thomas and 35 yards by rookie Mark Ingram.
"We didn't stop them. How much further explanation do you want?" said Giants coach Tom Coughlin, whose defense was unable to sack Brees. "We prepared well, but when we got in the game we didn't cover well. When we don't get to the passer, we have trouble."
Marques Colston had three catches for 78 yards, all on the Saints' 34-second, 88-yard touchdown drive late in the second quarter that gave New Orleans a 21-3 halftime lead. Colston's longest reception went for 50 yards when he caught a pass along the left sideline, slipped a tackle and raced up field.
The Giants took a beating on the scoreboard and on the field. Defensive end Osi Umenyiora went out with a sprained ankle and receiver Hakeem Nicks was rocked on a vicious hit by Saints rookie safety Isa Abdul-Quddus.
Nicks stayed in the game despite bruised ribs.
New York already was missing two key players because of injuries: leading rusher Ahmad Bradshaw and wide receiver Mario Manningham.
Back home in the Big Easy, Eli Manning passed for 406 yards completed 21 straight passes for the Giants — mostly after the outcome was decided. He was intercepted by linebacker Will Herring on New York's opening drive.
The only scoring the Giants managed in the first half was Lawrence Tynes' 42-yard field goal.
The Giants, who have been struggling to run the ball all season, gained only 73 yards on the ground all game.
New York did not get into the end zone until Brandon Jacobs steamrolled safety Roman Harper on an 8-yard scoring run that made it 21-10 in the third quarter, but the Saints went right back down the field and scored on Brees' 8-yard scramble.
After Giants running back Da'Rell Scott fumbled on his own 29, Brees connected with Graham, who rumbled down the left sideline and dove for the pylon for his second TD of the game, and his team-leading eighth receiving score of the season.
Although very little went wrong for New Orleans, Brees, as usual, made a point of not sounding too satisfied.
"We can always get better. There's always something to prove. The challenges only get greater as you move through the season," Brees said. "Sunday night football next week, we got Detroit coming to town, on a short week, so we're going to have to get ourselves back on track out here pretty quick and ready for that game."
Notes: Brees took back the NFL passing lead from Tom Brady. Brees now has 3,689 yards, keeping him on pace to break Dan Marino's single-season mark of 5,084 set in 1984. ... Brees has passed for at least one TD in 38 straight games, the second-longest streak in NFL history. ... The Saints' total of 577 yards was the second-highest in franchise history. ... The Giants lowered their already anemic rushing average to a league worst 82.3 yards per game.