New Mexico suspends football coach Bob Davie amid misconduct probe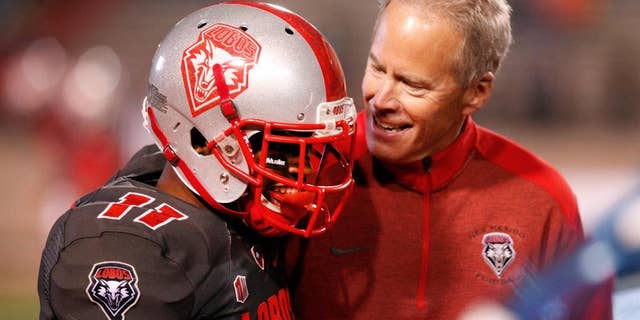 ALBUQUERQUE, N.M. – The University of New Mexico suspended head football coach Bob Davie on Thursday for 30 days without pay, following multiple investigations that examined whether he and coaching staff interfered with criminal investigations or misconduct cases involving players.

The suspension comes after an initial investigation requested by university officials had found through confidential interviews with players that Davie had told them in an all-team meeting to "get some dirt" on a student who had reported that a fellow player had raped her. However, a report released by the university Thursday showed a follow-up probe conducted by a Chicago-based law firm could not confirm the same allegations.

Despite being unable to conclude Davie or his staff had obstructed criminal investigations, the firm still recommended that university leadership "take strong action" to ensure the school didn't tolerate sexual harassment or physical abuse, and called for more oversight into the athletic program, school officials.

The firm Hogan Marren Babbo & Rose also looked into allegations of physical abuse, including whether coaches or staff had forced or pressured football players to compete and practice against medical staff recommendations.

In a release that also include reports on both investigations, New Mexico interim President Chaouki Abdallah said the school planned swift action in response to the investigation.

"We will intensify our efforts to educate our campus community and change the culture of accountability within the University," he said. "UNM will quickly implement changes and corrective action, and will provide comprehensive training to all areas of the University."

Davie is two seasons into a six-year contract that runs through the 2021 season and pays him $822,690 annually, not including bonuses and incentives.

A voicemail and text message to Davie was not immediately returned.

The school already is already under agreement with the U.S. Justice Department to reform how it investigates sexual assault complaints following a scathing 2016 federal report that found the school failed in its handling of them.

The suspension comes at a time of heightened awareness to how coaches treat players and handle allegations of misconduct against the athletes they coach. Two years ago Baylor fired successful football coach Art Briles after an external investigation found the school officials, including Briles, mishandled sexual assault claims, some against football players. Just days before the 2014 season, Illinois fired coach Tim Beckman after an investigation found inappropriate treatment of players.

Davie, the former Notre Dame coach, became New Mexico's head coach in 2011, taking over a team that had lost 35 of their past 38 games under coach Mike Locksley, who also had a slew of embarrassing off-field problems.

Davie succeeded Lou Holtz at Notre Dame in 1997 and compiled a 35-25 record over five years. He was fired after the 2001 season with a 5-6 record and worked as a television analyst for ESPN before returning to coaching.

Davie earned praised for turning around the troubled Lobos program, leading New Mexico to its first bowl game in eight years with an appearance in the 2015 New Mexico Bowl. The Lobos lost to Arizona, 45-37.

The next year, he led the Lobos to a second-straight New Mexico Bowl appearance, this time beating UTSA 23-20. The Lobos slipped to 3-9 last season. Davie has a 30-45 overall record with the Lobos.

New Mexico Attorney General Hector Balderas responded to the report, saying his office was "reviewing the actions of officials from top to bottom and any other organizations involved."

"We will never tolerate a university culture that denies students their basic rights through illegal discrimination or retaliation against those who report sexual misconduct," he said.