NBA Round-Up: Melo and Horford Struggle With Injuries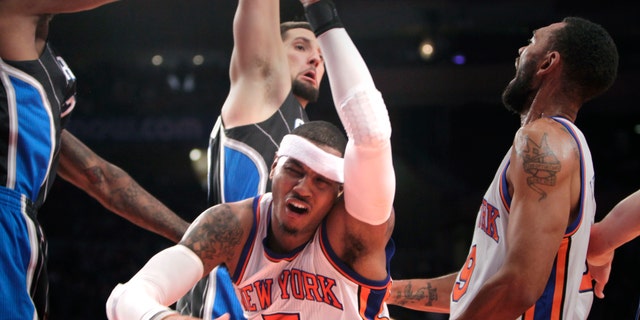 A weekly wrap up of the best Latino headlines in the NBA.
Royal Pain for Garcia and the Kings
All seemed well after Sacramento's opening night win against the Los Angeles Lakers. Although it was only one win, it was a fresh start after another lousy season and gave hope to a team trying to land a new arena deal in Sacramento as city officials try to keep them from moving to Anaheim.
Yet somehow whatever positive momentum that should have carried from that first home win over the Lakers in three years quickly evaporated for the Kings and head coach Paul Westphal, who ended up getting fired Jan. 5 and replaced by assistant Keith Smart.
Three straight loses and Westphal releasing a statement in which he criticized DeMarcus Cousins' commitment to the team and excused him from a game against New Orleans was just too much for the Kings front office.
Francisco García wanted nothing more than to help the team avoid its early season funk, but the only problem was that Westphal didn't have the longest tenured player in his plans as he was buried on the bench.
While in Philadelphia last week, García told Fox News Latino that the 61-year-old Westphal, who coached the Kings to a 51-120 record over two-plus years, had lost the team.
"Well he didn't have the respect of the players. I can tell you that," Garcia said.
García did say that he thought the incident with Cousins didn't have much bearing on Westphal's firing, but added that Cousins needs to improve his attitude a little bit.
García said he was playing well before missing 21 games last season due to a left calf injury and "when I came back from my injury, I also played well. I don't know. I guess [Westphal] had some changes in mind this summer and he wanted to go with other options."
The Kings new coach, Keith Smart, led the Dominican Republic's national team in the 2005 FIBA Americas Championship and having coached García before gives him a better understanding on how get Garcia on a positive track this season.
With Smart leading the team, García's minutes have been consistent.
Smart is looking to get the best out the team's veteran leader on a team that's 4-10 and in last place in the Pacific Division of the Western Conference.
"I think getting his confidence back is right on cue. Getting his confidence back where he can be a scorer again and a shooter. I think he can help our team by being a shooter again and getting him to have that confidence," Smart said. "I trust him for the fact that he's on the floor and can shoot the basketball."
Garcia had just averaged 4.1 points, 1.7 rebounds and 0.7 assists per game but believes Smart will allow him to get on the court and be the player he was before he was benched earlier this season. "This coach is going to give me the chance to play more. With time it will happen but he will give me more chances," García said.
I have to earn my time on the court and show him what I can do."
Knicks Continue to Search for Answers and W's
The Knicks almost got another scare with Carmelo Anthony yesterday afternoon when the forward came up limping in the final minutes of their third straight loss.
After the game Anthony said that he think's he stepped on the foot of Orlando's Hedo Turkoglu's. It was Anthony's first game since Friday after spraining his right ankle.
Although he did put up 33 points, he shot just 9 of 27 from the field and missed 8 of 9 three pointers despite making 14 of 16 free throws.
Melo said his ankle felt good, until the moment he injured it. After the game it was still taped up.
"It was more my wrist, being able to control the ball. Even though I had two hands on the ball I was really shooting with one. I couldn't really control the ball so a lot of my shots were long, flat. But that's neither here nor there. I'll get better at that."
"I'm not too concerned about my ankle," Anthony added. "It's just about strengthening up and getting that strength back, spending more time in the training room with the trainers. No days off for me. I just want to make sure that my body is right."
Despite Horford's Injury, the Hawks Keep Winning
Joe Johnson and Josh Smith have made it their business to go out and lead the way in Atlanta with an ailing Al Horford on the shelf for the next three to four months after the Hawks' All-Star center tore his left pectoral muscle last week.
Since Horford's injury, the Hawks have beaten in Charlotte, Minnesota and Toronto. While those teams have a combined record of 11-29, at the end of the day it's all about wins...especially against the teams that you are supposed to beat.
Horford has stressed the importance of Smith's play this season. Smith's 28 points and season-high 15 rebounds led the way against the Raptors yesterday while Johnson, the player who many believe was overpaid by the Hawks, had a strong showing with 27 points.
Smith is not dwelling on the fact that the three victories without Horford have come against those three teams.
"We've played against some good teams here and some not-so-good teams, so we've just got to be able to be disciplined no matter who we're playing against," Smith said.
According to the Hawks, Horford will undergo surgery on his left shoulder today.
The Rest Represent
While Ricky Rubio has already taken over the starting point guard position with Minnesota, his fellow Spaniard and teammate on Spain's national team, José Calderón, has been putting on a show while running the point for the Toronto Raptors. The sad thing is they have been up and down this season and have lost six straight games. So far this season, Calderón has averaged 11.7 points and 9.1 assists in 14 games. … The Grizzlies and Marc Gasol have found some consistency after losing three straight. They hosted the Bulls yesterday but without reigning NBA MVP Derrick Rose and got the win. Gasol has definitely held it down for Memphis, who are without Zack Randolph (seven weeks with partially torn medial collateral right knee ligament). Gasol's presence in the paint has been key as evidenced by his workload. He's scored an average of 14.1 points a game while grabbing 10.8 boards. Gasol has 31 blocked shots for the season while swatting away at least two shots in each of his last six games.
Adry Torres, who has covered MLB, NFL, NBA and NCAA basketball games and related events, is a regular contributor to Fox News Latino. He can be reached at elpiloto137@gmail.com or follow him on Twitter: @adrytorresnyc.
Follow us on twitter.com/foxnewslatino
Like us at facebook.com/foxnewslatino