NBA Round-Up: Knicks Still Getting Punked; Grizzlies and Rockets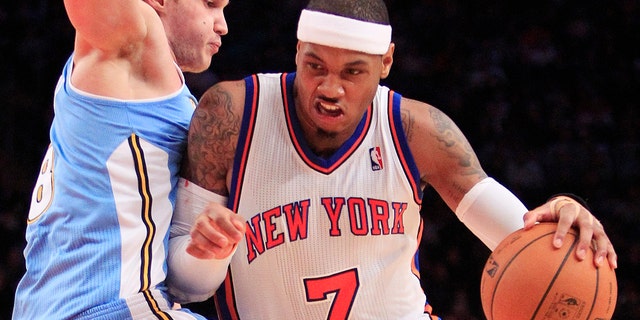 Melo and Knicks Trying to Find Their Way
With middleweight champion Miguel Cotto watching from the first row, Carmelo Anthony and the Knicks were trying to deliver a knockout blow to Melo's old team, the Denver Nuggets on Saturday night. That didn't happen.
So this must not be what Anthony expected coming into the season - especially at home. Perhaps because of his ailing wrist and ankle, his shooting percentage from the field and beyond the 3-point line have been below his yearly average.
As the Knicks have lost six straight games, the last four at 'The Garden,' Anthony has shot 9 of 27, 5 of 22, 11 of 26 and 10 of 30. He's made 129 of 139 (40.4 percent) from the field while making just 23 of 71 (32.4 percent) 3-pointers through 15 games this season.
"When you're missing shots and they're right there and they're not going in, you say `Maybe the next one, maybe the next one,'"Anthony said. "That's kind of the mentality that you have. But maybe I need to stop shooting a lot, I don't know. It's just a bunch of stuff that goes through my mind right now."
The frustration finally hit last Friday night when he picked up two technical fouls, earning an ejection with less than two minutes to play. Melo summed it up by saying that he was tired of getting "punked" but did apologize to his teammates after losing to Milwaukee.
Part of the Knicks' problems have been finding consistent play at the point guard position and another scoring option after Amar'e Stoudemire. With Melo taking up a lot of shots, Stoudemire has somehow been fazed out. During one play in the Denver game, Stoudemire set a pick, was open but Anthony ended up taking a shot that he missed. They added veteran point guard Mike Bibby but that move hasn't panned out. Baron Davis, sidelined due to a herniated disc, should make his debut sometime this week during their four-game road trip after joining the team and practicing with the first unit yesterday.
Maybe Davis' on-court savvy, if it's for 10 to 15 minutes as he gets in to shape, is what Melo, Stoudemire and the rest of the team needs to get back on the right track.
Grizzlies Roaring Behind Gasol and Company
Tally another 'W' for the Memphis Grizzlies who don't know how to lose these days winning their seventh straight time. Six of the wins coming against teams with a losing record while the win that started the streak took place at home against Chicago just a week ago, but without a guy named Derrick Rose. Still wins are wins. The Grizzlies have gone out and beaten teams that they are supposed to beat.
Marc Gasol's steady and constant play underneath the basket has clearly helped. He had his 10th double-double of the season and his play has definitely been on the rise without an injured Zack Randolph around.
Best Pix of the Week
Gasol has seen a spike in minutes played this year (37:36) compared to last last year (31:53), has picked up the slack with his rebounding ability to rebound (10.6 vs 7.0) and added a few extra points to his game, averaging 15.2 this year after scoring 11.7 per game last season.
Grizzlies coach Lionel Hollins thinks Gasol should be a bit more selfish when he has the ball in his hands.
"Mark is playing the way I thought he would be, even if Zach (Randolplh) was healthy," Hollins told reporters last week. "I told Marc he has to stop being the facilitator all the time and get a little more selfish when he has the ball."
Make It When It Counts
Seems like every night you get to see something new from Ricky Rubio.
After missing his first 10 shots, you would have thought Rubio would have passed up the shot with 20 seconds left but his 3-pointer tied the game on the road against the Clippers on Friday night before Kevin Love heaved a 3-pointer to win it as time expired.
Coach Rick Adelman was very impressed with his rookie point guard, especially after the night he had shooting.
"He is unflappable. He missed every shot, and then he makes a big 3 to tie it," Adelman said. "The thing I like about him is that he's a competitor. He doesn't back down from anybody and he keeps an even keel. He doesn't get too high or too low. He just plays. He's been very good all year. He's played in the fourth quarter of every game, even when he wasn't starting. He's been better than I thought he was going to be."
Rockets Blast Off Eight in a Row
One word that would perfectly describe the play of many teams in the NBA is inconsistent.
The Houston Rockets fit the bill perfectly. They lost the first game of the season and bounced back to win their second game. Then lost again and won but fell in a slump, losing four straight before winning another and then losing again.
But it's all changed now as the Rockets have reeled off eight straight wins, including two back-to-back sets.
If there is a negative, it's Luis Scola's production has been slightly down this year for the third-place Rockets in the Western Conference's Southwest Division. Scola, who was traded to the New Orleans in the three-team deal that would have sent Chris Pail to the Lakers before NBA commissioner David Stern vetoed it, scored 18 points and grabbed a little over eight rebounds a game last season but has seen a decline in his scoring (15.3) and rebounds (5.7).
Many factors can contribute to his numbers slipping a bit.
Houston went out and added Samuel Dalembert, who as a center will always grab a lot of rebounds while not being that much of a scorer. Scola has also split his minutes with Patrick Patterson, who has contributed pretty well coming off the bench and Kevin Martin's 19 points per game leads the team, especially the hot streak his been on as of late, totaling at least 25 a game in five of his last six contests.
Only time will tell before Scola regains his old form.
The Rest Represent
Tiago Splitter has made improvements since his first year with the San Antonio Spurs last season. On Saturday night he had a career-high of 25 points against the Rockets. Coach Gregg Popovich has given him more minutes and he's made the most of them this season. He averaged 4.6 points and 3.4 points as a rookie but this season he has shown more confidence, with 8.6 points and five rebounds a game. … Charlie Villanueva has yet to play in a game sine Jan. 4 against the Chicago as the loses keep piling up the Detroit Pistons, who are 2-8 in their last 10 games.
Adry Torres, who has covered MLB, NFL, NBA and NCAA basketball games and related events, is a regular contributor to Fox News Latino. He can be reached at elpiloto137@gmail.com or follow him on Twitter: @adrytorresnyc.
Follow us on twitter.com/foxnewslatino
Like us at facebook.com/foxnewslatino