NBA Round-Up: Raptors' Calderon Optimistic, Detroit & Knicks Struggle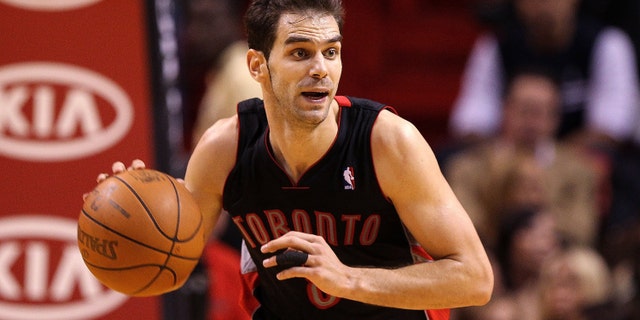 A weekly wrap up of the best Latino headlines in the NBA.
Calderon Optimistic with New Raptors Coach
As the lockout's shortened season heads into its third week, the Toronto Raptors have had their own share of struggles - like most teams in the league – giving up leads in the second half to Dallas and Orlando and eventually losing both games. Then they lost to the lowly New Jersey Nets and to a Philadelphia team that has reeled off five straight wins.
But aside from those early mishaps, point guard Jose Calderon is confident in new coach Dwane Casey's system and what he brings to a Raptors team that's now a season removed from losing Chris Bosh to the Miami Heat and a 22-60 record, which was the third worst in the league last year.
"He's brought a lot to this team. He's a leader. He's made it clear what needs to be done. He has his way of working and doing thing," Calderon said about Casey while the Raptors were in New York to play the Knicks.
Calderon, who is in his seventh season in the league, all with the Raptors, believes this Raptors team is good enough to crash the playoffs in a competitive Eastern Conference the way Indiana did last year.
"This year, we can win more games. I know we're a young team but we are going to battle in all of our games," he said. "Last year, Indiana got into the playoffs and we're not any less than them. We just got to keep working."
Calderon, who's averaging 12.4 points and 9.4 assists while starting every game at the point, has kept an eye on Minnesota's Ricky Rubio, his teammate with the Spanish national team.
"He's playing really good. I said it before he came out here. He is a great player. The only thing he has to do is enjoy it and play basketball."
Injured CV Thinks Pistons Can Turn It Around
The last couple of days have been cold to the Pistons like the frigid winter weather this time of year.
The Pistons have failed to score 100 points in a game this season and their 82.4 average points per game are the lowest in the league.
Having Rodney Stuck out for three straight games along with Charlie Villanueva, who's also missed his last three, sure hasn't helped as they've lost their last three by at least 23 or more points (at Philadelphia last Friday, 96-73; 103-80 to the Knicks at home on Saturday; 92-68 at Chicago last night).
"Sometimes it feels good. Sometimes it feels bad," Villanueva told Fox News Latino in Philadelphia while he iced his sore right ankle after the game.
Villanueva enters the third year of a $35 million deal and believes that the Pistons can turn things around and rid the losing culture that developed over the last two years, which he referred to as "not Pistons basketball.".
With Lawrence Frank in charge after Jon Kuester was let go, Villanueva likes the way the franchise is headed. Now all they need to do is win.
"Having a new coach is a sense of fresh air. A fresh start. Guys have put the past behind. We're looking forward. We're trying to put Detroit basketball where it should belong."
Villanueva called Frank a teacher who pays attention to a lot of detail.
"We have new attitude to ourselves and it's been shown in our practices. We're all on the same page because we don't want to experience what happened the last two seasons in Detroit," he said. "That's not Detroit basketball."
Knicks Get Some Answers
If the Knicks have any plans in making it back to the postseason, they just can't lose games to teams they're supposed to handle with ease and blow out.
After disappointing losses to Toronto (without Amar'e Stoudemire) and then Charlotte, to whom they gave up 118 points, New York went back to the drawing board.
Carmelo Anthony thought they just kept digging themselves a hole and that the team as a unit just had to figure it out and move on.
The Knicks hit the road and visited the nation's capital where they beat the winless Wizards on Carmelo's 3-pointer with 16 second left, and the next night went to Detroit and blew out the Pistons.
With revenge on their minds, the Knicks hung on and beat the Bobcats last night.
Although Anthony has been had all sorts of ailments to his entire right side - hip, lower back but willed them to their third straight win, the result of playing a complete basketball game, staying at it through all four quarters.
"We gotta stop that," Anthony said of their inconsistent play.
"When teams come in here, we want them to second guess that," he said. "We want them to think twice about coming in here and getting a win."
Adry Torres, who has covered MLB, NFL, NBA and NCAA basketball games and related events, is a regular contributor to Fox News Latino. He can be reached at elpiloto137@gmail.com or follow him on Twitter: @adrytorresnyc.
Follow us on twitter.com/foxnewslatino
Like us at facebook.com/foxnewslatino