NBA: LeBron and Heat Finally Live Up to the Hype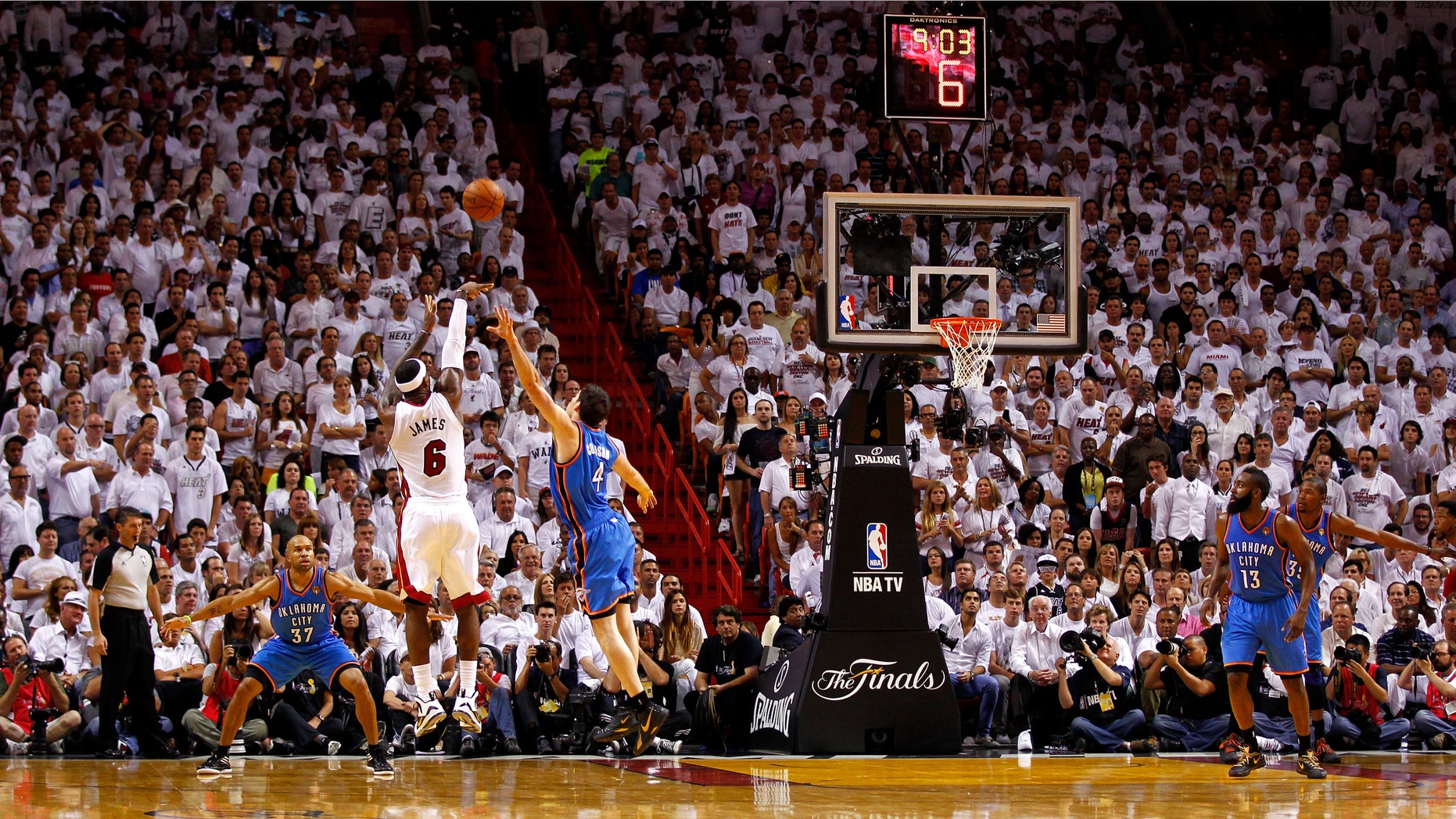 Back when Miami introduced it's big three, public sentiment was that they were too cocky and brash as they strolled into the American Airlines arena during their coming out party.
LeBron James famously said that along with Dwayne Wade, who had already won a title in 2006, and Chris Bosh, they would win 'not one, not two, not three' and so forth.
They failed during their first shot at it last June when they blew a 2-1 lead and lost the NBA Finals against the Dallas Mavericks.
But with Miami rallying to beat Oklahoma City, 104-98, Tuesday night in Game 4, the Heat are now just one win away from taking it all.
Earlier in the game it might have seemed like they were headed toward a loss and history could be repeating itself as Oklahoma City raced out and lead by 17 points as the first period was coming to an end.
That's what it's been for us all season and all playoffs.  When someone goes down for any reason, guys step up.
But Miami never wilted and chipped away at the OKC lead, thanks to little used Norris Cole, who was out of the rotation but answered on the night, hitting a series of 3s.
They pulled off 13 straight points to close the gap to 33-32, capped off by Mario Chalmer's lay up and free throw after he went by a pair of defenders and was fouled.
And they kept going and going from there on out, outscoring the Thunder 30-16 after being down by 17.
James pulled off another great performance in the finals and came up shy of a triple-double as he dropped 26 points and grabbed 12 rebounds while dishing out nine assists even as he struggled to stay on the court in the fourth quarter due to cramps.
"It's basically like your body just shuts down, your legs shut down on you, there's nothing really you can do about it," James said well past midnight.
James came out after a timeout with 5:15 left and was treated by the trainer. Bosh leaned in towards the basket and made a lay up to tie 94-94. James then came back and hit a 3-pointer to give Miami a 97-94 lead with less than three minutes remaining.
"Playing on one leg, I don't know how he did it," Bosh said, "but he hit a huge three, and fortunately we didn't look back after that."
For a team that's been through a lot and was counted out after Bosh got injured earlier in the playoffs, James' will to stay on the court and lead his team to the win summed up the team's grittiness and toughness.
James missed the last minute of the game but his teammates were able to close it out. It's what they've done all season long when one of the guys wasn't there at the end.
"It was very frustrating because I'm a competitor, and I want to be out there to help my team.  But like I said, it's a team game, and that's why we have those other guys out there that are going to make plays, even if I'm not available or someone else is not available," James said.
"That's what it's been for us all season and all playoffs. When someone goes down for any reason, guys step up."
So it was up to the rest of the bunch with Wade, Bosh, Mario Chalmers and Shane Battier having a say at the end with James out of action.

"It's very important.  It's very big.  Obviously LeBron James is one of the most dominant players in the game, and he explodes many nights scoring-wise," Wade said.
"But we've always got his back, and certain nights like tonight when he wasn't feeling his greatest, you have guys like Mario Chalmers step up, big plays, big moments.  That's what this team is built on, and that's the reason we're playing together."
As the famous line says, "not one, not two, not three ...," Miami is now four quarters away from sealing the first of James' prediction come Thursday night.