NAU ranked No. 13 in The Sporting News preseason poll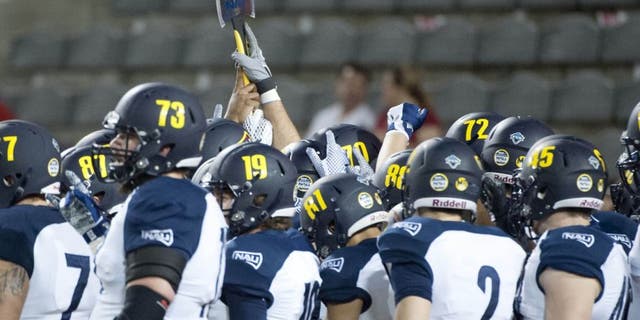 NEWYou can now listen to Fox News articles!
FLAGSTAFF, Ariz. -- The NAU football team is ranked No. 13 by The Sporting News in the latest FCS preseason poll. It is the third preseason recognition for the Lumberjacks. NAU was also selected No. 15 by Lindy's Sports and No. 24 by Athlon Sports.
The Lumberjacks went 7-4 overall and 5-3 in the Big Sky a year ago, led by the 1-2 punch of quarterback Case Cookus and wide receiver Emmanuel Butler. Cookus completed an FCS freshman record of 37 touchdown passes, while Butler registered a school record 1,208 receiving yards.
NAU kicks off its season on Sept. 3 at Arizona State. The Lumberjacks have 11 games scheduled in 2016 with five of them being played in the Walkup Skydome, including the home opener on Sept. 17 versus New Mexico Highlands.
Sporting News FCS Preseason Poll
1. North Dakota State (13-2, 7-1 Missouri Valley)
2. Sam Houston State (11-4, 7-2 Southland)
3. Richmond (10-4, 6-2 CAA)
4. Northern Iowa (9-5, 5-3 Missouri Valley)
5. Jacksonville State (13-2, 8-0 Ohio Valley)
6. William & Mary (9-4, 6-2 CAA)
7. McNeese State (10-1, 9-0 Southland)
8. Chattanooga (9-4, 6-1 Southern)
9. Eastern Washington (6-5, 5-3 Big Sky)
10. Illinois State (10-3, 7-1 Missouri Valley)
11. James Madison (9-3, 6-2 CAA)
12. South Dakota State (8-4, 5-3 Missouri Valley)
13. Northern Arizona (7-4, 5-3 Big Sky)
14. Charleston Southern (10-3, 6-0 Big South)
15. Montana (8-5, 6-2 Big Sky)
16. Western Illinois (7-6, 5-3 Missouri Valley)
17. Portland State (9-3, 6-2 Big Sky)
18. New Hampshire (7-5, 5-3 CAA Football)
19. Wofford (5-6, 3-4 Southern)
20. North Dakota (7-4, 5-3 Big Sky)
21. The Citadel (9-4, 6-1 Southern)
22. North Carolina A&T (10-2, 7-1 MEAC)
23. Weber State (6-5, 5-3 Big Sky)
24. Central Arkansas (7-4, 7-2 Southland)
25. Eastern Illinois (7-5, 7-1 Ohio Valley)