NASCAR's Erik Jones opens up about the passing of his father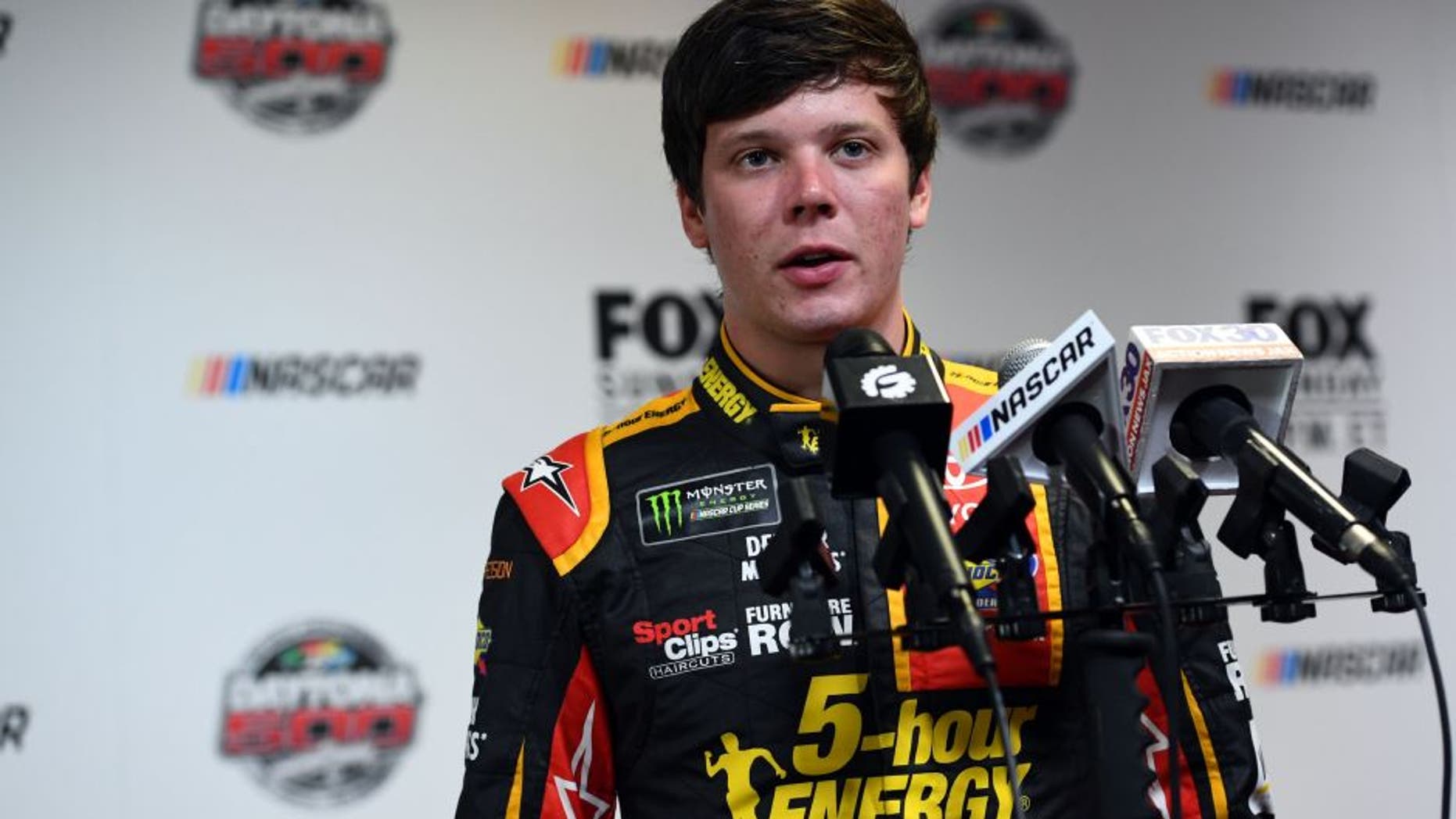 One day last year, it was business -- and life -- as usual for Erik Jones.
The next, it all changed. Everything.
Jones, 20, was driving full-time for Joe Gibbs Racing in the NASCAR XFINITY Series at the time. He was the defending Camping World Truck Series champion. His future looked bright, and still does.
It's just that he always envisioned that his father, Dave, would be standing next to him as he literally rode to the mountaintop of NASCAR that now is the Monster Energy NASCAR Cup Series. He had no reason to believe otherwise -- until that day when his mother called and said his father was sick.
Shortly thereafter, Jones found out just how sick.
Dave Jones, who had gone in to see the doctor thinking he had a pinched nerve after losing feeling in his left arm, was diagnosed with lung cancer that had spread to his brain. He was given one year to live.
He lasted less than three months.
Dave Jones was 53 when he died, leaving his son, one of NASCAR's brightest up-and-coming drivers, without the man who sacrificed so much and lent so much guidance to help him get to the mountaintop.
On Friday at Las Vegas Motor Speedway, Erik Jones spoke at length for the first time to a small group of reporters about his father's passing.
"My dad was pretty heavily involved in my racing, in the back side of it and where my money was going," Jones said. "I never had to worry about money I was making or bills I was paying or anything else. I just called my dad and said, 'Hey, man, I've got this problem or I've got that problem, what do you think?' And he would have an opinion or a solution. He always had the answer, I felt like.
"All of a sudden you lose that so quickly. In three or four months, I went from having that to it was gone. I felt like I was on my own. In trying to figure all that out myself, at 20 years old I don't have a ton of experience in the world. … To try to figure out how to do all these things was challenging, but at the end of it all, especially today, I feel like I'm more solid and know what's going on more than ever."
It did not happen overnight.
"It took a long time to get there. It took all of last year," Jones said. "There were times when I felt like I didn't know what was going on. I felt like I probably ignored a lot of things through the middle and latter part of the year. I just didn't deal with it. If there was an issue sometimes, I would throw it to the side and not worry about it.
"And now, this year in the off-season, I feel like I got a lot of things in order like I need to and feel like I have everything under better control."
Joe Gibbs, owner of Joe Gibbs Racing, has been a huge help. He assisted in brokering a deal to get Erik his first full-time ride in the Cup Series with Furniture Row Racing, and actually broke the news to Jones' father first before Dave Jones passed last June.
"When he was sick and starting to get really ill, Joe Gibbs stopped by the house. Kind of out of the blue, he just showed up," Jones said. "We went in and chatted together -- me, him and my dad. And then I just stepped out to give them some time together.
"I came back after Joe left and was talking to him. I was like, 'How was it?' And he said, 'Listen, I think you're going to be really well off. I was talking to Joe and it looks like next year you're going to be with Furniture Row, and they're going to do this deal. I'm just really happy for you. It's going to be a great year.' "
Erik knew that talks to put him in a full-time Cup ride at Furniture Row were in the works. But he didn't know they were all but completed.
"I was glad that at that point, Joe sat down and told him that," Jones said. "It wasn't something we were fully engaged in at that point and weren't sure what was going to happen exactly. But Joe took the time to sit down with him and tell him that everything was going to be OK and that I was going to be competing at this level."
That was very important to Erik Jones, that his father knew his son had made it to the pinnacle of his profession.
"He knew I was going to be at the Cup level this year, and we were able to talk about that and what was coming," Jones said. "It was cool for that moment, to sit down with him and say, 'Hey, we did it. Next year we're going to be at the peak. Man, that's it.'
"I definitely thought about it standing on pit road at Daytona (before the season-opening Daytona 500). I was like, 'Man, I really wish he could be here to take it all in.' It was really a cool moment for my family and I -- but I definitely knew he was watching down."
Jones drives the No. 77 Toyota for Furniture Row now, and will roll off eighth in Sunday's Kobalt Tools 400 at LVMS after a strong qualifying effort on Friday.
He says he knows that his father would be proud that he has made it to the mountaintop. More than that, he says he knows that his dad would be proud that he took the time to talk at length with the media about their deep father-son relationship.
It is, Erik Jones said on Friday, a way of remembering his father.
Jones has memories such as those, and also says he dreams often about his father.
But he has physical mementos to remember him by as well. Before he died, Dave Jones had taken off a Shinola watch he had worn every day and had it engraved to give to his son. The watch was made in Detroit, Michigan, near their hometown of Byron, Michigan.
Erik Jones takes the watch with him wherever he goes. He doesn't put it in his race car when he drives, but rather keeps it in the safety of his motorhome in the infield lot at tracks he visits.
Erik Jones also purchased an old 1965 Corvette that his father used to own.
"He sold it when I was maybe 10 or 11 years old to fund my racing," Jones said. "I always wanted to buy it back for him. I finally got to the point, about a year ago, where I could start thinking about buying it back for him."
More than anything, though, Erik Jones has the memories of his father. He says it felt glad to be able to share them on Friday.
"It's kind of relieving to talk about it," Jones said. "It's nice to share the story, to share a little bit of his life and talk about the guy I looked up to so much for so many years. He was really my best friend. I really never had anyone I felt closer to or that I could share more with. So it's nice to talk about him."