MLB Quick Hits: Tigers' Cabrera targets Friday return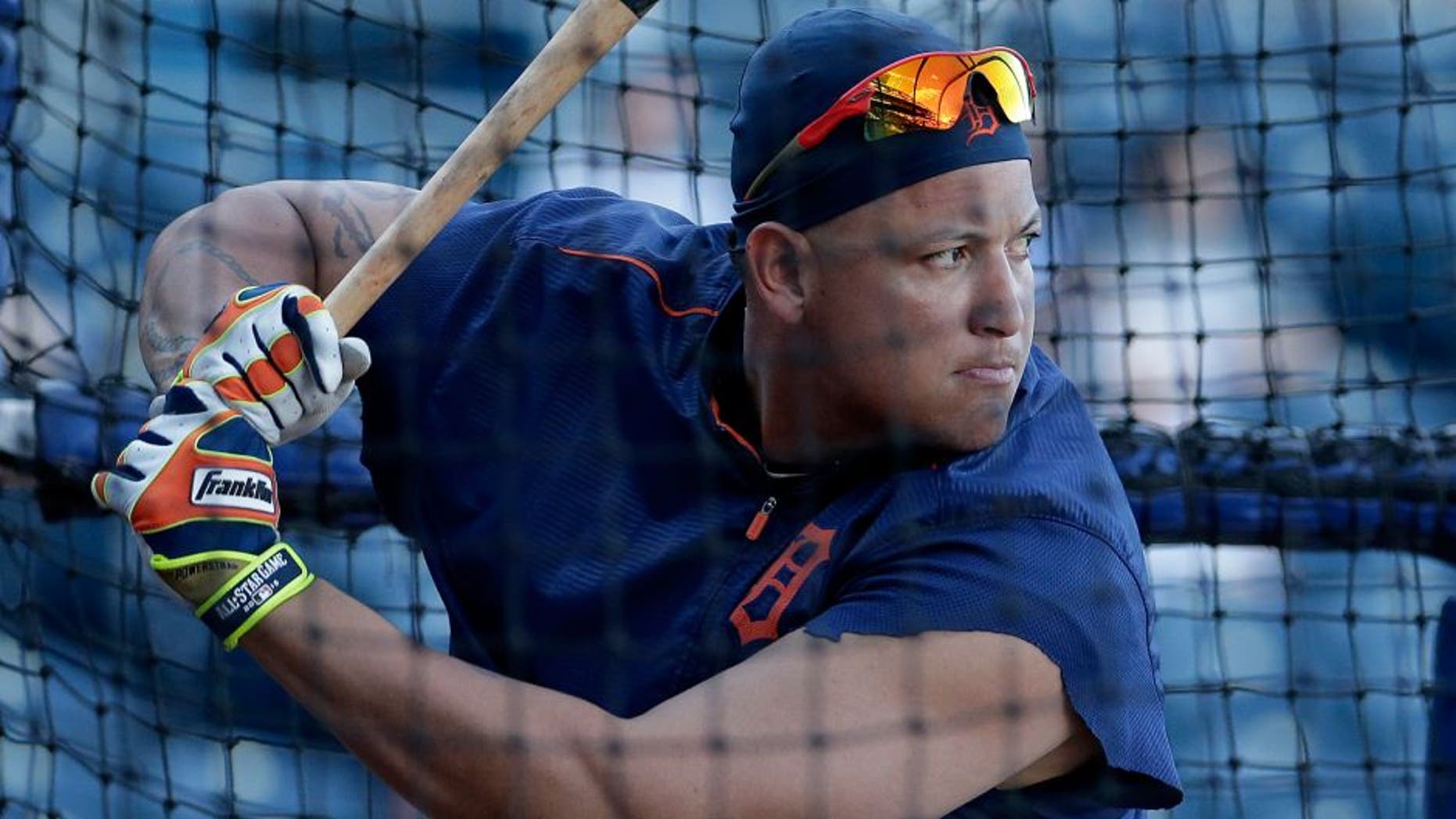 Tigers 1B Miguel Cabrera, who hasn't played since July 3 because of a calf injury, is "likely" to be in the lineup on Friday, according to MLive.com.
If Cabrera does play on Friday, it "doesn't necessarily mean he'll play all three games this weekend," per the team's website. He might get a day off, or might DH in a game as a way to ease back into action. Still, if you own Cabrera, get ready to roll with him.
In other news ...
Congrats on your no-hitter, Hisashi Iwakuma! That's a nice way to start your drive toward free agency.
Slugging Twins rookie 3B Miguel Sano homered twice on Wednesday. Many of you can still grab Sano if you need power, as he's owned in just 15.9 percent of FOXSports.com leagues. Here's a good FanGraphs article suggesting Chris Davis as a good comp for what Sano might give us in 2016.
Bryce Harper was back in the Nats' lineup on Wednesday, so his bruised knee must be better. They lost anyway.
Blue Jays 1B Edwin Encarnacion (finger) hopes to be back in the lineup today. In other Jays' news, Marcus Stroman (knee) really might be able to pitch in September. The team's broadcast team quoted Dr. James Andrews as being "stunned" by Stroman's rapid recovery.
Orioles C Matt Wieters (hamstring) might be headed to the DL; we should know more on Friday.
Bruce Rondon hit a batter and walked a batter, but got Wednesday's save for the Tigers, even though Alex Wilson (shoulder) is apparently ready to pitch. It was a good night for all of us here at #TeamRondon.
The Dodgers are looking at a return today or tomorrow for 3B Justin Turner, who had a MRSA infection on his inner thigh.
The Rangers are calling up rookie SP Chi Chi Gonzalez to start today at Minnesota. In seven starts this season, Gonzalez has whiffed 15 batters in 43 1/3 innings. That's bad.
Pencil in Rays SP Drew Smyly (shoulder) for a Sunday return from the DL. Teammate Desmond Jennings (knee) is set to come off the DL on Friday.
More Tigers: When Cabrera returns, look for Alex Avila to return to the bench, with James McCann staying as the primary catcher.
The Giants are struggling in the outfield, with Angel Pagan (knee) headed to the DL, and Nori Aoki possibly on his way to the seven-day concussion DL.
Eduardo Rodriguez was a bust as Wednesday's streaming starter. Today's pick - it's not a confident one - is Ervin Santana (14.1 percent owned) versus Chi Chi and the Rangers.
DFS advice (based on 50/50 games, salaries from DraftKings): On the four-game daytime slate, isn't Noah Syndergaard ($11,100) a lock? ... The SP2 options are dicey, but you can grab Ervin at $6K if you don't want to pay for Jon Lester ($10,800) ... If you're a stacker, it's the Twins ... Gotta play A's C Josh Phegley ($3,300) against Crafty McCrafterson, er, Mark Buehrle ... Daniel Murphy ($3,900) is the best 2B option. The cheap ones are bad ... Your non-Tulo SS is probably Marcus Semien ($3,500) ... BvP alert: Adrian Beltre ($4,000) has five homers in 57 at bats against Santana ... Your best bargain F is Minnesota's Aaron Hicks ($3,100), who has four double-digit DK point games in his last seven.
At night, Stephen Strasburg ($10,900) could dominate the undermanned Giants. At SP2, it's either pay for Trevor Bauer ($9,800), try Mat Latos ($7,200) against the recently horrible Reds, or play it safe with Nathan Eovaldi ($7,700) versus the Yankees. Bauer has averaged 22.4 DK points in his last three starts. Eovaldi has been consistent, averaging 16.3 DK points over his last nine starts, and producing double digits in all of them ... A few of the Pirates have hit Lance Lynn pretty well. Chief among them is 2B Neil Walker ($3,200), who is 13-for-37 with three homers ... BvP alert: Angels OF Kole Calhoun ($4,100) is 4-for-7 with two homers against Jeremy Guthrie. It's a small sample, of course ... Surging Nationals SS Ian Desmond ($3,500) is the best of a mediocre SS bunch ... At catcher, I'd pay for Yasmani Grandal ($4,100), who has a .386 wOBA vs. RHP, and faces Reds rookie Keyvius Sampson in his third big-league start.
See you back here tomorrow morning.