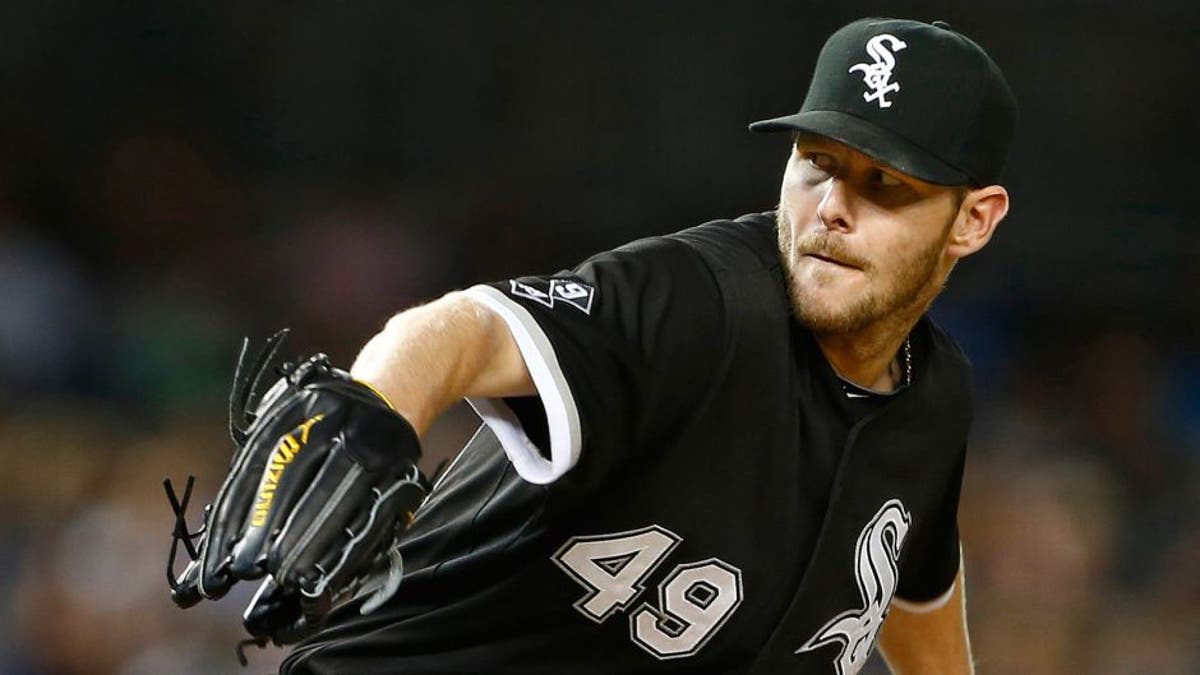 SCOTTSDALE, Ariz. (AP) -- Big league general managers walked under seven palm trees and across the sun-splashed red stone courtyard of the Sonoran Desert resort where they had spent four days. Pulling their wheelie bags as guitar music played on speakers, they passed a sign that explained Montelucia, part of the hotel's name, was Spanish for mountain of light.
While no trades were completed at the first meeting of the offseason, many found the session illuminating: a constellation of stars are in play.
Detroit will listen to offers for pitcher Justin Verlander, first baseman Miguel Cabrera, second baseman Ian Kinsler, right fielder J.D. Martinez and designated hitter Victor Martinez.
The Chicago White Sox would deal ace pitcher Chris Sale for the right price.
Pittsburgh outfielder Andrew McCutchen and New York Yankees catcher Brian McCann are available.
All All-Stars.
"I know that magnitude. Of course I do. That's why we chose to be transparent," said Al Avila, GM of the payroll-paring Tigers. "We chose to tell the players the possibility of things happening."
When to make a swap is one of the key factors.
"In other deals that we've done, we've ended up getting as much if not more around the trade deadline than we would have in the prior offseason, because at the trade deadline there's fewer players available," Pirates GM Neal Huntington said as he left Thursday. "There's more angst about competing."
Many of the sport's biggest agents also attended the session, eager to provide clubs with the latest statistics designed to present their clients in the best light. Scott Boras came up with a new acronym to describe former All-Star closer Greg Holland, rehabbing from Tommy John surgery in October 2015.
"Everybody wants the help pitcher, the High Level Performance Pitcher," he said. "We've got our HLPP algorithm, and these guys create value."
For some teams, leaving the comfort of their offices is a chore.
"It's a necessary evil," Yankees GM Brian Cashman said. "You fly out here, meet with everybody as much as you possibly can, go through your administrative meetings with MLB and fly home."
There was a little news on the final day. R.A. Dickey, a 42-year-old knuckleballer, became the first of the 158 free agents to change teams, agreeing to a one-year contract with the Atlanta Braves that guarantees $8 million. St. Louis outfielder Matt Holliday became the final free agent when he and the Cardinals agreed to waive the provision in his contract that called for his $17 million option for 2017 to become guaranteed if he finished in the top 10 in MVP voting.
Higher-profile players in a relatively weak free-agent class are likely to take their time before striking deals, a group that includes closers Aroldis Chapman, Kenley Jansen and Mark Melancon; outfielders Jose Bautista, Yoenis Cespedes, Dexter Fowler and Mark Trumbo; and designated hitter Edwin Encarnacion.
Hoping to retain Cespedes, Mets GM Sandy Alderson would like a resolution by the end of the winter meetings, scheduled for Dec. 5-8 in National Harbor, Maryland.
White Sox GM Rick Hahn said he revisited trade discussions that began ahead of the Aug. 1 deadline for non-waiver deals and it was now time for "regrouping, prioritizing things and then following up in the coming weeks leading up to the winter meetings."
"There's been a lot of speculation about us, so a lot of the clubs are checking in and checking the veracity of those claims," he said.
McCutchen, a five-time All-Star, is coming off a subpar season and is owed $14 million next year as part of a deal that includes a $14.75 million club option for 2018 with a $1 million buyout. Teams sense opportunity.
"They recognize that we haven't been adverse to moving guys as their contract nears expiration. It's a part of how we believe we need to do things to continue to be competitive and continue to give ourselves a shot to win," Huntington said. "If they see his name out there, they do what we do. If a really good player's name gets popped out there, we make a call just to make sure we do our due diligence and to see if there might be a fit."
After helping the Cubs win their first World Series title since 1908, Chicago president of baseball operations Theo Epstein anticipates an easier time recruiting players.
"We might not need to send out a video now," he said. "People are probably sick of seeing us on TV."