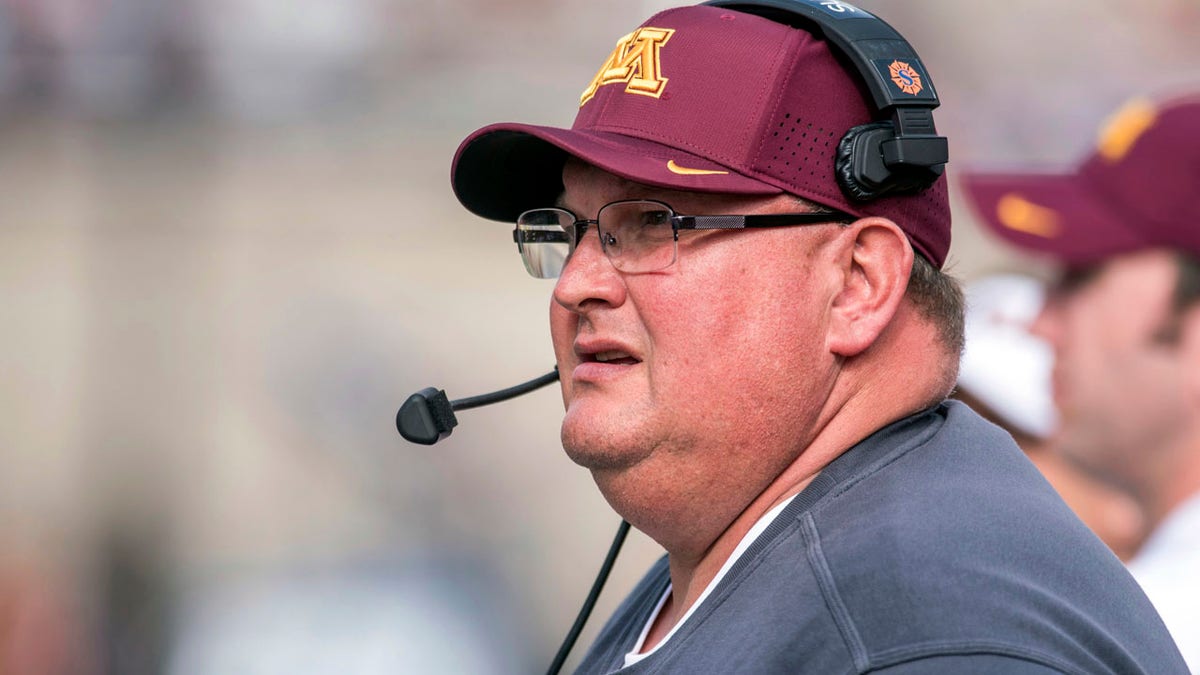 MINNEAPOLIS – Minnesota fired coach Tracy Claeys on Tuesday, just over two weeks after the football program became embroiled in a standoff with the administration over the suspension of 10 players in connection with allegations of sexual assault, the school announced.
Athletic director Mark Coyle said he made the decision to "address challenges in recruiting, ticket sales and the culture of the program. We need strong leadership to take Gopher football to the next level and address these challenges."
CUBS, CAVS DOUSE DROUGHTS, CLEANSE CURSES WITH 2016 TITLES
The Golden Gophers went 9-4 this season and beat Washington State in the Holiday Bowl. But that was overshadowed by a threatened boycott of the bowl by the entire team a week before the game. The players ultimately decided against a boycott.
Claeys publicly supported his players in lobbying for fairness in the sexual assault investigation. A tweet he sent out in support of their movement drew wide criticism from victims' rights groups and faculty on campus. Claeys later said he chose his words poorly and planned to donate $50,000 to raise awareness for sexual assault victims.
USC'S EPIC, EMOTIONAL ROSE BOWL WIN OVER PENN STATE IS WHY BOWLS MATTER
The 48-year-old Claeys went 11-8 in a year and a half leading the Gophers. He became a head coach for the first time when he took over midway through 2015 after Jerry Kill was forced to retire because of health issues.
"Moving forward, we need a leader who sets high expectations athletically, academically, and socially," Coyle said.
Claeys was the first Gophers coach to win his first two bowl games, and he teamed with defensive coordinator Jay Sawvel to stock a stout defense with NFL-caliber players. But the program was rocked in December when the university announced that 10 players would be suspended for the Holiday Bowl after a school-led investigation into allegations by a woman who said she was pressured into sex with multiple players.
Two days after the suspensions, the entire team held a news conference to announce that more than 100 players planned to boycott all team activities until their 10 teammates were reinstated.
"Have never been more proud of our kids. I respect their rights (and) support their effort to make a better world!" Claeys tweeted shortly after the news conference.
That stance seemed to clash with the administration, particularly Coyle and President Eric Kaler, who were determined to respond quickly and decisively to allegations that had upset the community. The AD had given Claeys a vote of confidence at the end of the regular season before the issue resurfaced in December.
Coyle said Tuesday the tweet "was not helpful. I accept that Coach Claeys intended it to support the boycotting players. Understandably others did not see it that way."
Claeys would later say that he was not being dismissive of the allegations or sexual assault in general, but rather supporting his players' push for due process in the school's Title IX investigation.
"How can someone make such an idiotic decision," Gophers linebacker Carter Coughlin tweeted.
Additionally damaging to Claeys was that a 17-year-old recruit was also alleged to have had sex with the woman that night. All of the players accused told investigators that the sex was consensual, and Hennepin County authorities twice chose not to file charges because they said they had insufficient evidence.
But the university's investigation by the Equal Opportunity and Affirmative Action office has a lower threshold for proof than the criminal justice system, and the report leaked to television station KSTP said that school investigators found the woman's account of the night to be more credible than the accounts given by the players. The EOAA recommended expulsion for Carlton Djam, Dior Johnson, Tamarion Johnson, Ray Buford and KiAnte Hardin, one-year suspensions for Seth Green, Mark Williams, Antoine Winfield Jr. and Kobe McCrary, and probation for Antonio Shenault.
All 10 players are expected to get hearings in January to appeal those recommendations.
The team rescinded its boycott after a day and a half, returned to practice and then upset the Cougars in the Holiday Bowl, with Coyle and Kaler watching from the sideline.
It is difficult to argue Claeys' accomplishments on the field. The Gophers' nine victories, albeit against a soft schedule, were their most since Glen Mason led them to a 10-3 finish in 2003. Both as a defensive coordinator under Kill and as a head coach, Claeys had demonstrated an ability to recruit and develop defensive players, particularly those in the secondary, into NFL-caliber athletes. Cornerback Jalen Myrick and safety Damarius Travis joined that list from this year's team, and the defense stole the show in the 17-12 win over high-powered Washington State.
Claeys has a buyout of $500,000 on the two years remaining on his contract.
Candidates immediately expected to be considered for the opening including Western Michigan's P.J. Fleck, former LSU and Oklahoma State coach Les Miles, and Boise State's Bryan Harsin, who was hired by Coyle when he worked there.