Milwaukee Brewers at Miami Marlins game preview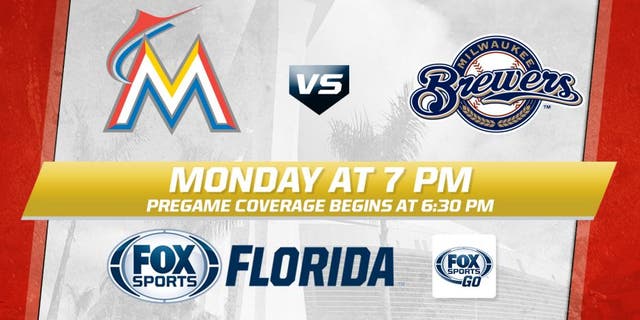 NEWYou can now listen to Fox News articles!
TV: FOX Sports Florida
Time: Pregame coverage begins at 6:30 p.m.
A pair of comebacks allowed the Milwaukee Brewers to register back-to-back road wins for the first time this season, but extending that modest streak could prove challenging.
The Brewers seek to deal Jose Fernandez a rare home loss in their first matchup with the Miami Marlins starter Monday night.
Milwaukee rallied from a four-run deficit for a 13-7 win in 10 innings Saturday against Cincinnati and worked its way out of a three-run hole for a 5-4 victory Sunday. Jonathan Lucroy hit the tiebreaking homer in the eighth inning - his second in as many games.
The Brewers (13-18) were 3-9 on the road after dropping the first two in Cincinnati.
"We got down early the last two games, but the offense just kept battling back and inching us closer," manager Craig Counsell said. "The bullpen's done a nice job."
Milwaukee will next face a team that took two of three at Miller Park from April 29-May 1. The Brewers avoided a sweep with a 14-5 win but have a tall order in the opener to this three-game set in Miami.
Fernandez (3-2, 4.28 ERA) improved to 19-1 all-time at home with a 4-3 victory against Arizona on Wednesday but bumped his ERA at Marlins Park to 1.71 by giving up three runs in five innings. The Marlins (16-14) have won in 23 of his last 25 home starts.
He used 99 pitches to get through his latest and has yet to go beyond the sixth inning in six outings this season.
"It was a lot of pitches," manager Don Mattingly said. "It's kind of what we've seen all year so far. Obviously his stuff is always good. He's always competitive. He's always getting after it, just a lot of pitches."
The Brewers' Wily Peralta (2-3, 7.50) might not get the generous run support - a combined 19 - that's allowed him to win his past two starts, including the May 1 game against the Marlins. The right-hander gave up five runs and a career-high 13 hits in 5 2/3 innings, and has allowed nine runs and 20 hits in 11 2/3 innings in his past two games.
Peralta is 3-0 with a 6.23 ERA in his last three starts against the Marlins and has received a combined 20 runs of support. He has allowed 11 runs and 22 hits in 10 2/3 innings in his past two matchups.
Peralta was 1-1 with a 2.42 ERA in his first four starts versus Miami. He's gotten a lengthy break because he was away from the team for the birth of a child.
The Marlins blew an early three-run lead and a one-run advantage Sunday in a 6-5 loss to visiting Philadelphia. They have dropped back-to-back games after winning 11 of 12.
"We probably helped them out a little more than we should have," Mattingly said. "All the different aspects of this game kind of went south on us a little bit."
Derek Dietrich is 8 for 14 with three extra-base hits against Peralta and is batting .385 in his last seven games versus Milwaukee. Adeiny Hechavarria is hitting .418 in his past 15 matchups, and J.T. Realmuto has batted .407 in seven career games against the Brewers.
Former University of Miami star Ryan Braun is hitting .393 during a 20-game hit streak in that city and .395 in his last nine overall games against the Marlins.