Miesha Tate hints Ronda Rousey fled 145 to avoid 'Cyborg'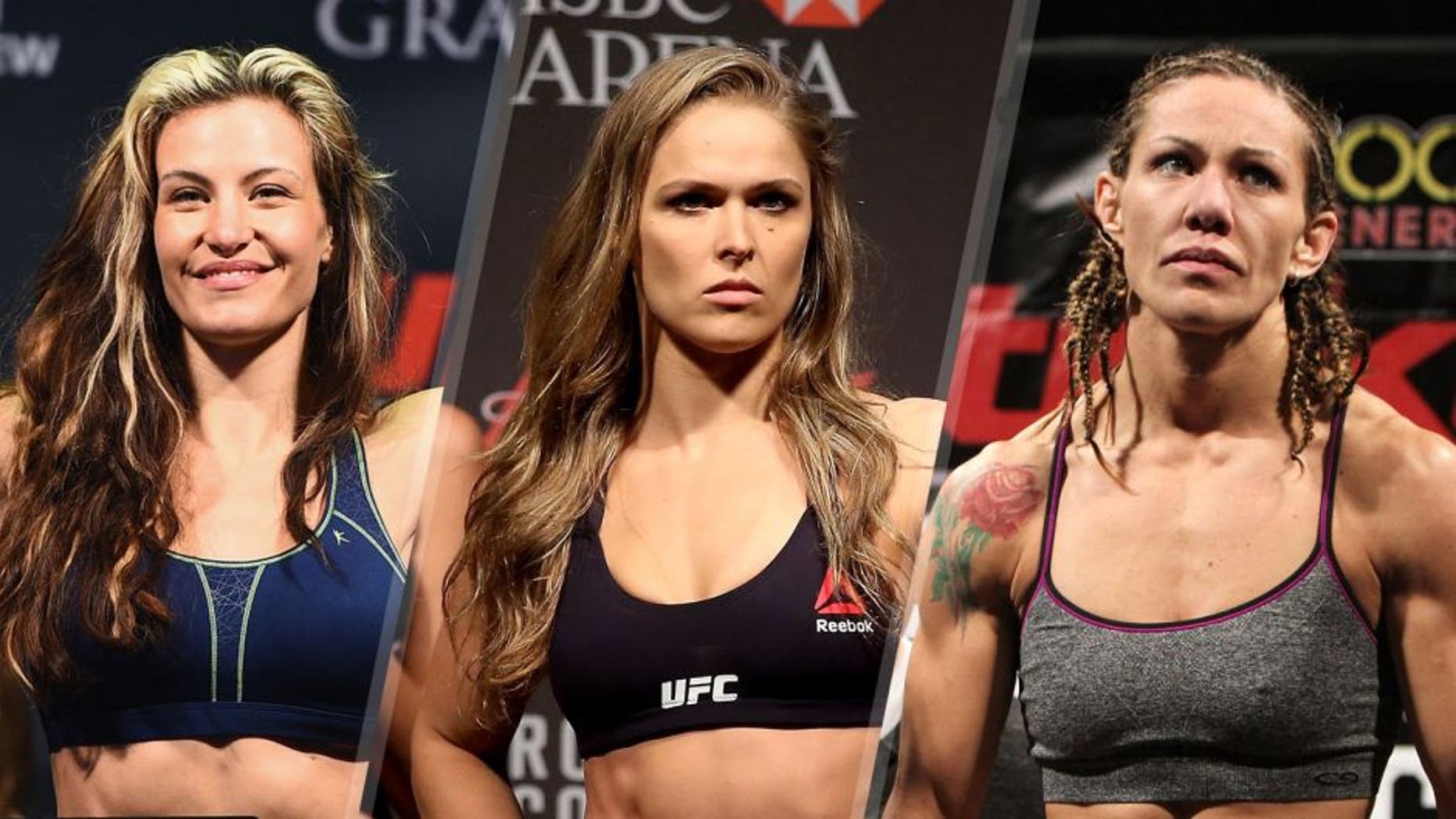 For the first seven fights of her career from amateur until turning pro, Ronda Rousey was a wrecking machine at 145 pounds after winning an Olympic bronze medal at 154 pounds just a few years earlier.
Following two wins in Strikeforce, Rousey appeared ready to tackle championships at both featherweight where Cris 'Cyborg' Justino ruled as well as bantamweight where Miesha Tate was the champion at the time.
Rousey ultimately opted to move to 135 pounds, but now years later Tate says that choice was as much about winning the bantamweight title as it was avoiding a showdown with the fearsome 'Cyborg' at a higher weight class.
"I just know from her whole career it was 145 and 145 only at the beginning," Tate said recently. "It seemed like when the talks of Cyborg became more serious it was like 'no, I'm dropping to 135'."
Rousey and 'Cyborg' have been dancing around a fight for several years, but the sticking point now remains what weight class the fight will take place. Rousey has insisted that 'Cyborg' shed an additional 10 pounds to meet her in the bantamweight division where she is the current UFC champion.
Tate argues that 'Cyborg' is also a champion at 145 pounds where she fights for Invicta FC and the right thing to do would be to meet Rousey in the middle so both title holders would have to make a slight sacrifice for the fight to happen.
"(Ronda) is the champion but so is Cyborg. They're both dominant champions and when you have two people that are dominant champions, one weight class apart, to me it makes sense to meet in the middle," Tate said.
"That's just my opinion. If Cyborg was not a champion, if she wasn't that then yes you need to come to the champion. But she's a champion also so I think meeting in the middle makes sense."
Currently, 'Cyborg' is expected to fight in November for Invicta FC with her contracted weight at 140 pounds. If she's successful in that fight, 'Cyborg' is expected to finally make at attempt to fight at 135 pounds and then she would be eligible to land a fight with Rousey.
As far as her fight at 140 pounds, there's no word on who the Brazilian will face but Tate says she'd be game to go up for the challenge but only if the fight was taking place in the UFC.
"I'd love to fight Cris. It'd be an amazing opportunity to fight someone as accomplished as her and to challenge myself," Tate said. "I hear she's planning a fight at 140 under the Invicta FC banner.
"I'm not fighting for them. If she moves to the UFC, then I'm your girl."
UFC president Dana White has stated several times that for 'Cyborg' to earn an opportunity inside the Octagon she must first cut weight, fight and win at 135 pounds before he would bring her to the organization.
From the sound of things, 'Cyborg' won't make her first real try at bantamweight until sometime in 2016 so chances are any potential showdown with Rousey wouldn't happen until at least spring or summer next year.