Midweek Stock Report: Brewers' rotation dealing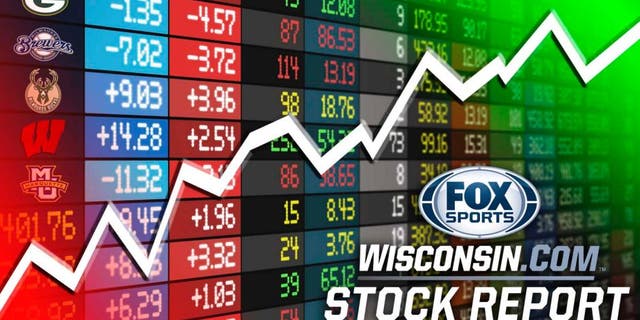 NEWYou can now listen to Fox News articles!
Every Wednesday, FOX Sports Wisconsin takes a look at which athletes' stock is trending up and whose is trending down.
In other words, who is making a meteoric rise, and who is quickly plummeting.
With that in mind, let's "take stock" of the current sports scene in Wisconsin, shall we?
Wisconsin ticket-buying students
Wisconsin students had a chance this past Monday to buy football tickets for the upcoming season and it took just 90 minutes to sell out. Now the question is will the students show up on time for kickoff, or will that take 90 minutes as well?
Scooter Gennett, Brewers second baseman
After a rough May in which Gennett struggled at the plate and spent time on the disabled list, he has rebounded in June. This past week he went 11 for 26 (.423) with three doubles, a home run (for a .654 slugging percentage) and six RBI. Midway through the month, he owns a June slash line of 372/426/512.
Brewers starting rotation
It was a good week for the majority of Milwaukee's starters. Chase Anderson allowed just seven hits in 11 2/3 innings with nine strikeouts over his two starts, with a 3.09 ERA and .175 opponent batting average. Junior Guerra continues to be the find of 2016, allowing one run over 6 2/3 innings in his latest start. Jimmy Nelson keeps chugging along, allowing two runs over 5 1/3 innings. Meanwhile, Zach Davies has been the best of the bunch. In his long start last week, Davies allowed just one unearned run on three hits over six innings, while walking one and striking out seven. Oh, and he went 1 for 2 at the plate with an RBI. In three June starts, Davies is 3-0 with a 0.86 ERA, .114 opponent batting average and averaging a strikeout per inning. Even Matt Garza, just activated from the disabled list and making his first start, allowed just one run in four innings while striking out five.
Kirk Nieuwenhuis, Brewers outfielder
The first time Nieuwenhuis played his former team, the Mets, in New York, it did not go well for him as he went 0 for 11 with eight strikeouts. Back in the comfort of Miller Park last week, however, Nieuwenhuis went 4 for 11 against the Mets with two doubles, a triple and a stolen base. Overall on the week he had a slash line of 333/400/556.
Ryan Braun, Brewers outfielder
Every city the Brewers hit a new trade rumor surrounding Braun seems to arise. Hard to say whether this has affected Braun or not. While he did hit two home runs this past week and collect career hit No. 1,500, Braun was just 4 for 29 (.138) with eight strikeouts overall.
Wily Peralta, Brewers starting pitcher
Yes, Peralta hit the first home run by a Milwaukee pitcher in three years, however his struggles on the mound continued. After allowing three runs in five innings in his last start, Peralta, who was the Brewers' starter on opening day, was sent to Triple-A. His numbers on the season: 4-7 with a 6.68 ERA and 1.88 WHIP.
Corey Knebel, Brewers reliever
It has been tough sledding for Knebel since he's come off the disabled list to make his season debut. Last week he pitched in four games and allowed a run in three of them. He also walked at least one batter in all four games. For the week, he pitched 3 1/3 innings allowing four runs on five hits and six walks (one intentional) with five strikeouts.
Dave Heller is the author of the upcoming book Ken Williams: A Slugger in Ruth's Shadow as well as Facing Ted Williams Players From the Golden Age of Baseball Recall the Greatest Hitter Who Ever Lived and As Good As It Got: The 1944 St. Louis Browns