Michigan's Burke, Baylor's Griner win John R. Wooden Awards in Los Angeles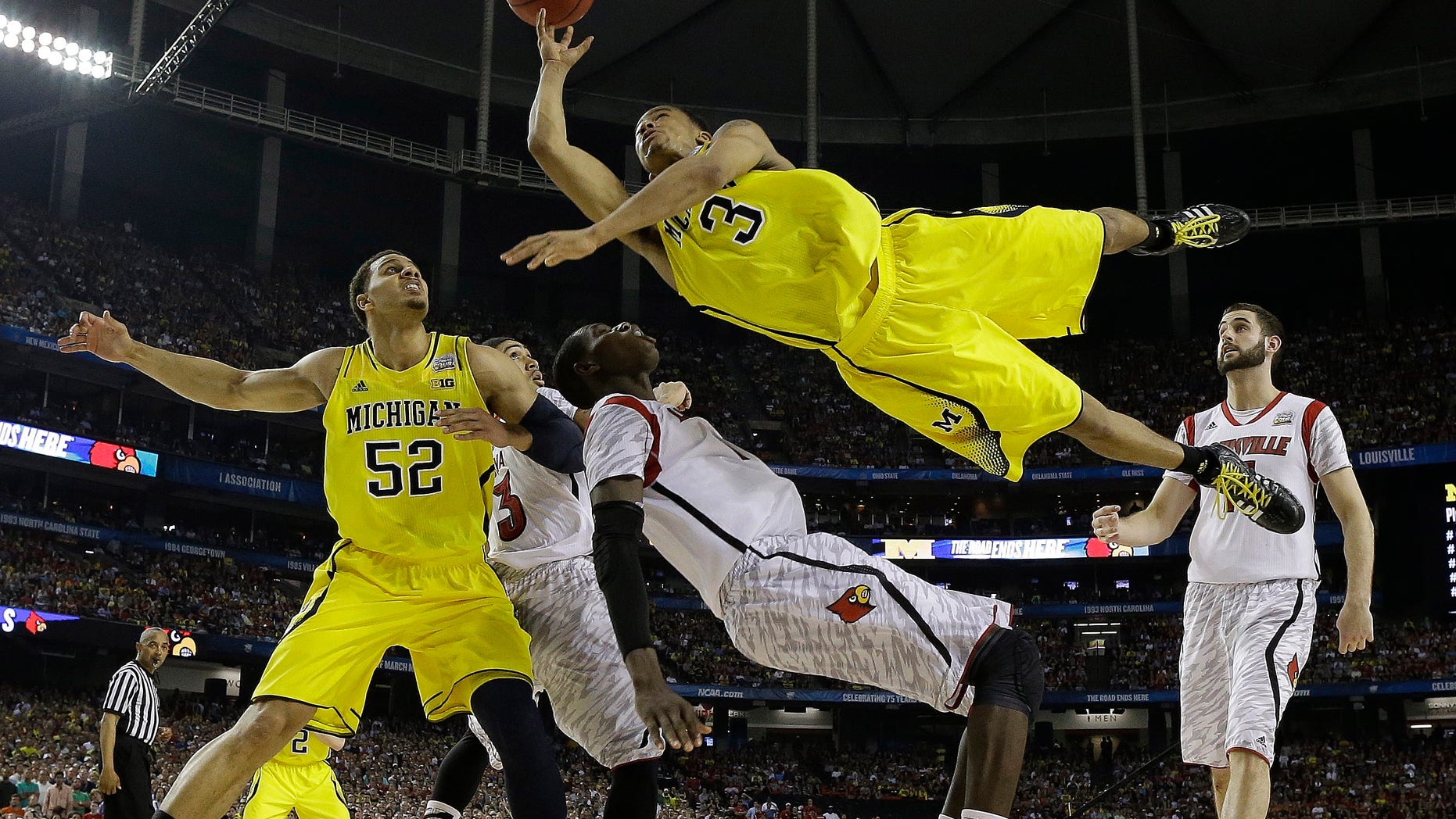 LOS ANGELES – Trey Burke of national runner-up Michigan won the John R. Wooden Award on Friday night, completing the sophomore guard's sweep of the major player of the year awards.
Brittney Griner of Baylor won the women's award for the second consecutive year.
Burke picked up his award with Wolverines coach John Beilein, Burke's parents and both sets of his grandparents in the audience at the Los Angeles Athletic Club. Burke is the first Michigan player to win in the award's 37-year history.
He was announced as the winner at last weekend's Final Four in Atlanta.
Burke also won the Naismith and Associated Press national player of the year trophies.
"The heaviest has to be the Naismith," Burke said about his hardware. "I would say the Wooden is my favorite because Wooden was so critical to so many people's lives. So many people praise him and what he stood for as a coach on and off the court that I feel so honored to be here."
Burke received 2,808 points in voting by national basketball media, beating out Victor Oladipo of Indiana by 90 points in the closest outcome since 2006, when Duke's J.J. Redick finished 72 points ahead of Gonzaga's Adam Morrison.
Voting ended after the third round of the NCAA tournament.
Burke averaged 18.8 points and 6.8 assists in helping the Wolverines to the school's first Final Four since 1993. They lost to Louisville 82-76 in the NCAA championship game on Monday night, when Burke scored 24 points.
"He said if he could he would have traded all these awards for a national championship," Burke's mother, Ronda, said.
It's been a whirlwind month for Burke and Beilein, both of whom were still absorbing the loss that ended the season.
"I'm coming to more peace now," Beilein said. "I watched the game on the plane and that hurt. We understand the magical season we had."
Burke said, "We were all emotional. We exceeded a lot of people's expectations."
As he was winning award after award, Burke chafed a bit at the extra attention on him.
"It was awkward for him because he wanted his team to win first," Beilein said. "It was a bit overwhelming. We got him to smile a few times, but it was like, 'Who do we play next?'"
Burke said he would announce Sunday whether he'll return to Michigan or enter the NBA draft.
"He's listened to some of the birdies in the air," Ronda Burke said. "He's at a point in his life where he can put everything in front of him and make the best decision."
Doug McDermott of Creighton was third with 2,344 points. Otto Porter Jr. of Georgetown was fourth, followed by Kelly Olynyk of Gonzaga, Shane Larkin of Miami, Cody Zeller of Indiana, Mason Plumlee of Duke, Deshaun Thomas of Ohio State, and Ben McLemore of Kansas.
Griner is the fourth woman to win back-to-back Wooden awards since the trophy was first given out in 2004. She averaged 23.8 points — third-best in the country — and 4.14 blocked shots as a senior, and finished her career as the No. 2 scorer in NCAA history.
Griner didn't attend for the second straight year because she is in Hartford, Conn., ahead of next week's WNBA draft.
She received 1,230 points, beating out runner-up Skylar Diggins of Notre Dame by 87 points in voting by national basketball media. Elena Delle Donne of Delaware finished third; Chiney Ogwumike of Stanford was fourth; and Griner's teammate, Odyssey Sims, was fifth. Only Ogwumike and Sims were present.
Voting concluded after the first round of the NCAA tournament.
Kansas' Bill Self received the Legends of Coaching award from Wooden's daughter, Nan.