Michigan State Signing Day summary: Rankings, trends and more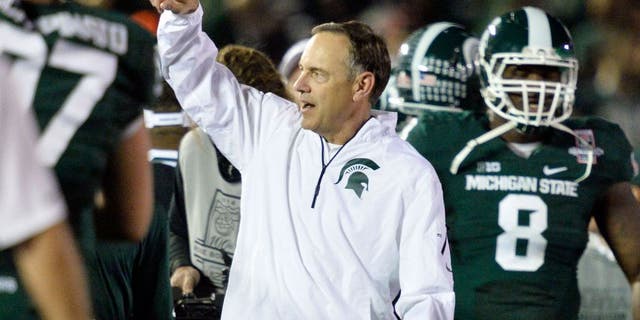 NEWYou can now listen to Fox News articles!
Coming off another top 10 finish on the field, Michigan State put together a second consecutive top 20 recruiting class.
For a time it looked like it would be a top 10 effort for Mark Dantonio, but the Spartans slipped down the rankings as teams across the country filled out their classes during the season.
Regardless, it looks like a group that should help Michigan State remain a contender for Big Ten titles and beyond even as the rest of the Big Ten East keeps upping the stakes.
Scout.com national class ranking: 18
Big Ten ranking: 3
Top-rated prospect: Donnie Corley, four-star receiver from Detroit King
Biggest areas of need potentially filled: Wide receiver, defensive end, safety
Early enrollees: Include star receivers and potential QB of the future
Best long-term buy: Messiah deWeaver, four-star quarterback from Huber Heights (Ohio) Wayne.
In state? This is a key area of talent acquisition for every school even though some live in different neighborhoods than others.
The state of Michigan had 14 four-star recruits, and Michigan State signed four of them: Corley, Battle Creek Central linebacker Brandon Randle, West Bloomfield receiver Trishton Jackson and Detroit Cass Tech safety Demetric Vance.
Ranking trend: Dantonio signed his third straight top 20 class and matched last season for the best ranking of his time in East Lansing. The Spartans' four-year recruiting average is 24.8 nationally and 3.5 in the Big Ten. In Scout's 15 years, the average Michigan State class ranks 38.1 nationally and 5.3 in the Big Ten.