Michael Bisping sends a warning shot to Luke Rockhold before UFC 199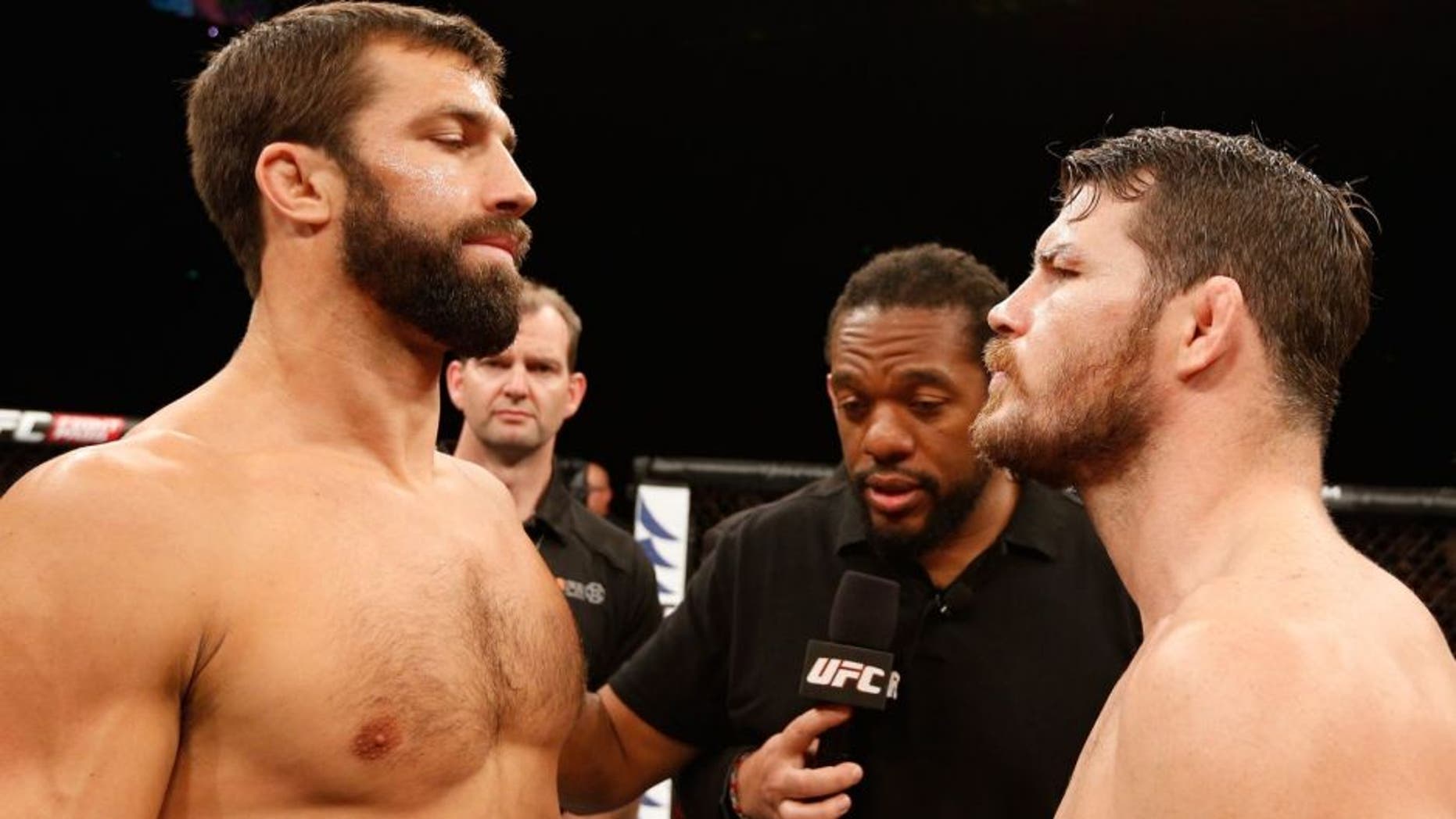 Michael Bisping knew the minute he accepted the fight against Luke Rockhold at UFC 199 on two weeks notice that he was going to be a decided underdog.
Bisping already fell to Rockhold in 2014 after the current middleweight champion dropped him with a head kick and then finished the fight with a guillotine choke in the second round.
For the rematch with the belt on the line, Bisping replaced an injured Chris Weidman while taking the fight after spending several weeks in Canada filming a role in Vin Diesel's upcoming movie "xXx: The Return of Xander Cage".
Nothing about this scenario screams that Bisping should be anything other than a long shot bet to come in and beat Rockhold, who is arguably one of the top pound-for-pound fighters in the world right now.
And Bisping wouldn't have it any other way.
"Listen all the pressure is on Luke. It's very freeing mentally. I'm just going to go out there and do my thing. I have no pressure. I know I'm expected to lose. The world is expecting me to lose this fight and that's so nice," Bisping told FOX Sports on the UFC 199 media conference call recently. "That feels so good. I haven't had 10 weeks of evaluating footage and going through the emotional roller coasters. Feeling confident and then feeling negative and then feeling confident again and then feeling negative again. I haven't got time for that (expletive). I'm very, very confident.
"I'm in great shape, my weight is perfect. I'm expected to lose that's awesome. I'm going to go out there and show the world, I'm going to swing for the fences, I'm going to push that guy against the fence and I'm going to unload with everything I've got. Right in his face. I think it gets the job done. I've stopped many guys in the past and I believe I can stop Luke."
The fight with Rockhold this weekend at UFC 199 comes almost exactly 10 years after Bisping first debuted with the promotion as the winner of "The Ultimate Fighter" season 3.
In the decade since that debut, Bisping has come close to numerous title shots but this will ultimately be the first occasion he's fought with a championship on the line. After all that hard work and years of dedication it seems almost disappointing that Bisping would finally get his shot and he only has two weeks to prepare.
But Bisping doesn't look at it that way and instead believes more fighters should be willing to step up to the plate just like he did. It's certainly not the optimal position, but as a fighter Bisping feels that's what they are paid to do and he's going to go out there and do it on June 4.
"I'm not here for a payday, for a title shot. I want to win this. When they came to me -- two weeks, damn right I can do this. I'll fight anyone, any time, any place," Bisping said. "That's the way I live my life. That's the I've always been and that's the way some of these other (expletives) in the UFC roster need to be also."
Of course, Rockhold can only scoff at Bisping's confidence as they prepare to meet again this weekend and the middleweight champion went as far as saying that he would "humiliate" the Brit when they face off in the Octagon.
Bisping was more than happy to respond while also reminding Rockhold that his humiliation would be far greater after losing to a fighter who accepted this matchup on only two weeks notice.
"When you're on the floor and you're looking up at the stars and say "(expletive), I just lost my belt to a guy that came in on two weeks notice and took your belt that you've worked your whole life for". On two weeks (expletive) notice, mate. How's that going to feel?" Bisping shouted at Rockhold.
You're going to go down, simple as that. You're going to be looking up thinking "(expletive) I just lost my belt to somebody that walked off a movie set and whooped my ass in two weeks" -- Michael Bisping to Luke Rockhold
"At the end of the day, I want this more than you. I want this more than you and I've done everything I can and believe you me, you're not going to be able to handle what I'm bringing to the table. You're going to be backed up against the fence, I'm going to unload with a massive combination and you're going to go down."
Bisping will attempt to back up his words against Rockhold on Saturday night and he promises to make the most out of this first title shot by walking out of UFC 199 as the new middleweight champion of the world.
"This is my time," Bisping said. "I'm going to go out there and I'm going to take it with both hands."