Miami's Angel Rodriguez hopes to follow in footsteps of other Puerto Rico NBA stars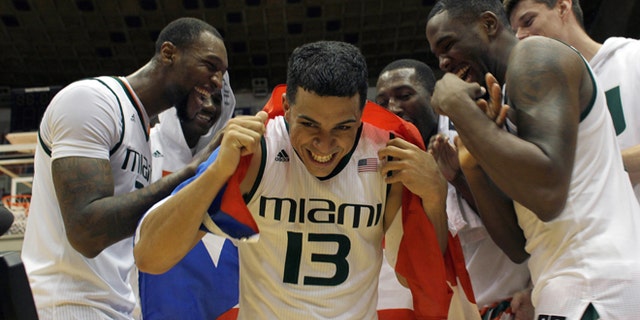 SAN JUAN, Puerto Rico (AP) – Miami's Angel Rodriguez left Puerto Rico at 15 for the U.S. mainland to play high school basketball and chase a college scholarship.
Now he's the point guard for a team looking like a potential force in the Atlantic Coast Conference after beating No. 22 Butler 85-75 in the championship game of the Puerto Rico Tipoff. And he's the latest in a recent run of successful floor generals — joining Dallas Mavericks veteran J.J. Barea and former NBA player Carlos Arroyo as examples — from the island best known for churning out baseball talent.
Just getting the chance to follow their lead is a big deal for Rodriguez, too.
"It comes with just being born here," said Rodriguez, who was born in San Juan in December 1992 and lists the barrio of Cupey as his hometown. "People who are born here are very, very proud, very feisty and very confident in a way."
He went on, "I think with all of the great guards that have been in Puerto Rico — because you know about those two guys but you don't know about other guys that are legendary [here] — it's an honor, and it motivates me."
The Tipoff was a homecoming for Rodriguez, who left here to play high school ball in Miami and first played at Kansas State before transferring to play for the Hurricanes (5-0) to be closer to friends and family.
He had plenty of them in the stands in the past week at Coliseo Roberto Clemente, the same venue where he watched Arroyo and Barea play for the Cangrejeros de Santurce team growing up.
They're some of the most recent examples that Rodriguez can point to of successful NBA players from the U.S. territory located about 1,000 miles southeast of Florida in the Caribbean.
Arroyo, a native of Farado on Puerto Rico's eastern coast, played at Florida International in college from 1997-01. He then spent nine seasons in the NBA with stops in Toronto, Denver, Utah, Detroit, Orlando, Miami and, lastly, in Boston in 2011.
Barea is a native of Mayaguez on the western coast. He spent four college seasons at Northeastern and has now spent 10 seasons in the NBA with Dallas and Minnesota, winning a championship ring with the Mavericks in 2011.
"It's easy to say Steph Curry, Kyrie [Irving], those guys, but the reality is I don't play the same as those guys," Rodriguez said. "Arroyo's from here. I could do the same thing he's doing, if I keep working hard. So Arroyo has always been somebody I look up to as far as the game, and Barea because he's doing it so recently in the NBA."
He added, "It gives me that motivation, because I feel like he's opening doors for us."
Barea remembers looking up to Arroyo as he came up through the game, too. Now he's conscious of offering that inspiration for Rodriguez and others from Puerto Rico.
"No question," Barea said. "I try to do my best every night out, do my best to stay in the NBA as long as I can and set a great example and have a good name so Angel and other kids who are playing basketball in Puerto Rico in other leagues have a chance in the future."
Miami coach Jim Larrañaga sees plenty of similarities between the 5-foot-11 Rodriguez and the 6-foot Barea. He coached against Barea in college when Larrañaga was at George Mason, saying Barea was a threat any time he had the ball, both as a shooter and a passer.
That also explains why Larrañaga sees Puerto Rico as an untapped recruiting area.
"In a meeting back in September, I told the coaches: We have to think more outside the box," Larranaga said. "We have to go to Spanish-speaking countries, we need to go to Puerto Rico, we need to go to South America, because there's a lot of good players there. And Miami's a great destination for them."
Rodriguez noted there's a wall outside Coliseo Roberto Clemente featuring the island's basketball greats that includes Arroyo and Barea. During a past visit here, he came to a game and snapped a photo of the wall with the hope of one day making it there himself.
"I know it'll take a lot of hard work and a lot of years," Rodriguez said. "But that's how everything starts, by dreaming."