Miami yacht party attended by Giants players may have included drugs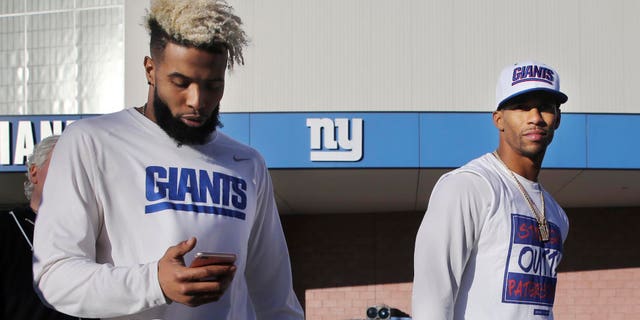 Drugs were passed around "like candy" at a Miami yacht party attended by several big-name New York Giants, according to reports, and a video on Instagram may provide some evidence.
Odell Beckham Jr., Sterling Shepard, Victor Cruz and Roger Lewis flew to South Beach after their 19-10 win over Washington on Sunday to party with the likes of Justin Bieber and Johnny Manziel, according to reports. On Monday, they were aboard a yacht owned by singer Trey Songz.
But one video drew major scrutiny after one of the players was heard declining some Adderall.
French cyclist Robert Marchand sets world record at 105
In one video, Beckham was seen lying shirtless on a boat talking to another man, while a third voice was heard in the background clearly saying, "I can't take Adderall."
Sports gossip blog Terez Owens reported that the voice refusing was the rookie Shepard.
"One of the women on the boat was handing out (Adderall) like candy," the website said, adding that marijuana was also being smoked onboard.
Marijuana and Adderall, a stimulant used to treat Attention Deficit Hyperactivity Disorder (ADHD), are banned by the NFL. Additionally, Adderall is considered to be a performance enhancer by the World Anti-Doping Agency (WADA) and the U.S. Anti-Doping Agency (USADA).
So far, the NFL has declined comment.
Odell Beckham Jr. defends highly criticized trip to Miami: 'I'm a grown man'
Soon after the videos surfaced, Beckham went on the defensive, downplaying the party and what the players may or may not have done.
"I'm really more focused on the Packers and the Giants, so any of those questions—whenever you all want to sit down and have a little side-to-side, we could do that after the playoffs," he told reporters at practice on Wednesday.
Critics slammed the players because the Giants (11-5) are traveling to Green Bay this weekend to play the Packers on Sunday in the NFC wild-card game. It's New York's first postseason game since the 2011 season.
New York Giants quarterback Eli Manning helped to defuse the critiques against his teammates.
"I think as a team we kind of always pride ourselves on being well prepared, so when I saw some of the pictures I was a little disappointed, just because obviously they didn't pack accordingly," Manning deadpanned. "They didn't have any shirts, obviously, all long pants, no shorts, no flip flops or anything. So I am just disappointed on their packing and not being prepared for that situation."
Manning was a little more serious when asked if he was disappointed in the players from a football perspective.
"I don't really get into what guys do on their off days," he said. "It is their off day and they can do what they want and it is about coming here today, being prepared and really getting ready for tomorrow's practice and being able to go out there and perform at a high level."
Giants coach Ben McAdoo told reporters he had no issue with his players blowing off some steam.
"The players were off. I'm not going to talk about players and their off time," he said. "They showed up (Tuesday) ready to work."
The Associated Press contributed to this report.