Miami Marlins Meet Cuban Phenom Yoenis Cespedes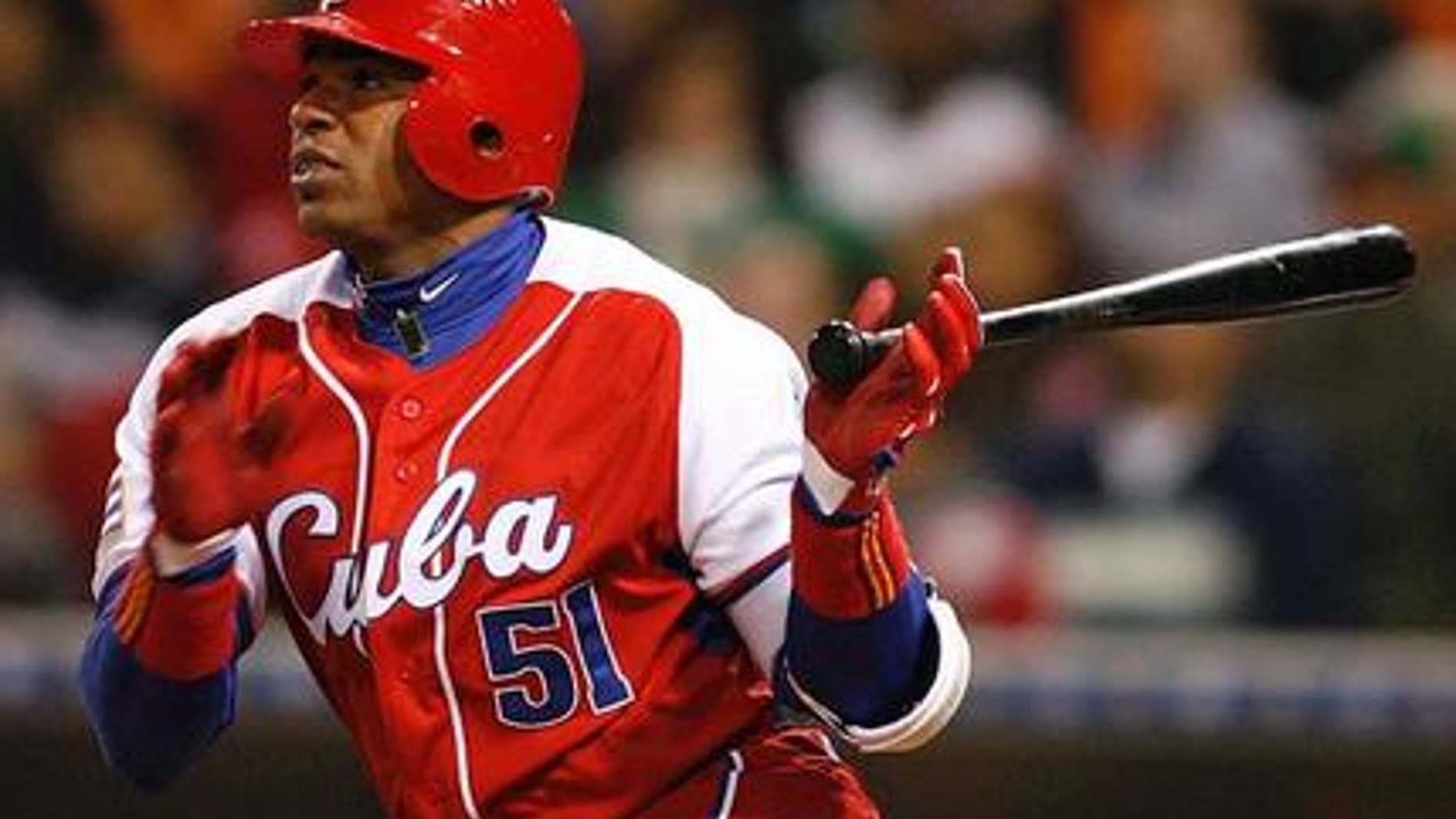 Cuban baseball phenom Yoenis Cespedes landed in Miami to begin his courtship with the Marlins on Wednesday, in his first stop of what's expected to be his tour of interested Major League Baseball clubs.
But there is no doubt that the Marlins are the clear favorite to land the coveted 26-year-old Cuban outfielder, who gained mainstream media attention after a produced video of his workout regimen went viral. (Must See Video Below)
José Reyes Dreadlocks Go Prime Time
"It would be good (to play here)," Cespedes told reporters at Miami International Airport Tuesday. "There are a lot of Cubans and they would support me a lot. Hopefully I can play for the Marlins."
Cespedes, who some believe could sign a deal worth up to $60 million, donned a hard hat for his walkthrough at the almost-completed Marlins new ballpark in Miami's Little Havana neighborhood. In Spanish, he said he believes the Marlins "can compete for a World Series" as early as this season.
But his agent tried to tone down the message.
"It's just the first step in the process," said Adam Katz, the player's agent, after the tour of the new ballpark.
Cespedes played for Cuba in the 2009 World Baseball Classic and is projected to be ready for the majors. Cespedes said six teams are interested in signing him, including the Marlins, Baltimore, Detroit, Cleveland and the Chicago Cubs and White Sox.
But Major League Baseball said Cespedes cannot finalize a contract until he obtains an unblocking license from the U.S. Treasury Department's Office of Foreign Assets Control.
The Road from Cuba to the Big Leagues Can Be Watery and Dangerous
Cespedes, who has been living in the Dominican Republic, has looked rusty in winter-league action. He more recently hit .143 with 10 strikeouts in 35 at-bats while at the Dominican Winter League.
But Larry Beinfest, Marlins' president of baseball operations, says he's not concerned about Cespedes winter league numbers. The Cuban defector hit .333 with 33 homers and 99 RBI for the Cuban national team in the 2010-11 season.
"I don't think you put a lot into that," Beinfest told the Miami Herald. "He had not been in competition for quite some time. And then to go out and start when the other guys have been playing, that's a rough situation. He had just been idle for a long time, and it's not easy to just go out and play."
YouTube Video of Cespedes Touring Miami Marlins Stadium (credited to Joe Capoza)
YouTube Video of Cespedes Working Out
Contains some reporting by the Associated Press.
Follow us on twitter.com/foxnewslatino
Like us at facebook.com/foxnewslatino