Miami Dolphins at Philadelphia Eagles game preview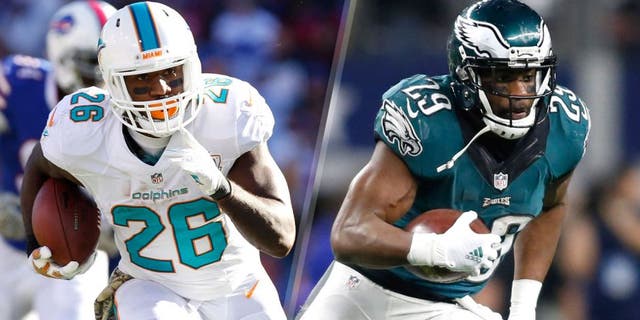 NEWYou can now listen to Fox News articles!
TV: CBS
Time: Sunday, 1 p.m.
Though Sam Bradford and Jordan Matthews hooked up for maybe a season-saving touchdown last week, it's been the Philadelphia Eagles' running backs who have come to the rescue of late.
The Eagles will search for more heroics from their ground game Sunday against one of the league's worst teams versus the run when the Miami Dolphins visit Lincoln Financial Field.
While Miami's faltering defense has it in danger of falling out of the AFC playoff picture, the Eagles (4-4) are still very much alive in the NFC - in part thanks to Bradford's 41-yard connection with Matthews to end a 33-27 overtime victory at Dallas.
Two running backs, though, might be a bigger reason for Philadelphia's surge of three wins in four games to claw within a half-game of East-leading New York.
After a slow start, DeMarco Murray and Ryan Mathews have made for a potent combo in the backfield. They combined for 620 rushing yards and six touchdowns in the last four games, much better production than the 179 yards and two scores they totaled through Weeks 1-4 - including Murray's absence in the third game.
The average yards per carry for the pair has risen from 2.9 in the first half of the season to 5.6 since.
With Murray and Mathews churning out yards and Bradford finding his comfort zone in coach Chip Kelly's offense, the Eagles are averaging 438.8 total yards and 28.8 points in their last four games. Compare that to 294.0 yards and 19.5 points in their first four and things are looking up.
"We're getting that swagger going," Matthews told the team's official website. "We're going to go out there, practice hard all week and try to put a good product out on the field against the Dolphins."
Miami (3-5) saw hope for its season with back-to-back blowout wins following coach Joe Philbin's firing in early October. Reality hit, though, with consecutive losses of 36-7 at New England on Oct. 29 and 33-17 at Buffalo last Sunday.
The Dolphins will have to figure it out in Philadelphia, where they have lost two straight. The Eagles have won three consecutive meetings overall.
While the Eagles have averaged 28.1 rushing attempts and 121.6 yards on the ground, the Dolphins have seen opponents attempt a league-high 31.5 and they rank second-to-last with 142.1 yards surrendered.
Murray faced Miami once with Dallas in 2011, rushing for 87 yards on 22 carries. Mathews combined for 208 yards on 35 rushes in two matchups while with San Diego in 2011 and 2013.
It's a running attack Ndamukong Suh is familiar with from his days with Detroit.
"Philly has two great running backs," he said. "I've seen them both. Obviously I've been able to stop both of them."
But Miami's prized offseason acquisition has been double-teamed often, and opposing running games have feasted on the Dolphins. The latest stat line, and probably most embarrassing, came when the Bills piled up 266 yards and three touchdowns on the ground while throwing the ball just 12 times last week.
The rushing yards were the most by any team through the NFL's first nine weeks, and the Dolphins became the first team ever to allow two 100-yard rushers and a 150-yard receiver in the same game.
Some of the responsibility falls on the offense, which looked dominant during consecutive wins of 38-10 at Tennessee on Oct. 18 and 44-26 at home over Houston on Oct. 25 in interim coach Dan Campbell's first two games. But Miami trailed big early against the Patriots and Bills, leading to more runs from the opposition.
"At the end of the day we have to find a way to win games," quarterback Ryan Tannehill said. "Whether it's the offense scoring points, the defense making a big stop or complementing each other. It's a team sport and we have to feed of each other and find a way to come out with a win."
Helping will be the absence of rookie linebacker Jordan Hicks on Philadelphia's defense. Hicks, who had two interceptions and three fumble recoveries, was placed on season-ending injured reserve after he tore his left pectoral tendon against the Cowboys.
The Eagles hope for returns from wide receiver Nelson Agholor (ankle) and linebacker DeMeco Ryans (hamstring), but left tackle Jason Peters (back) says he is 50-50.