Miami AD James tries to cool down Golden's seat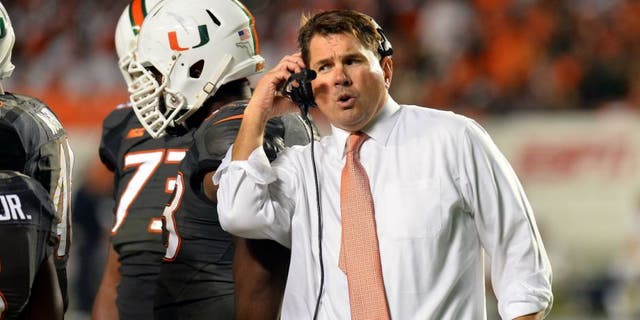 Ever since the clock struck zero on Miami's 6-7 season a year ago the temperature underneath Hurricanes head coach Al Golden's seat has been rising.
On Tuesday, Miami athletic director Blake James attempted to cool it down as he said he was confident Golden would figure things out in an interview with Miami radio station WQAM.
"He understands the importance of the University of Miami football program winning," James said. "We both looked at it as, 'hey, 6-7, we need to change that.' And how we change that? That's something I'm confident Al is going to figure out. That's how we left the conversation."
James went on to say that everybody involved with the Hurricanes football program knows it's time to step up.
"Everyone knows we have to get better. Everyone has high expectations for our team. It starts at the top," James said "… I want to win every game in every sport. I don't like losing in anything. To have our football program not be where we want it is disappointing to me. It's disappointing to everyone.
"At the same time, I think I would say, it's disappointing to Al. Al wants to win. He didn't come to the University of Miami to not be competing for ACC titles, national titles and to be a premier program in the country. He's committed to doing that. Obviously we didn't execute on that level last year. That's something we have to get better at. I'm excited about getting football going here next week, and working on this year."
(h/t Palm Beach Post)