Mexico's heated ending with New Zealand puts VAR's failings on full display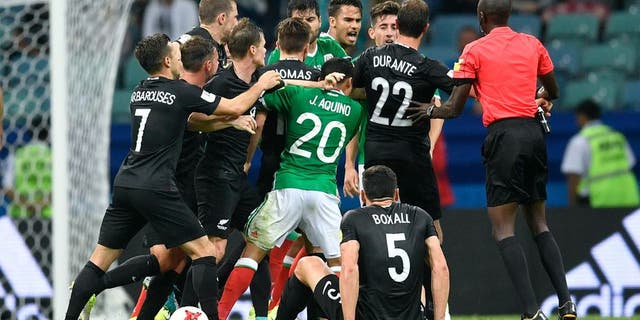 NEWYou can now listen to Fox News articles!
New Zealand and Mexico's thrilling match in the Confederations Cup would be characterized an all-around success for the tournament if not for the massive failing of one newly implemented system: Video Assistant Referee (VAR).
The system, put in place to help referees on the pitch keep up with the increased pace of play and ensure correct calls are made, did none of the above in Wednesday's 2-1 win for El Tri.
The flaws in VAR became apparent early in stoppage time, as an incident between the two sides set off along chain of events. A quick flashpoint, with New Zealand's Ryan Thomas and Michael Boxall at the center of it with Mexico's Hector Hererra and Diego Reyes, set off a melee. Before cooler heads could prevail, both sides clashed with head butts, shoves and swings to the face visible on the broadcast.
It was bedlam, and wholly unexpected that referee Bakary Gassama would be able to have seen all that went down. Even his crew of assistants,Jean Claude Birumushahu and Marwa Range along with the fourth official, Abdelkader Zitouni, would be forgiven if they missed an infraction.
Butthere's a system in place for this tournament to make sure that infractions don't gounnoticed: VAR. And it failed. We don't know what the video assistants, Clement Turpin and Robert Vuka, said to Gassama, but there was a lengthy delay as Gassama talked to them via his headset and then went to a monitor to review the tape. Initially, it seemed as if Gassama was content to let play go on without brandishing a single caution. Ultimately, the decision to brandish cards did fall to Gassama, the head referee.
After assessing the video, Hererra was given a yellow and the free kick for New Zealand was taken. Then play was stopped again as two further yellows were given to Reyes and Boxall. As all of this was going on, the players clearly just wanted to resume play. Arms from both sides were raised with every toot of Gassama's whistle as the referee looked to dole out punishment. Worst of all, the guiltiest of the parties Javier Aquino, Marco Fabian, Thomas, Michael McGlinchey and Andrew Duarte all should have seen yellow at least got off scot-free.
Fans have already lamented the system's implementation because it disrupts the flow of the game. Now, it's not getting calls right. Essentially, it did exactly the opposite of what it was supposed to do on Wednesday.
There's a classic "Seinfeld" episode about doing the opposite, wherein Jason Alexander's character George Constanza goes against every instinct he has and winds up turning his otherwise dreary life around. Unfortunately, this isn't a sitcom.
Fortunately, the sport's organizers cango back to the drawing board and get things right.
The Confederations Cup was supposed to be used a testing ground for VAR, and it shows. The concept of the system is to get things right. In the end, VAR was used on Wednesday and it got things wrong. That's an unacceptable disconnect that the rule committee will need to fix, and fast.