Mexico Soccer Coach Tells Players No Sex During World Cup, Even If They Are Married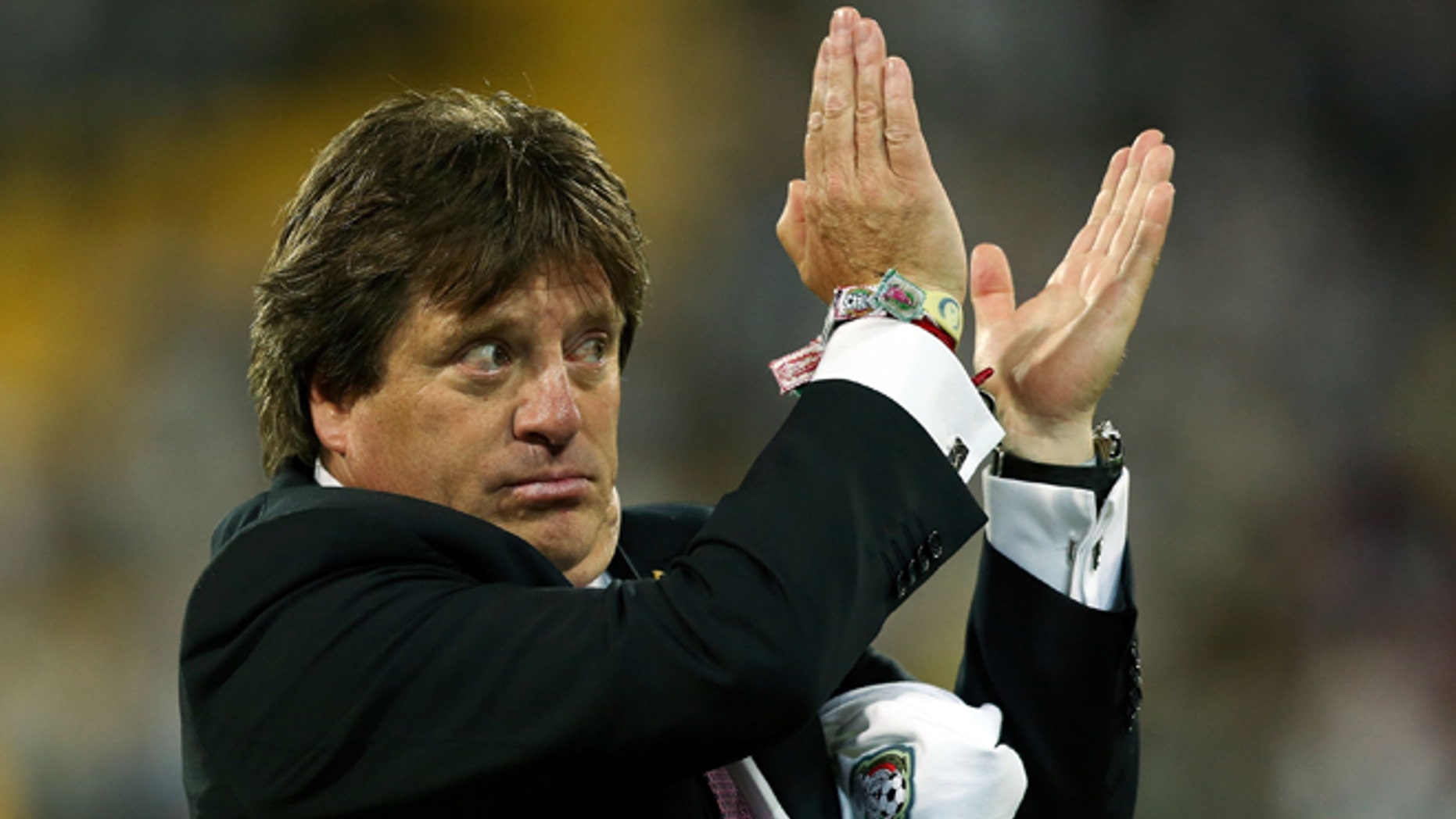 Mexico almost blew its chances to make it to the World Cup in Brazil next month, so now the coach of El Tri, Miguel Herrera, wants to make sure his players stick to the straight and narrow.
According to ESPN Deportes, Herrera told the Mexican newspaper Reforma that he had banned his players from drinking alcohol or having sex, even with their wives and girlfriends.
"Nope, nobody," Herrea said. "If a player can't go one month or 20 days without having sexual relations, he isn't ready to be a professional."
He added, "We aren't going to look for sex, or have sex during the World Cup or go searching for it."
Asked about whether players would be allowed to use social media, Herrera assured Reforma that that wouldn't be an issue.
"Telephones they can bring, speak to their families, chat and whatever, obviously," Herrera said. "For those who enjoy social media, it isn't a problem. This isn't a military camp, it's a World Cup."
It is a quadrennial occurrence that some coach or another will try to put the clamps on sex for his players—not allowing them to bring wives and girlfriends, for instance. This year, Brazil coach Luiz Felipe Scolari beat Herrera to the punch.
In April, he told reporters at a press conference, "The players can have normal sex during the World Cup," but he added that he wanted the Seleçao to avoid "acrobatic sex."
He clarified, "Normal sex is done in a balanced way, but there are certain forms, certain ways… And that, no."
Scolari concluded by saying, "We will put limits and survey the players."
Herrera at least admitted on Wednesday that there's no way he can actually enforce the policy. "I am not thinking about prohibiting sex. I am thinking about soccer. I hope the players are thinking the same way," he said. "Forty days of sexual abstinence isn't going to hurt anyone."
He also prohibited his squad from eating beef, but that has a much more real-world motivation. In 2011, five players were sent home from the CONCACAF Gold Cup for testing positive for clenbuterol, a banned stimulant that shows up frequently in beef in Mexico.
The argument about which is better an all-sex ban or an acrobatic sex ban will be settled on June 17, when Brazil and Mexico face off in Fortaleza.
Follow us on twitter.com/foxnewslatino
Like us at facebook.com/foxnewslatino