Meet Solomon Thomas, the most unique player in the 2017 NFL Draft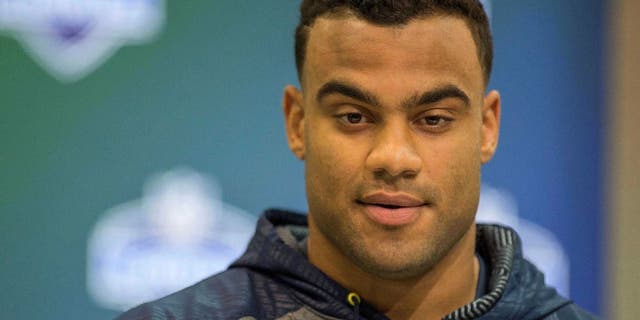 NEWYou can now listen to Fox News articles!
The NFL Draft begins on Thursday, and when it comes to the top picks, it feels like virtually every kids backstory is the same: get identified as a top-flight recruit early in your high school career, attend a football factory like Ohio State or Alabama for college, and then eat, sleep and breathe pigskin while on campus before turning pro.
Thats also what makes spending time speaking with Stanfords Solomon Thomas so refreshing. The projected top 5 pick is anything but cookie-cutter; a kid raised on the other side of the globe, who came to football late and eventually ended up in Palo Alto a melting pot for not only gifted athletes, but for some of the worlds brightest young minds in general.
And as we approach the draft Thursday, it also leaves Thomas ( currently projected to go No. 2 overall in FOX Sports most recent mock draft) as arguably the most unique player in the draft.
It is fun, Thomas told FOX Sports ProCast of the draft process so far. Its been great looking back on it.
Thomas' road to the green room in Philadelphia started in the most unlikely place Australia. After Thomas parents met as athletes as Wooster College in Ohio, his father Chris worked as an International Sales Manager with Procter & Gamble, a job which literally brought the family to the far corners of the globe. Solomon, now 21, was born in Chicago, but moved to Australia when he was 2, and stayed there for over five years.
At an age when many of this years draft prospects were putting on pads for the first time, Thomas spent most of his youth eating fish and chips, and boogie-boarding in the Corral Sea.
It was great as a kid to be exposed to a different culture, a different way of living, Thomas said. Be around a beautiful place. Get to go to the beach all the time. Start [life] in kind of an unconventional way, coming from Australia to the United States. It definitely gave me a different perspective on life and definitely shaped me for life.
Eventually, Thomas family made their way back stateside, first settling in Connecticut for a few years, before moving to the football-crazed state of Texas. Thomas admits that because of his time in Australia he didnt know a ton about football. Up until that point, his after-school schedule was packed with swim and soccer teams, as well an Irish step dance class that his mom signed him for while in Connecticut.
As the family prepared to move to Texas, Thomas parents introduced their kids to the fabric of the state, in the most unconventional way possible.
Before we moved to Texas my parents made us watch Friday Night Lights, Thomas said with a laugh. I was like Oh, this is what football is? It seems like a lot.
At the time it might have seemed like a lot, and Thomas admitted that it did take him a while to fully understand and appreciate the intricacies of the sport. He admits he was too nice when he first started playing the game, voluntarily helping up opponents after hard tackles.
But by the time he got to high school Thomas began to figure out the game, and by his junior year, he began to hear from some of the biggest college football programs in the country. Virtually every school in America offered Thomas a scholarship, from Texas and Texas A&M to Alabama and Ohio State.
Thomas eventually settled on three finalists, taking official visits to UCLA, Arkansas (where his sister attended college) and Stanford. It took him just a few hours in Palo Alto to realize that Stanford was the place for him.
The official at Stanford was different because we met with professors the entire time, Thomas said. We had three dinners with professors, we stepped in on class, viewed all the academic areas. The whole time, we talked maybe one time about football. The rest of the time it was all about networking, [visiting] a bunch of places where they had connections, and [we] met a bunch of cool people.
The Cardinal coaching staff really sold Thomas on college being a 40-year decision not a four-year one, and he bought in. He committed in a memorable Signing Day ceremony where without a Stanford hat he decided to pull out a little tree (in honor of the Stanford mascot).
However, like his move back to Texas, Thomas admitted that the transition to college was daunting. He hadnt chosen a school where football was king, but instead, a place where quite literally some of the smartest people in the world come to get an education.
When the kids sitting next to you in class might very well invent the next Google or Snapchat, it can be a bit overwhelming, something that took Thomas a while to get adjusted to.
At first its a little intimidating, he said. Youre with these extremely smart people, these people who are going to change the world. And Im kind of like, Why am I here? What am I going to do? What am I am going to do to benefit these people with?
Eventually, Thomas adjusted off the field, and on the field he did too. After redshirting his freshman year and going up against future first-round draft picks Andrus Peat and Josh Garnett on scout team he stepped on the field as a redshirt sophomore, before a breakout season last fall. There, he finished with a team-high eight sacks and 15 tackles for loss, helping the Cardinal to a 10-3 record overall.
His most memorable performance came in a 25-23 victory over North Carolina in the Sun Bowl. While much of America tuned in to see potential No. 1 pick Mitchell Trubisky of the Tar Heels, it was Thomas who stood out. His one sack, two TFL performance put America on notice. If they didnt know the name Solomon Thomas before, they did after that game.
I think that was a great game for me, Thomas said. We prepared a lot for that game, watched way too much film, studied beyond belief. We were prepared.
And with that, Thomas was off to the draft. The decision wasnt easy, but the possibility of going in the top five in the draft was too good to pass up. He announced his decision shortly after the new year.
Its been pretty much a non-stop whirlwind for Thomas, from the Combine, to his Pro Day, to visiting with virtually every team in the draft (Technically, he interviewed with 20 teams, but had informal meetings with virtually every other.)
His life will change irrevocably in just a few short days, but for a kid who bounced to all corners of the globe as a kid, the idea of going to an unknown city, to become the face of a draft class is hardly overwhelming.
Im prepared for it, Thomas said.
So too is whatever team lucky enough to have the most unique player in this years draft.
Melina Vastola-USA TODAY Sports