Martin Truex Jr. takes lucky paint scheme to Michigan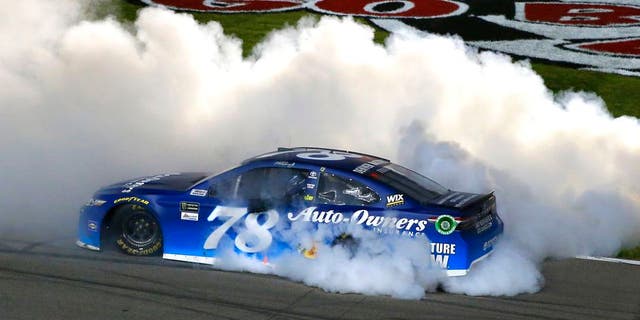 NEWYou can now listen to Fox News articles!
When Martin Truex Jr. shows up with his blue No. 78 Furniture Row Racing Toyota sponsored by Auto-Owners Insurance, his competitors should be nervous.
In four races with the Michigan-based insurance company as the sponsor, Truex has scored two victories, a pole, and two top-10 finishes.
He most recently put the car in Victory Lane at Kansas Speedway last month.
In 2016, he drove the paint scheme to a Southern 500 win at Darlington, a pole and seventh-place finish at Martinsville, and an eighth-place result at the Brickyard 400 in Indianapolis.
Weve had nothing but success with the blue Auto-Owners Insurance Toyota and I am looking for more of the same at Michigan this weekend, Truex said.
Truex holds the points lead and has two victories already in 2017 so it doesnt seem to matter what paint scheme is on the car, hes a contender to win every race.
The Auto-Owners Insurance scheme will appear in four more races after the FireKeepers Casino 400 at Michigan this weekend.
I think team morale is good, everybodys having a good time and enjoying themselves, said Truex. They work so hard that its nice when it pays off and it continues to motivate the team to keep pushing. When they see results with the effort they put in then it pushes them to go even harder. Weve got a great bunch of guys from top to bottom. I think theyre enjoying themselves as well and thats always a big thing.