Mariota looks calm while Smith provides fireworks in Kansas City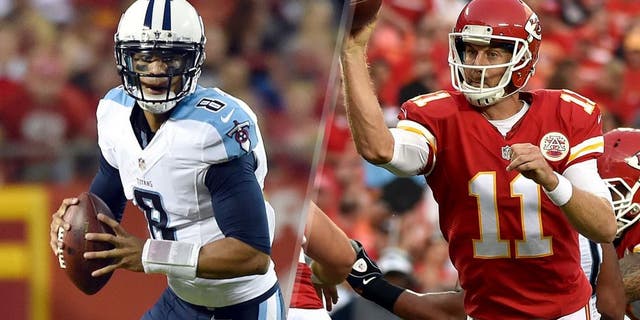 Most of the eyes of the football world were focused on Kansas City on Friday night.
After all, Marcus Mariota -- the Tennessee Titans QB and No. 2 overall pick of the 2015 NFL Draft -- was making his third start of the preseason and kicking off what is informally known as "dress rehearsal" week around the league. With starters expected to see extended playing time across the board, the game against the Chiefs was a good chance to check on the Oregon product's development.
And he didn't disappoint. Mariota continued to make his gaffe-filled performance from two weeks ago look like a distant memory as he played the entire first half, completed 7 of 11 throws for 99 yards, led two scoring drives and didn't commit a turnover. His passer rating? A cool 92.6.
He also flashed some of that speed that made him such a threat at the college level when he escaped from a strong rush in the first quarter and almost got a first down on a third-and-8. He later got the defense to bite on a fake handoff and gained 14 yards on a keeper.
And while all that was well and good, it was a former No. 1 overall pick who turned heads in Arrowhead Stadium.
Much was made about Alex Smith's struggles in 2014. And yes, it has been repeated ad nauseum that he failed to complete a touchdown pass to a Chiefs wide receiver last season. However, maybe all the blame shouldnt have fallen on him.
After all, Smith didn't have Jeremy Maclin to throw to in 2014.
Maclin -- who broke Smith's receiver-scorless streak last week with a TD grab -- struck quickly on Friday night, when he pulled down a pass on the sideline, showed amazing footwork and managed to sprint down the sideline to the end zone for a 29-yard touchdown pass and run.
If you check the replay, you can see what the Chiefs were missing last season:
It must be a good feeling to have someone who can make plays after the catch, huh? And while Mariota's numbers on the night were nice, Smith's were downright gleaming. He completed 16 of 18 throws for 171 yards and two TD passes with a 143.3 rating.
By the way, Maclin had 7 catches for 65 yards. Fantasy peeps, pay attention. We just might see a Chiefs wide receiver rocket up draft boards.
It's a new day in Kansas City.
TOM WHO?
It's just the preseason.
But it's still interesting to see Tom Brady, one of the greatest quarterbacks to ever play this game, make a mistake.
On Friday night against the Carolina Panthers, the New England Patriots star made two of them. After throwing an interception in the first quarter, Brady dropped back and this happened:
Savor the feeling, Brady haters. You don't often get a chance to see him make a bad throw. But don't gloat too much. Despite those two mistakes, Brady kept his team in the game and even completed a touchdown pass to Scott Chandler to give the Patriots the lead just before halftime.
Brady was also without Brandon LaFell, Julian Edelman and Rob Gronkowski -- his top receiving targets. So ... it shouldn't come as a surprise that the Patriots weren't able to score on their first six possessions.
BLAKE BRINGS IT
The Jaguars are hoping young quarterback Blake Bortles takes a big leap in Year 2.
He looked the part against the the Detroit Lions on Friday night.The young man completed 20 of 29 throws for 245 yards, including a nifty 13-yard touchdown strike to Allen Hurns.
Well done, kid!
GOLDEN BOY
The Lions have Megatron. But they also have a dangerous option on the other side of the offense in Golden Tate.
Tate made the Jaguars secondary look foolish in the second quarter when he beat everyone and pulled down this 62-yard scoring strike from Matthew Stafford:
You're going to need a safety to help out there.