Maria Burns Ortiz: American Manzano Pays Tribute to His Roots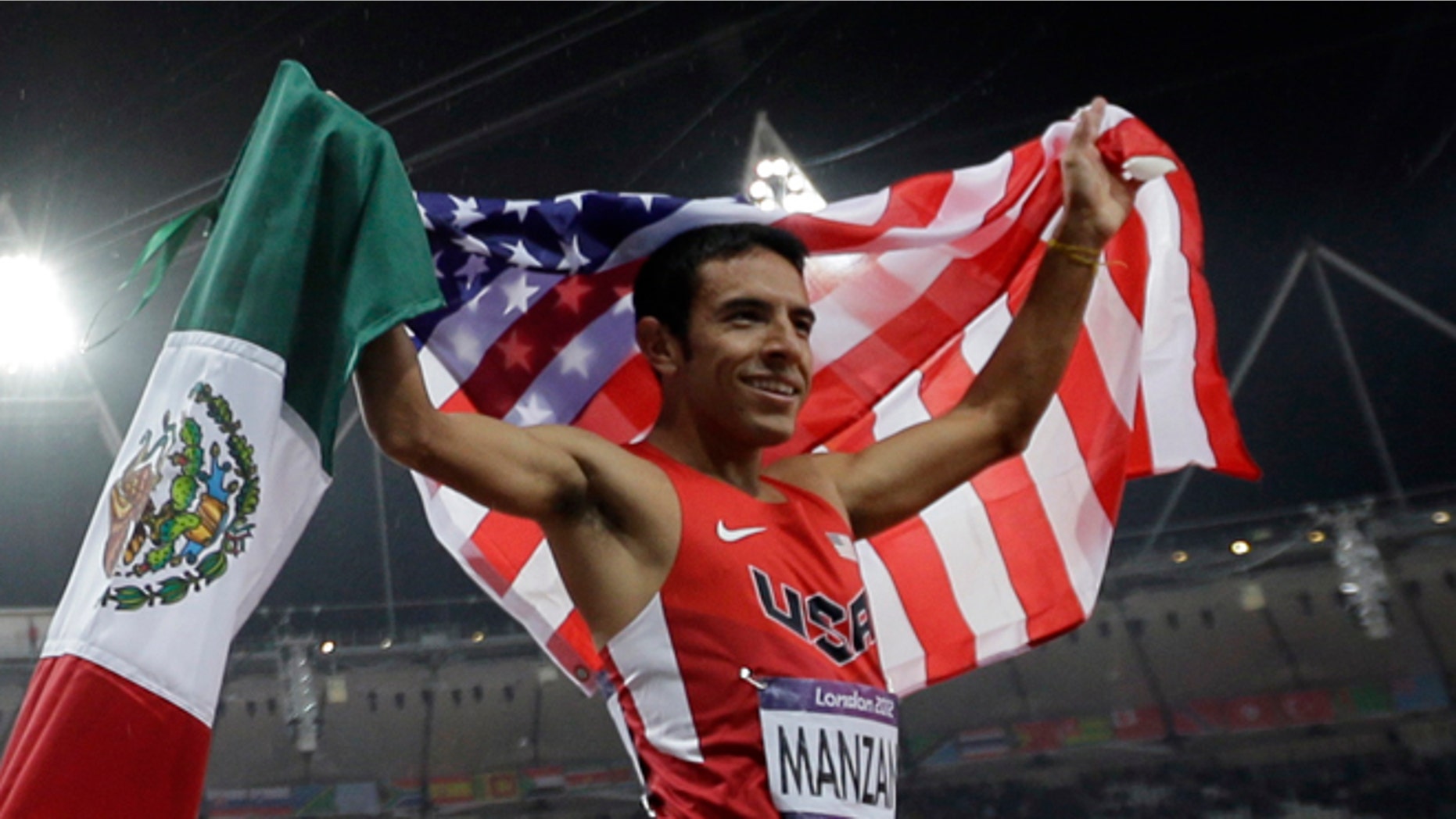 Leo Manzano ended the race with a strong kick, the letters USA emblazoned across his chest as he crossed the finish line. After securing the silver medal in the 1500 meters, Manzano celebrated – like all Olympic athletes – by draping himself in his country's flag. An American flag. At some point, he was handed a Mexican flag as well. He clutched it in his hand.
The scene highlighted one of those unique images that only the Olympics can provide. A moment where sport transcends borders and cultures.
Manzano's celebration was not of a singular nation's dominance, because that – despite medal count tallies pitting countries against each other– is not what defines the Olympic spirit. In his moment of elation, Manzano embodied how athletics can bring nations of the world together.
The 27-year-old runner moved to the United States from Mexico at age four. He was raised in Texas and became a citizen 14 years later. That duality is a topic he discussed when I interviewed him from London a few days before the Games began.
"Going into this Olympics, the U.S. is my home, but my roots are still in Mexico," he said. "I live in the U.S. I'm still very much connected to my Mexican heritage, but my home is the U.S. I wouldn't change it for the world."
Manzano's flag waving was not a political statement. The International Olympic Committee comes down hard at even the slightest perception of an athlete politicizing the Games.
Manzano's patriotic display was simply one athlete – from two cultures – basking in the joy of success on the world's biggest sporting stage.
Manzano feels as if he represents both countries, something he reiterated after his race, because the truth is, he does.
Of course, that reality does not stop others from corrupting Manzano's moment. CNN ran a recent column in which the writer, Ruben Navarrette, blasted the runner for holding up both an American and Mexican flag, saying Manzano's actions upset his stomach. The outrage spilled over to social media with Manzano being inundated with negative messages, including plenty of the highly original "Go back to Mexico."
Adding to the vitriol are reports Manzano was undocumented for some of the years he was living in the United States between toddlerhood and adulthood. The subject didn't come up in my conversation with him, and it doesn't really matter. Being an American citizen – as Manzano is today -- isn't a contingent thing. I'm fairly certain that on Manzano's U.S. passport there is no notation that says, "American, but…."
Olympic history is littered with examples of sports mercenaries, athletes who seek a change of citizenship in an effort to compete for a country whose Olympic team is easier to make. Manzano is not one of them. Considering that Mexico did not even field an athlete in the 1500m, Manzano would have been a shoo-in to qualify for the Mexican Olympic team. But for Manzano, who is American and has always considered himself to be, taking the easy route wouldn't have made sense. It wouldn't have felt right.
It is possible to love more than one country. It is possible to represent more than one people. The United States is built upon a nation of immigrants, and continues to evolve as a nation of immigrants. Leo Manzano understands this concept. Hopefully, someday soon, more people will understand it as well.