Marcus Mariota gets in early work with Hakeem Nicks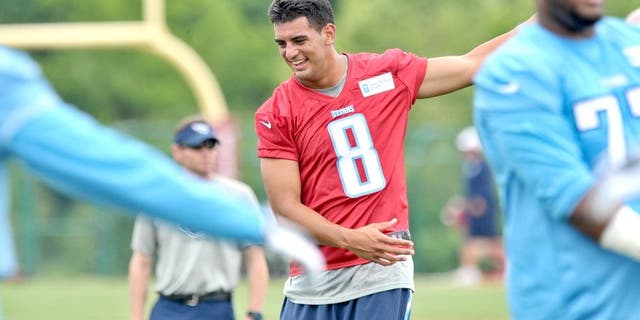 The Tennessee Titans don't report to training camp until the end of the week, but rookie quarterback Marcus Mariota is already getting in reps with at least one of his new receivers.
According to ESPN's Paul Kuharsky, Mariota and Hakeem Nicks worked out together last week at D1 Sports Training in suburban Nashville.
Nicks signed a free-agent deal with Titans after spending the 2014 season with the Indianapolis Colts. He had two 1,000-yard seasons with the New York Giants in 2010 and 2011, but is looking for a career resurgence in Tennessee.
During minicamp, Nicks stressed the importance of learning everything possible about his new quarterback's tendencies.
"Every quarterback doesn't like routes run the same way, whether it's the same route or combination or whatever," Nicks said, via ESPN. "It's time to adjust. You never make your quarterback adjust. You adjust."
Nicks said in June he would try to gather a group of Titans wideouts to work with Mariota during the summer break, even traveling to the quarterback's native Hawaii if necessary.
Tennessee in July isn't exactly Hawaii, but if it helps Mariota and Nicks get on the same page entering training camp, it may be better than a trip to paradise.
(h/t ESPN)