Manziel rests sore elbow; Pro Bowl tackle Thomas avoids knee injury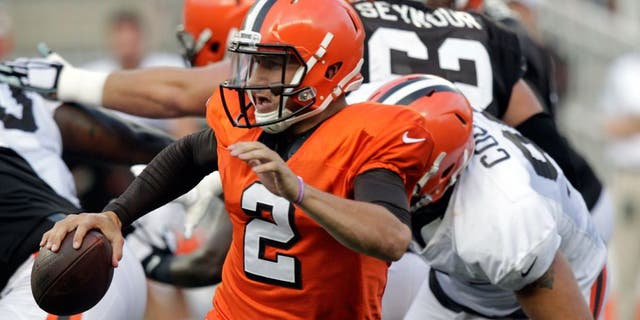 BEREA, Ohio -- Browns backup quarterback Johnny Manziel was limited in practice by a sore right elbow but is expected to play Thursday night in Cleveland's exhibition opener against Washington.
Manziel did not throw any passes with his right arm -- he made a couple tosses left-handed -- on Tuesday. Manziel wore a long sleeve on his right arm and only handed off during the drills he participated in.
"We just wanted to rest him for the day," Browns coach Mike Pettine said. "It was just an accumulation of reps and it started getting a little sore. We would do that with any of the guys, but he was the one who was experiencing some stiffness."
Manziel had his arm heavily wrapped following Friday's scrimmage in Columbus, but Pettine said that is "standard" treatment with all the team's QBs.
The 2012 Heisman Trophy winner, Manziel has had an impressive training camp as he tries to shake off a rotten rookie season, which was followed by a 10-week rehab stay. Manziel is listed as Cleveland's No. 2 quarterback behind Josh McCown.
Manziel has shown improvement the past two weeks and completed 9 of 11 passes for 93 yards and two touchdowns in the Browns' intrasquad scrimmage at Ohio State.
The Browns got good news on Pro Bowl left tackle Joe Thomas, who did not sustain any significant damage when he was hit on the right knee toward the end of Monday's practice.
Thomas did not practice Tuesday, but that was a planned rest day for the veteran. Thomas had his knee struck from behind by rookie defensive tackle Danny Shelton, who inadvertently fell into the eight-time Pro Bowler while being blocked on a running play on Monday.
Pettine said Thomas may still play against the Redskins.
Injuries have been a major issue for the Browns since camp opened. Starting wide receiver Dwayne Bowe remains sidelined with a hamstring injury and Terrelle Pryor, trying to switch from quarterback to receiver, is also out with a hamstring issue that has lingered longer than expected. Also, rookie running back Duke Johnson is still out with a hamstring problem.
The Browns have major plans in their offense for Johnson, a third-round pick and Miami's career rushing leader.