Mandel's takeaways: Rosen isn't perfect after all, but UCLA is Pac-12 South's team to beat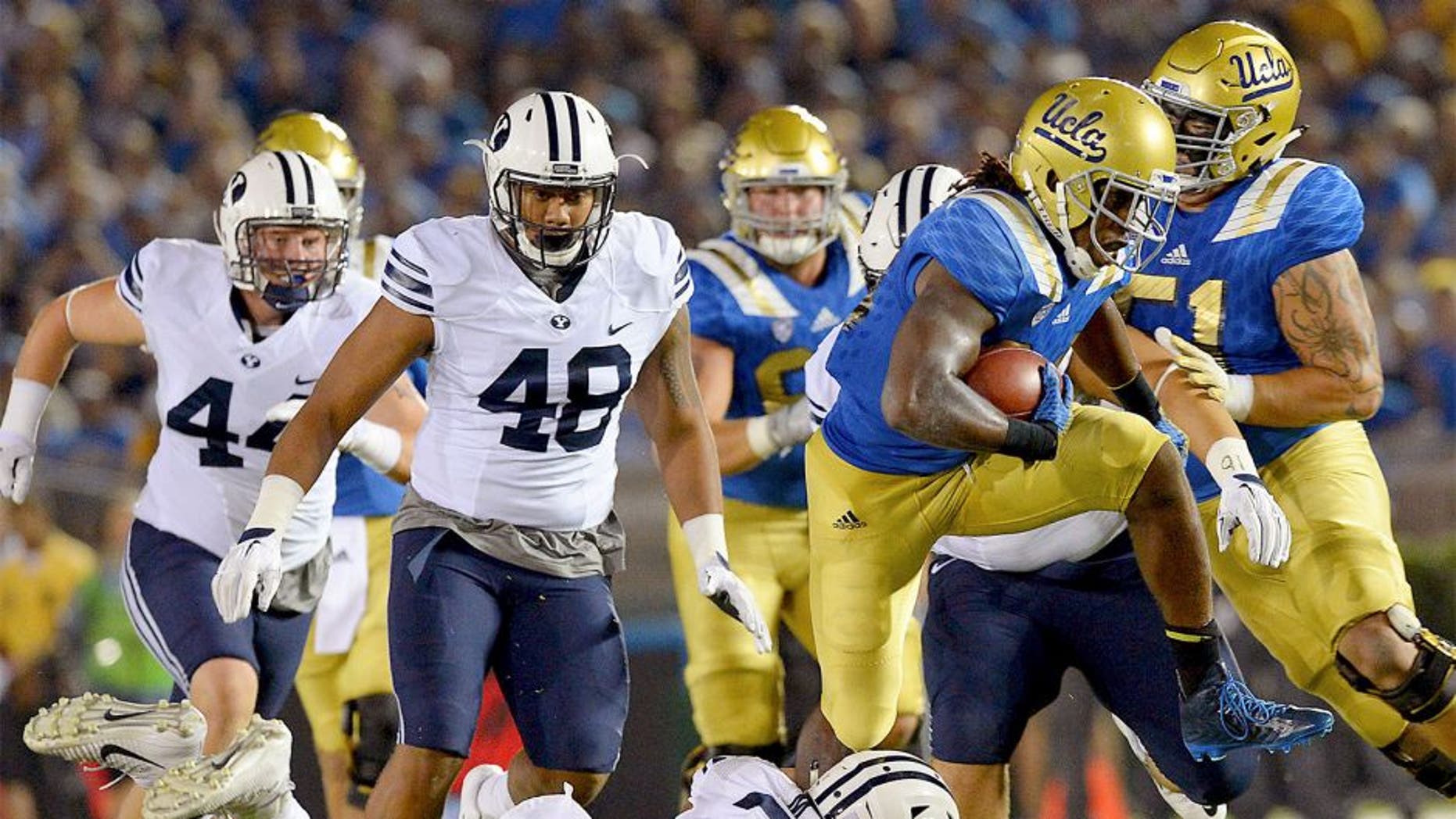 PASADENA, Calif. -- A wild Week 3 in college football did not end with another BYU miracle. Here are three takeaways from No. 10 UCLA's 24-23 win.
1. UCLA is the Pac-12 South's team to beat. On a night when the Bruins' perennially overhyped crosstown rival, USC, suffered a defensive implosion in its loss to Stanford, UCLA hardly played its best game but still notched a solid non-conference victory. It trailed most of the way before engineering a go-ahead drive in the last five minutes, and then star linebacker Myles Jack intercepted 19th-ranked BYU's miracle maker, Tanner Mangum, with 58 seconds remaining.
The Bruins showed off a punishing rushing game, highlighted by star Paul Perkins' 219 yards. But on their final drive, backup Nate Starks broke off consecutive runs of 31 and 22 yards before punching in a short touchdown.
2. Confirmed: Josh Rosen is human. UCLA's celebrated true freshman quarterback appeared to play well beyond his years in a spectacular debut against Virginia. On Saturday, however, he reverted to in-over-his-head 18-year-old for most of the night.
Rosen threw three first-half interceptions, most notably throwing into triple coverage in the end zone to squander a scoring opportunity just before halftime. BYU got decent but hardly overwhelming pressure, and Rosen appeared to be forcing throws in an attempt to get the Bruins down the field. He really didn't need to. Perkins shredded the Cougars all night. UCLA mostly just needed Rosen to protect the ball.
But, he's a freshman, one who may have gotten caught up himself in the Chosen One hype.
3. BYU's not done. While most teams with conference schedules have spent September loading up on Sun Belt and FCS foes, independent BYU has visited Nebraska and UCLA and hosted Boise State. And it came out 2-1. Not too shabby. While its wins required last-second miracles against a pair of teams that aren't necessarily Top 25 caliber, it played toe-to-toe with a very talented UCLA team.
Even an 11-1 BYU would likely have a case for a Top 10 committee ranking and New Year's Six bowl berth.
Stewart Mandel is a senior college sports columnist for FOXSports.com. He covered college football and basketball for 15 years at Sports Illustrated. You can follow him on Twitter @slmandel and Facebook. Send emails and Mailbag questions to Stewart.Mandel@fox.com.