Manchester United face growing injury crisis as Paul Pogba ruled out of Manchester derby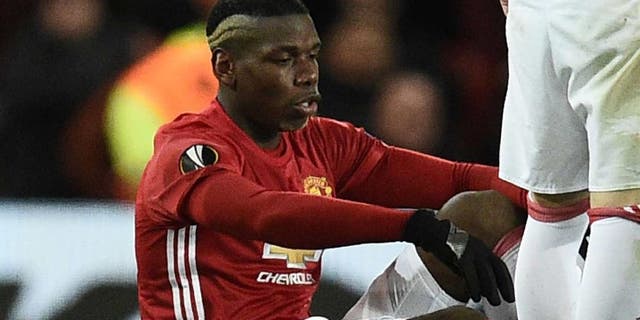 NEWYou can now listen to Fox News articles!
Manchester United already lost Zlatan Ibrahimovic and Marcos Rojo for the rest of the season due to injury, and now they'll be without Paul Pogba as they head into the Manchester derby on Thursday.
Pogba was subbed in the latter moments of the 2-0 win against Burnley, with Mourinho later saying he wasn't sureif the problem was simply muscle fatigue, or a more serious concern.
It seems the issue may be more serious than originally anticipated, and on Wednesday, Mourinho confirmed that Pogba would join Ibrahimovic, Rojo, Juan Mata, Chris Smalling and Phil Jones on the growing list of United absences.
Mourinho's been desperately trying to figure out a solution with the injuries piling up, and he's down to just one healthy first choice center back. United still have a chance to finish in the top four the league, and the match against Pep Guardiola's Manchester City could just be the determinant for their entire season. He even took to the media to try to convince Smalling and Jones to push to return early from injury.
"If I was Smalling or Jones, I would play Thursday with anything, I would do a last push," said Mourinho.
"If they have a crazy mentality like I have, they would. If they are a safe thinking and they are surrounded by people with the same mentality as they have, its more time. More cautious."
There's no telling whether Smalling or Jones will come back early, or how Mourinho will pick his team to adjust for their absences, but it looks pretty bleak on the Red side of things.
AP | Copyright The Associated Press. All rights reserved.