Manchester City lock down Champions League knockout round spot with win over Sevilla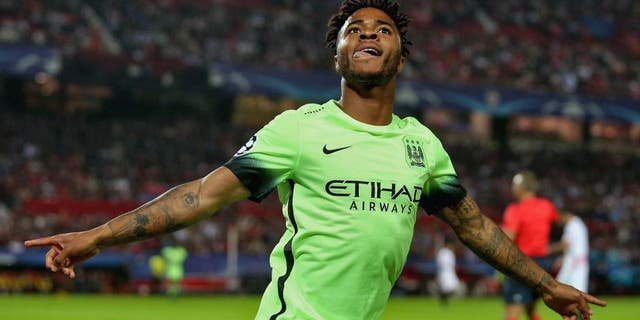 Manchester City cruised into the knockout rounds of the Champions League on Tuesday, downing Sevilla 3-1 in a thrilling match at the Estadio Ramon Sanchez-Pizjuan. City's win, combined with Juventus' draw today, ensured the Manchester giants could not be caught, and they will now battle with the Italians for top slot in Group D.
This was a comprehensive show from City on the road, arguably their best performance in the modern era in this competition. From the start, they were poised and threatening, picking apart a quality Sevilla side with the coldness of a child pulling the wings off a trapped fly. For Manuel Pellegrini -- who has been so criticized for City's travails in this tournament -- this will also serve as a marker. Off this show, you would think that City, at their best, can go toe to toe with anyone.
Moreover, this was also Champions League football at its finest, a devil-may-care, all-out attacking game that highlighted the high standards these two sides share. True, it will be much harder for City to play such an open style against the Real Madrids or Bayern Munichs of the world, but let's be frank: this type of game is why we watch football in the first place.
The tempo was there from the kickoff, and you sensed a goal was coming sooner than later. That turned out to be the case as Raheem Sterling connected with Fernandinho to slide the ball past Sergio Rico after only eight minutes. Beating the trap off a fine diagonal ball, Sterling was able to sidefoot home across Rico's body, leaving Coke helpless.
Just three minutes later, Sterling and Fernandinho combined again to double the lead. Sterling ripped past Coke on the flank and centered to Wilfried Bony, who forced a one-handed save out of Rico. The ball was only parried as far as Fernandinho on the near post, and it was an easy one for him to nod home. Sevilla nearly conceded a third to their old favorite son, when Jesus Navas ripped a shot through traffic on the near side only to see Rico tip the pass onto the far post and away.
Sevilla were not down and out: the homers nearly snuck one back in the 15th minute, when Iborra found himself with time in Joe Hart's box and was able to flick the ball up for Fernando Llorente. Llorente's free header went over Hart's crossbar, however, in an epic miss. But ten minutes later, after two shots from Sterling were scrambled away, Vitolo broke out of the back to spring the counter. Skipping around City players, he fed Coke on the right side of the box, for him to elude Vincent Kompany. With a delicate lob, Coke set the ball up for Benoit Tremoulinas to head into an empty net on 25 minutes. 2-1 and game on.
But while Sevilla continued to pour on the jets -- forcing a fine stop from hart at the post -- City were able to absorb and counter, with Bony slamming in the third goal in the 35th minute. It was a simply goal: Hart played a long outlet up to Navas, who played a cute one-two with Toure to create space, then zinged a ball; along from the endline to a waiting Bony alone at the spot. Boom, it was in the back of the net.
City were simply playing too complete a game for the Europa League champs to handle. Pressing high up the pitch and denying the Spaniards time on the ball, City forced Sevilla into a ragged shape that left them shorthanded any time they ventured out of their own half.
The second half could not measure up in terms of the pace seen in the first half, but Sevilla rarely looked able to handle the City pressure. Sterling and Fernandinho combined again in the 53rd minute only to see Rico push the ball around his post; Bony had to take a first-time volley but he placed it well wide of the net some moments later.
Unai Emery reacted by yanking Coke and Iborra, but the introduction of Michael Krohn-Dehli up higher made little impact and Ever Banega wasn't seen at all on the night. City simply throttled the life out of the game, and with Sevilla reduced to long-range attempts, a hush fell over the stadium. City began to pass the ball back and forth, playing a simple yet effective game of keepaway.
Sevilla, now left to battle for that slot in the Europa League, again, will be left wondering what if. And City, who now have two free games, will be looking to finish first if they can -- but perhaps not at the expense of their Premier League title run.